Cora Weiss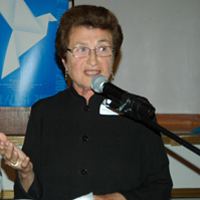 Cora Weiss, President of Hague Appeal for Peace and International Peace
Bureau, is the first recipient of the William Sloane Coffin Award for
Peace and Justice offered by Yale Divinity School 2003. In 2004 she and
Hans Blix received the prestigious Columbe D'Oro award from the Archivo
Diarmo in Rome. Dedicated to the abolition of war, she leads a worldwide
campaign based on the vision of a world where violent conflict is
publicly acknowledged as illegitimate, illegal, and unjust.