Chung Ok Lee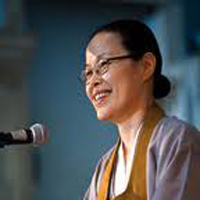 Chung Ok Lee, a native of the Republic of South Korea, holds a Ph.D. in
Religious Education. She is Co-President of World Conference on Religion
and Peace. She has served as Co-President for Chicago Parliament of
World Religions and Oslo Conference on Freedom of Religions or Belief.
She was Co-Founder of the Values Caucus and President of the Committee
of Religious NGO's at the United Nations where she represents Won
Buddhism.