Invitations to Deepen Our Understanding

November 28, 2022 Kosmos Community News
---
Dear Reader,
As Winter deepens here in the North, Kosmos encourages us all to deepen our understanding of the transformations happening around us and in us. We are a community committed to learning, sharing and supporting each other in these changing times. Please jot down the dates for the programs listed below. We hope to see you online for one or more of these wonderful offerings from Kosmos and our thought partners.
The Kosmos Winter Quarterly Arrives January 7!
KOSMOS CIRCLES: Forming in January, (dates TBA)
Monthly meditation and sharing in the spirit of Kosmos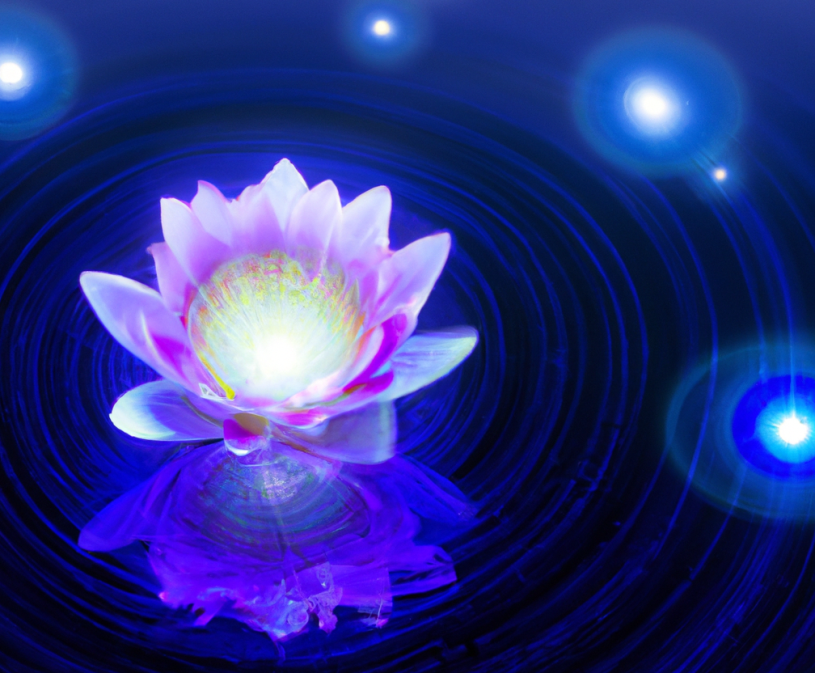 The Kosmos mission is to inform, inspire and engage individual and collective participation for global transformation in harmony with all Life. We are an evolving group of associates working together to widen our vision for possible positive futures that align with the needs of all beings and the Earth.
We will meet online monthly to reflect and practice together in mindfulness. Mindfulness is the energy of being aware and awake to the present moment. It is the continuous practice of touching life deeply in every moment of daily life. Our practice will consist of a 12-minute silent meditation, brief readings, and sharing in circle. All are welcome.
Express your aspiration to join (or facilitate) a Circle at info@kosmosjournal.org, subject line: "Kosmos Circles"
CLASS: January 9 – March 5, 2023
Sterling College | Surviving the Future: The Deeper Dive 2023
Convened and facilitated by Shaun Chamberlin
The Deeper Dive offers a long moment — an 8-week opportunity — to slow down, pull back, and explore responses as part of a small global community, among and alongside some of the world's leading thinkers and doers. This winter, guests will include: Sherri Mitchell, Stephen Jenkinson, Mark Boyle, Nate Hagensm, Isabelle Frémeaux, Tim DeChristopher, Rob Hopkins, Vandana Shiva

The tantalizing vision held out in the late David Fleming's Surviving the Future: Culture, Carnival and Capital in the Aftermath of the Market Economy serves as a jumping-off point to go further: applying, questioning, and reforging his principles in the context of the varied realities we are facing today in our diverse home communities.
Whether you're already hard at work on responses to our times, or seeking your calling, this is an annually curated space for recharging, reorienting and plotting together. From your own home, as part of an international community.
The course is designed flexibly to fit with your availability, and broadly structured on the following themes:
Week 1          (Jan 9th    –  Jan 15th):   Getting to know each other and the course
Weeks 2-3   (Jan 16th  –  Jan 29th):   Growth, Energy and Technology
Weeks 4-5   (Jan 30th –  Feb 12th):    Nature and Humanity
Weeks 6-7   (Feb 13th  –  Feb 26th):    Culture and Story
Week 8          (Feb 27th  –  March 5th):  Closing, including online carnival
Sterling College recognizes that financial resources are not evenly distributed within societies or across geographical locations. To reduce financial barriers to education and participation, we are pleased to offer a sliding-scale pricing model that encourages participants to consider and choose the price that they can pay based on their individual circumstances and resource availability. LEARN MORE
GLOBAL JOY SUMMIT: The Recordings
Receive Unlimited Access to All Event Recordings and Help Support this Free Global Offering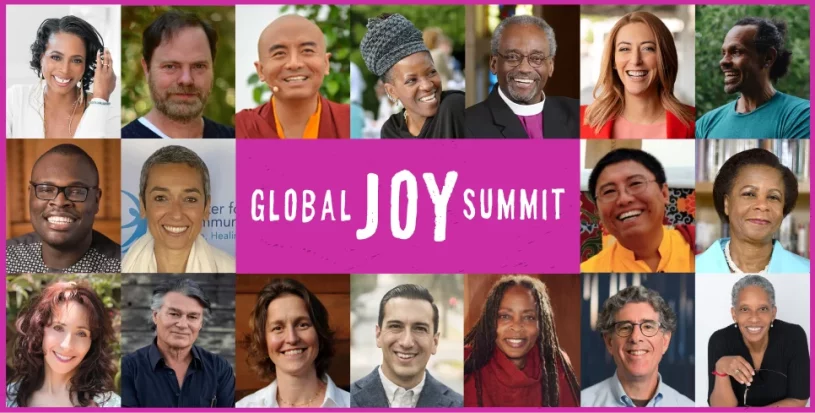 All 25+ Event Sessions in downloadable video and audio format so you can listen on the go
Typed Transcripts of all sessions to read along, highlight and take notes
Guided Meditation Library to help you integrate summit insights + practices into your daily life
Powerful Insights, Guided Practices & Practical Tools to cultivate greater connection and JOY in your life.
Buy-1, Gift-1 Offer: Get a 2nd FREE package to gift to a friend!
FILM AND COURSE: December 3/4 and 9-18
Preview of "The Village of Lovers" & New Online Course: Love School
From Tamera in Portugal. "In these times of global transformation, more and more people feel the need for transformative work, on the personal, social, and political levels, realizing that we have to regain knowledge about how to live together in lasting trust and solidarity. The dream of living together in community – the natural way of life for the majority of our human history – is resurging in many places.
Tamera invites you to join two upcoming online events that deal with these questions:
Seven years in the making, the new feature documentary "Tamera: The Village of Lovers" is being released. The Filmmakers Ian MacKenzie, John Wolfstone and Julia Maryanska spent some years attending the Global Love School and studying the work of Tamera, to understand and communicate the vision and culture of our community.
On December 3 and 4, you're invited to attend a first preview of the film via an immersive 2-day event.The ticket costs will help to fundraise for the global release in spring 2023, which will then be offered as a gift. Your support now will help them make it happen. Learn more and get your ticket…
From December 9 to 18, you're invited to to join a new online course:"Introduction to Love School: Learning to End War." In a series of webinars, Sabine Lichtenfels and Benjamin von Mendelssohn, co-founders of Tamera's Global Love School, will explore the foundations for a cultural shift in the core areas of love and sexuality." LEARN MORE
ONLINE PROGRAM: December 7 – March 1
Live from Findhorn | Great Turning Journey: Earth Love in Action
Great Turning Journey Host: Mattie Porte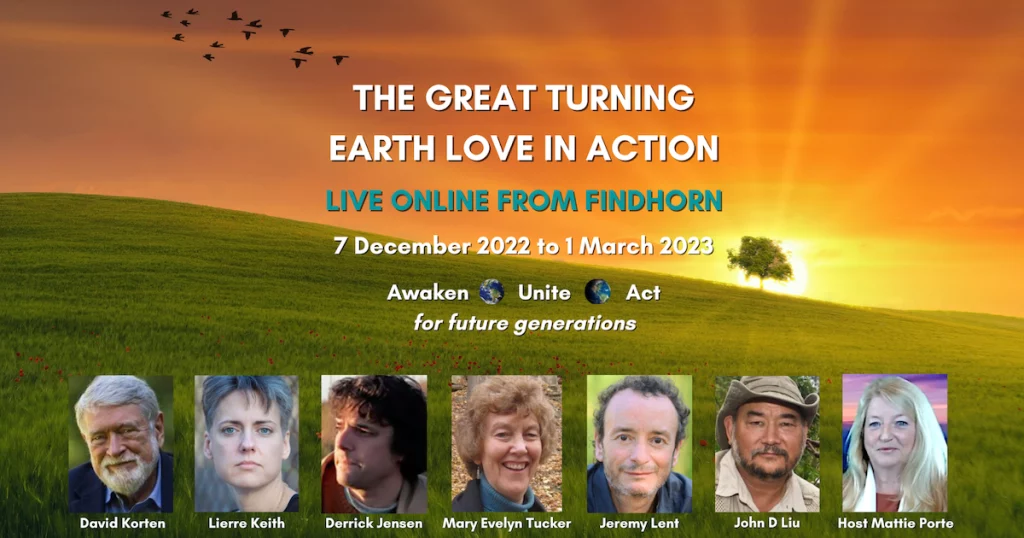 This is a journey into love. Love for our Great Mother Earth, love for every living being, love for future generations of all species and, ultimately, love and appreciation for the very gift of the miracle of life itself. 
When we love deeply we are moved to act. Our love made manifest reveals itself in the choices we make on a daily basis to act for the sake of life on our beautiful planet. We begin to recognise ourselves as full participants and conscious co-creators in the evolution of life, embedded in nature, in reciprocity with the natural world, giving our gifts, in service, for the benefit of the whole, with reverence and respect for all life. Our courage is awakened. Our role becomes clear. Our unique gifts are called forth and strengthened. We begin to act in alignment with a soul mission greater than ourselves.
Join hearts and hands with like-minded Earth lovers and guardians in making manifest your love for Earth to consciously preserve, protect, heal and restore all that is sacred in our living world.
Booking in the Spirit of the Gift
The program runs from 7 December 2022 to 1 March 2023 and is being offered in the spirit of the gift as a continuation of our experiment with new economic models. This means that rather than being charged a fixed fee to participate, you choose a self-determined amount that reflects your individual circumstances! You may also 'gift-it-forward' to support others to engage.
For full program details and to book your place PLEASE VISIT HERE.
---