Spring Preview and March's Featured Poet

March 15, 2022 Kosmos Community News
Dear Reader,
It was an honor to sit in meditation recently with Treeleaf Sangha in Odessa, Ukraine. Even across the internet, the collective energy of peace was palpable. How courageous and radical it is to sit in peace even as war rages and they must soon return to matters of survival and aiding others.
I am also deeply moved, as so many of you are, by the plight of families, whether fleeing their country or choosing to stay. I see the sorrow, yet also the fierce resolve to protect children and elders. Such scenes are common to all wars, but maybe the intense media coverage of this one will finally convince us all of war's futility. Aggression and domination will one day give way to healing and cooperation. Experiencing the spirit of Ukraine, I am sure of it.
The Spring Edition of Kosmos Quarterly |

The Sacred Masculine
Arriving April 9
Our Spring edition, The Sacred Masculine is an exploration of the needed balance of energies, both masculine and feminine, to protect, honor and regenerate all Life. These energies are in each of us. From an evolutionary view, we are moving toward a more fluid, non-binary understanding of gender. This is positive. Yet, there remains so much work to be done healing the collective, historic trauma between men and women.
Since the late 2000s, the mental health of teens and young adults in the U.S. has declined dramatically. There is a real surge in suicide rates for young men especially.
This edition began with a "seed call". Kosmos put the word out seeking expertise and insight on this complex topic. That discussion was inspiring and resulted in connections to The ManKind Project, LA Street Poets, San Quentin Prison's Guiding Rage Into Power (GRIP), and more. We connected with three men who lost their sons to suicide, along with others also embarking on long paths to healing. We also convened a group of young men to talk about growing up in a society that glorifies violence and violent men, and their search for identities beyond 'warrior' and 'breadwinner'. We look forward to sharing insights that emerged from all these connections with you on April 9th.
Art | Aimee Stewart at Foxfires.com
Excerpts from the Next Edition of Kosmos Quarterly
Blueprints for Men, by Mark Grayson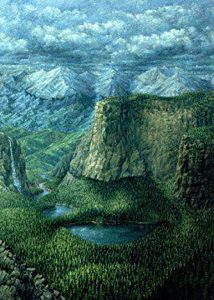 "The problem with the King Warrior Magician Lover model of masculinity, and the sacred masculine as so beautifully depicted in The Hidden Spirituality of Men, by Matthew Fox, is the archetypes that they advance are derived from the patriarchal structures that we are now trying to evolve away from. As a result, many men's retreats and websites still working with these images tend to reify and reintegrate outdated models of masculinity that we need to update and expand.
The existence of these powerful images in our collective unconscious presents both an opportunity and a hurdle to our advancement: we can't just throw them out, but we can't live by their wisdom unedited either. Whether or not we like it, we must rewrite them, as decades of behavior modification therapy, changes in rules in the workforce, and social protest have not solved the root problem. Transformational change must come from the depths within in order rebuild the modern American Male psyche. The question is how."
From Initiation Weekend, by Barry Spector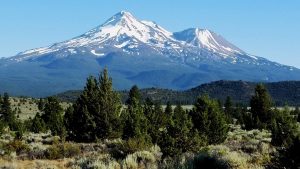 "It is late spring, somewhere in the woods in Northern California within sight of Mount Shasta, where fifty men have set up their tents and had an early dinner. There is much to do. They enter a sacred area that has been bounded by beautiful fabrics hanging from cords. At one end of the space is an altar to the ancestors; in the center is a fire pit; at the front is a tall gate wrapped with greenery. This piece of land has been bought expressly and used repeatedly for the purpose of making beauty through art and ritual.
The men drum and sing the Navajo chant "In Beauty It's Begun" as four women arrive with four boys aged 13-15 years. Fifty men have committed to spending an entire weekend supporting these adolescents as they undergo the hardships of an initiation ritual."
From Christopher Henrickson, Street Poets, Inc. a non-profit poetry-based peace-making organization dedicated to the creative process as a force for individual and community transformation.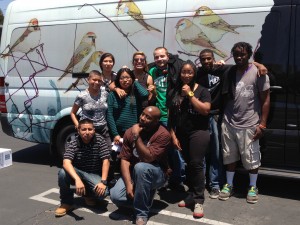 "I came to this work through the portal of working with incarcerated youth and incarcerated boys, most of whom we're gang affiliated. What you see with gangs is an attempt to fill a void in our culture, especially in inner city communities. It's the only thing that you see in terms of initiatory pathways for young people that has any structure, except that it doesn't initiate them into adulthood or purposeful adulthood, it's initiating them into a form of death or self-destruction. What came to me in that kind of work was realizing that in order to help someone transition out of that gang life, their psyches needed to be engaged at that same depth level that they engaged with when they were brought into the gangs in the first place."
from the Keynote, Finding Our Balance, by Jason McLay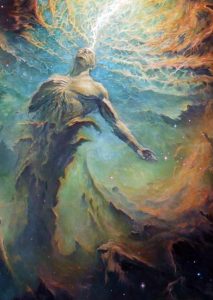 "I am a sensitive being. I feel life at a very deep level. I usually listen more than I speak. I am seldom so proud that I can't bend and see another's point of view. I love to rock climb, mountain bike, hike for weeks at a time and yes, I can build a fire with two sticks. I have also made yarn from wool on a spinning wheel and knitted a scarf. I love to bake fresh bread and cookies. I have a keen eye for interior design, and I weep through Christmas movies that often show the kinder side of life. Yet, I am no greater or lesser of a man because of any of those things.
I am a man, and I embrace the masculine form I was born into. I know that through me flows masculine and feminine qualities that are intended to bring balance and perspective to my life. If I love and accept all the aspects of myself then I can, in the words of Saint Francis of Assisi, 'be an instrument of peace."
March's Featured Poet |
Marilyn Johnston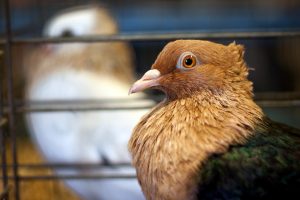 Before Flight
……………………….Seabright Gardens
……………………….Brooks, Oregon
I didn't know what I'd find behind
the parking lot, until their soft coo coo's
brought me near their cage.
Archangel Pigeons, their golden heads.
How they hover near me, then away.
Captive.
On the TV news this morning—
children behind a barbed wire fence
at the U.S. Border, crying for their mothers.
No matter that the pigeon coop
is in the shade, airy and clean,
I force myself to walk away—
so strong it is,
the urge
to free them.
About the Poet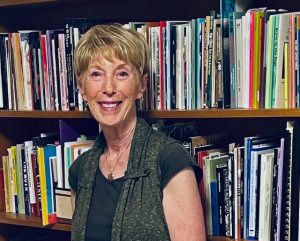 Marilyn Johnston received an Oregon Literary Arts Fellowship for Writers and was the winner of the Donna J. Stone National Literary Award for Poetry. Recent poems appear in such literary journals as Cirque, The Poeming Pigeon, and Persimmon Tree; and her poetry publications include a chapbook, Red Dust Rising (The Habit of Rainy Nights Press), about a family's recovery from war, and a full collection, Before Igniting (2020, Rippling Brook Press).
---