A Life of Meaning

December 9, 2021 Kosmos Community News
What to Remember When Waking
You are not a troubled guest on this earth,
you are not an accident amidst other accidents
you were invited from another and greater night
than the one from which you have just emerged.
Now, looking through the slanting light of the morning window
toward the mountain presence of everything that can be
what urgency calls you to your one love?
What shape waits in the seed of you
to grow and spread its branches
against a future sky?
– David Whyte
Dear Reader,
Of the many losses we have endured and continue to endure, the loss of 'meaning' is especially painful. Young people seem particularly affected by a growing sense of emptiness. We are living in a time that feels increasingly dystopian, and more than ever we need to restore our sense of purpose.
It may be helpful to remember that it took about a billion years for single-celled life to gain a foothold on Earth. And another billion for trees and other forms of complex life to evolve. If Earth's entire 4.6 billion-year-story was represented by one day, humans have been here less than three seconds. That's every human hope, regret, joy or sorrow, every advancement and defeat. And all this great unfolding finds ripe expression in the present moment – in the breath each of us is taking right now.
Rather than overwhelming us, this insight should help us understand the preciousness of our time on Earth. It is impossible to calculate the odds of our very existence. And we have a long way to go. We are the seeds of an unfolding creation. "What shape waits in the seed of you to grow and spread its branches against a future sky?"
Gratitude and trust,
Rhonda Fabian
An Update on Nancy Roof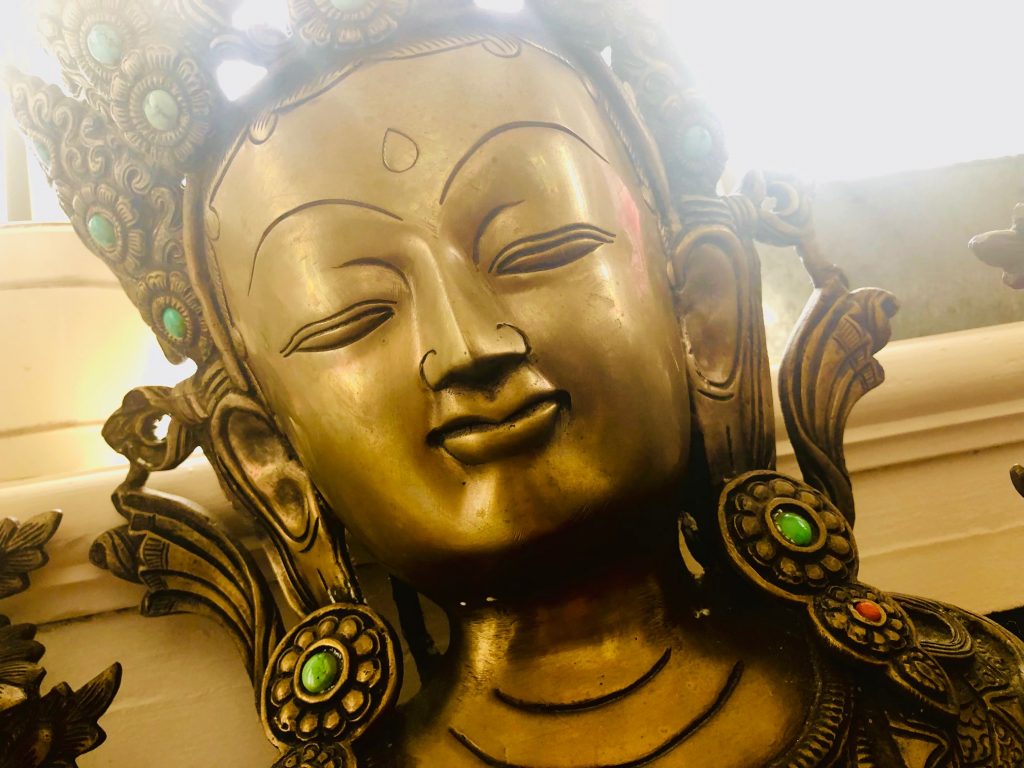 Nancy continues to rest comfortably at home in the Berkshires
The outpouring of love and appreciation Nancy received from so many of you has had an extraordinary effect. The marvelous brightness, for which she is so well-known, has returned to Nancy's eyes and her energy has improved. Nancy wants you to know how much she cherishes every sentiment you shared, even though she has not been able to reply directly.
It is good to be with Nancy and her sweet dogs, as she continues to prepare for the journey ahead. The photo is of the Tara that graces Nancy's meditation room, where she spends most of her days.
If you wish to send a message to Nancy, please use the email: info@kosmosjournal.org. 
Kosmos | On Meaning
The Return of Aliveness | The Dark Night of the Soul – by Eckhart Tolle
"The 'dark night of the soul' is a term that goes back a long time. Yes, I have also experienced it. It is a term used to describe what one could call a collapse of a perceived meaning in life… an eruption into your life of a deep sense of meaninglessness. The inner state in some cases is very close to what is conventionally called depression. Nothing makes sense anymore, there's no purpose to anything. Sometimes it's triggered by some external event—some disaster perhaps. The death of someone close to you could trigger it, especially premature death—for example, if your child dies. Or the meaning that you had given your life, your activities, your achievements, where you are going, what is considered important, and the meaning that you had given your life for some reason collapses.
It can happen if something happens that you can't explain away anymore, some disaster, which seems to invalidate the meaning that your life had before. Really what has collapsed is the whole conceptual framework for your life. That results in a dark place.
There is the possibility that you emerge out of it into a transformed state of consciousness. Life has meaning again, but it's no longer a conceptual meaning that you can necessarily explain. Quite often it's from there that people awaken out of their conceptual sense of reality, which has collapsed.
They awaken into something deeper. A deeper sense of purpose or connectedness with a greater life that is not dependent on explanations or anything conceptual. It's a kind of re-birth."
Search For Meaning | An Encounter with Viktor Frankl – by Geri Marr Burdman, PhD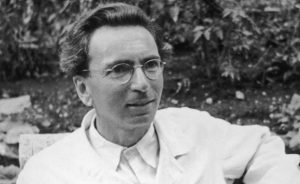 …I arrived at the door just in time to catch a glimpse of the bespectacled, sprightly Viktor Frankl striding confidently toward the mahogany podium as a palpable hush came over the room. Without hesitation, he began to speak in a serene, resolute voice about his life's work and the unspeakable suffering he and his loved ones had endured at the hands of the Nazis. His wife, mother, father, brother, sister-in-law and mother-in-law—along with six million Jews and fifteen million others—perished in the concentration camps.
As I approached the entryway, I sensed a stillness in the seminar room—an almost sacrosanct atmosphere. What riveted my attention that day was his calm demeanor and unwavering conviction that humans are not merely destined to 'pursue pleasure' or 'pursue power.' Frankl maintained that there is a greater motivating force behind all human behavior and that is the 'pursuit of meaning.' Furthermore, he insisted that the motivating elements in life cannot be merely seeking success or even happiness. He unequivocally stated, "these must come as by-products."
I was a curious and eager graduate student, but I had no idea that Frankl's message would affect me so profoundly. I was immediately struck by the absolute absence of rancor in his voice. I felt compelled to scribble a few key words on my notepad as I attempted to comprehend how this man could possibly maintain a positive attitude given the magnitude of his personal losses.
Reflecting on his own heart-rending experiences, he unequivocally stated that humans have the capacity to suffer courageously—even to bring good out of unavoidable adversity. He taught that the ability to choose one's attitude toward any situation is irrevocable."
Episode 10 – Jeremy Lent | The Web of Meaning, with Host, Nicholas Joyce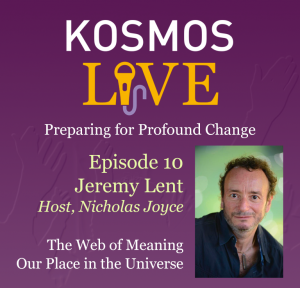 Guest, Jeremy Lent is author of The Patterning Instinct: A Cultural History of Humanity's Search for Meaning, which investigates how different cultures have made sense of the universe and how their underlying values have changed the course of history. His new book, The Web of Meaning: Integrating Science and Traditional Wisdom to Find Our Place in the Universe, was published in Spring 2021.
LISTEN: https://www.kosmosjournal.org/kosmos-live/jeremy-lent-the-web-of-meaning/ 
---