Kosmos Summer Quarterly Preview!

June 22, 2021 Kosmos Community News
Dear Reader,
The Summer edition of Kosmos arrives June 27th – just a few more days! I love this edition because so much of the writing comes from the heart, as many awaken anew to the wonders of our planetary home. Enjoy excerpts from the new edition of Kosmos. And of course, there is much more to come: Features by David Korten and Kiley Arroyo, a conversation with Jeremy Lent, essays, poetry and a beautiful film for our time, called Storm.
Read about a Kosmos event happening right now:
Kosmos and World Unity Week –

Join us LIVE this morning,

June 22, at 8:30Am EDT
Opening/Setting the Tone |
Whole-Self Nurturing & Healing Justice – a Special Collaboration: Kosmos Journal
Kosmos Journal named this the "Century of Awakening". Editor Rhonda Fabian joins "room co-steward" and Montessori educator, Annie Spade to learn how we can nourish collective awakening in ourselves, our communities and in our children.
Join the Session here LIVE: https://us02web.zoom.us/j/81636565988
And follow four full days of events related to: Whole-Self Nurturing & Healing Justice HERE
About World Unity Week
World UNITY Week is a ground-breaking online gathering over 8 days in June, where global changemakers come together to connect, celebrate and advance the emerging good unfolding in the world.
June 19th kicked off 8 days of powerful, global events and presentations, including Vandana Shiva, Paul Hawken, Otto Scharmer, Marianne Williamson and many other luminary thinkers. There are more than 500 events to participate in and it's all FREE to the world. All you need to do is to register at www.worldunityweek.org and you'll be connected.
"Our planet is facing a crucial moment and World UNITY Week 2021 comes at a time of great upheaval and extraordinary promise. Join the thousands who are participating in co-creating a way of being in the world that honours and values all Life. We need your heart and passion and energy!" – Ben Bowler, Executive Director of UNITY EARTH
Excerpts from the 2021 Summer Edition of 

Kosmos

Realigning with Earth Wisdom
Our Summer 2021 Cover
About the Cover
The Watchers: Ancient Ones, is by visual Hermetic philosopher Leigh McCloskey. Visitors from all over the world make the pilgrimage to visit his home, Olandar and tour his masterwork of fixed 3D multidimensionality and symbolical meaning, The Hieroglyph of the Human Soul or THOTHS library.
Leigh McCloskey's work is presented in two separate galleries in our summer edition, a Kosmos first! Gallery 1 presents work from Olandar and THOTHS library.
An innate polymath, Leigh engaged in a seventeen-year effort to create Tarot ReVisioned, considered one of the most important contributions to the field in 100 years. Gallery 2 presents five meaningful 'cards' for our time.
When we speak of Earth wisdom, our meaning is two-fold: the natural unfolding vitality and intelligence of all life; and the deep inner knowing that we are the Earth, that our ancestral DNA is literally encoded by the Earth's nutrients, water and sunlight. To align with this deep knowing, is to penetrate the mystery of life unfolding.
Indigenous to Life |
from the Keynote, by Daniel Christian Wahl
"We are all indigenous to life as a planetary process. The central lesson of many Earth wisdom traditions is about alignment with life as a process, living in right relationship and letting life's regenerative patterns flow through us. In this way of being we understand ourselves not as owners but rather as expressions of place. The land does not belong to us, we belong to the land. The land and the sea will be there long after we return to the soil as compost for new life.
Aligning with Earth wisdom is about living in right relationship. We are relational beings. Each one of us is unique and a nexus of intimate reciprocity within life's regenerative community. To align with Earth wisdom we have to not just learn from but as nature. Janine Benyus elegantly distilled the central lesson of biomimicry to one sentence: "Life creates conditions conducive to life."
As life, how do we let Earth wisdom flow through us as we set out to create conditions conducive not just for all of humanity but for all of life?
How Not to Lose the Elephant for All its Parts |
by Craig Holdrege

"The elephant lives through trunk and skin at its body's boundary in intensive tactile contact with its surroundings. Watching a herd of elephants you see continual interaction—caressing, pushing, slapping, probing. And through its keen senses of smell and hearing, and its trumpeting calls and infrasound rumbles, the elephant enters a truly expansive world.
The trunk unites power and agility in singular fashion. We find this unity of largeness and delicateness, of enormity and sensitivity, in modified ways in nearly all elephant characteristics. With its finely modulating feet, a soft-treading elephant has little trouble moving silently through a forest, but can, in another moment, crash through the forest, bowling over trees or crushing a lion under its foot. The thick, leathery skin that appears so tough is also extremely sensitive, warranting continual care. The large, constantly moving ears are ideal for taking in and locating tones coming from afar, but can also hear the quietest tones and distinguish between subtle modulations. The elephant's unified being speaks through contrasts."
Glacier, Elder, Teacher |
by Stephanie Krzywonos
"The plane's skis touch down and glide—then lift off. We whirl in the air and disturb the same place as if daring to stroke a feather on a great snowy owl. We test for crevasses one more time. The glacier allows us to land. 
Referees of anthropomorphism might blow a whistle here: "Don't project!" We are comfortable with glaciers as inert matter, passive and subject to physics. Glaciers are informative and useful—icons for the climate crisis. As long as they stay frozen, they preserve our shore-loving civilizations and ways of life. But what if we opened ourselves to the idea of glaciers as creatures—as alive and intelligent in a way that we might not be able to comprehend? Our vision might expand beyond lazy anthropomorphism. Instead of focusing our apertures on ourselves, we might experience a true encounter with the Other.
The plane ascends and light mutes, smudging the horizon. The surface smooths into loose reflective silk, disguising whether light's true origin is from above or below. We curve towards a spine of mountains that crosses the continent. We float into a valley, a marbled cathedral with no roof. On a human time scale, all appears still. But these mountains and glaciers are moving. 
Glaciers are incredibly responsive to life's purpose, its continual unfolding. When conditions call for it, they grow—or recede. Earth's current iteration of glaciers are dying in most places, but glaciers covered the planet twice before humans existed. Some scientists speculate that the last 'snowball Earth' triggered the evolution of multicellular life, including ours. Glaciers, in a way, are our ancestors and worthy of respect.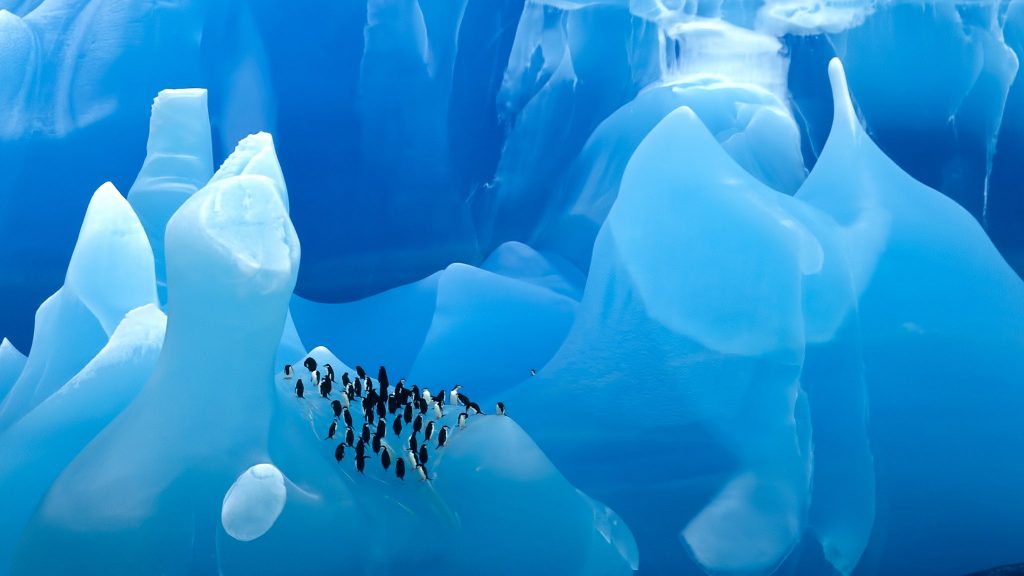 ---