In the Light of 'Truth'

June 2, 2020 Kosmos Community News
"We are bombarded by signals of distress…Not surprisingly we are feeling despair…what is surprising is the extent to which we hide this despair from ourselves and each other." – Joanna Macy
Dear Reader,
Many can no longer hide their despair as we confront hard truths about our society and our planet. Kosmos stands in unity with all who suffer – from disaster, disease, racial injustice, domination, and the spiritless materialism of our times.
Numerous ancient prophesies, along with new understanding from science point to this as a time of great planetary shift – the end of one cycle and the start of another, possibly Satyug in Hindu tradition – the golden age of truth.
Unity, peace, and truth are closely linked. Truth-telling requires the end of self-deception, acknowledgement of past wrongs, and efforts to restore trust. Today, as veils fall one by one, we (re)discover truths about our fragile reality. 'Power over' is always acquired at heavy cost to people and planet. Let us be mindful of who we call 'they' or 'them'. There is one human family, us.
Here are resources to support truth-telling: factual information about COVID-19, about transforming personal bias, understanding 'conspiracy theories', and lessons for children (of all ages) about Mother Earth.
May truth prevail.
VERIFIED |
UN launches new global initiative to combat misinformation
"We cannot cede our virtual spaces to those who traffic in lies, fear and hate," said United Nations Secretary-General António Guterres, who announced the initiative.  "Misinformation spreads online, in messaging apps and person to person.  Its creators use savvy production and distribution methods.  To counter it, scientists and institutions like the United Nations need to reach people with accurate information they can trust."

Verified, led by the Department of Global Communications, will provide information around three themes:  science — to save lives; solidarity — to promote local and global cooperation; and solutions — to advocate for support to impacted populations.  It will also promote recovery packages that tackle the climate crisis and address the root causes of poverty, inequality and hunger.

In this time of crisis, and for the foreseeable future, Kosmos has eliminated pay walls. All our content, including our Quarterly is free to access. We accept no advertising.
The Conspiracy Myth |
by Charles Eisenstein
"What is a conspiracy theory anyway? Sometimes the term is deployed against anyone who questions authority, dissents from dominant paradigms, or thinks that hidden interests influence our leading institutions. As such, it is a way to quash dissent and bully those trying to stand up to abuses of power. One needn't abandon critical thinking to believe that powerful institutions sometimes collude, conspire, cover up, and are corrupt. If that is what is meant by a conspiracy theory, obviously some of those theories are true. Does anyone remember Enron? Iran-Contra? COINTELPRO? Vioxx? Iraqi weapons of mass destruction?
During the time of Covid-19, another level of conspiracy theory has risen to prominence that goes way beyond specific stories of collusion and corruption to posit conspiracy as a core explanatory principle for how the world works. Fueled by the authoritarian response to the pandemic (justifiable or not, lockdown, quarantine, surveillance and tracking, censorship of misinformation, suspension of freedom of assembly and other civil liberties, and so on are indeed authoritarian), this arch-conspiracy theory holds that an evil, power-hungry cabal of insiders deliberately created the pandemic or is at least ruthlessly exploiting it to frighten the public into accepting a totalitarian world government under permanent medical martial law, a New World Order (NWO). Furthermore, this evil group, this illuminati, pulls the strings of all major governments, corporations, the United Nations, the WHO, the CDC, the media, the intelligence services, the banks, and the NGOs. In other words, they say, everything we are told is a lie, and the world is in the grip of evil.
So what do I think about that theory? I think it is a myth. And what is a myth? A myth is not the same thing as a fantasy or a delusion. Myths are vehicles of truth, and that truth needn't be literal."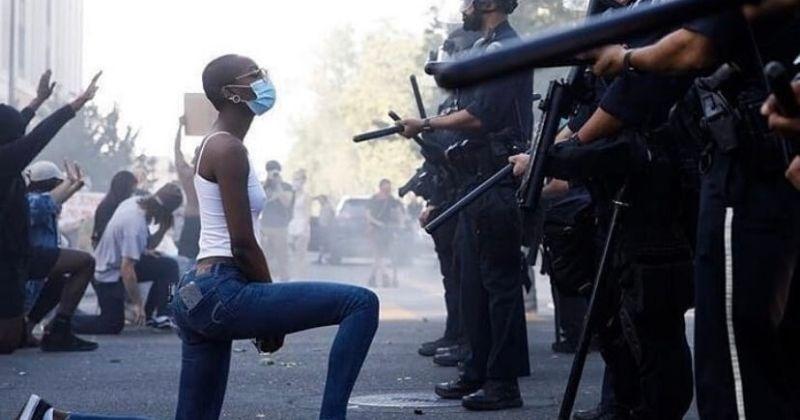 75 Things White People Can Do for Racial Justice
Here are 10 powerful actions. Follow the link to learn, and commit to 65 more.
Find and join a local "white space" to learn more about and talk out the conscious and unconscious biases us white folks have. If there's not a group in your area, start one.
Join or start a Daughters of Abraham book club in your Church, mosque, or synagogue.
Join your local Showing up for Racial Justice (SURJ) group. There is a lot of awesome work going on locally — Get involved in the projects that speak to you.
Do deep canvassing about race and racial justice. Many SURJ groups are organizing them, so many people can do it through your local SURJ group. If they're not already doing it, start it.
Research your local prosecutors. Prosecutors have a lot of power to give fair sentences or Draconian ones, influence a judge's decision to set bail or not, etc. In the past election, a slew of fair-minded prosecutors were elected. We need more.
Call or write to state legislators, federal legislators, and your governor to end solitary confinement in excess of 15 days. It is considered torture by the UN, and it is used more frequently on black and Hispanic prisoners. For more information on solitary, two good overviews can be found here and here.
Watch 13th. Better yet, get a group of friends together and watch 13th.
Watch The House I Live In. Or get a group of friends together and watch it.
Read Ta-Nehisi Coates' article, The Case for Reparations. The US has already participated in reparations four times. Thank you to Clyanna Blyanna for suggesting this addition.
Participate in reparations. One way is through this Facebook group. Remember reparations isn't just monetary — share your time, skills, knowledge, connections, etc.
HOME PLANET |
16 Videos for Kids of All Ages, free from Kosmos
Each short video in the Home Planet Series was made to inspire and inform kids of all ages about the world we live in. They are available for free through Kosmos. Teachers can request free Lesson Plans or make other inquiries by contacting info@kosmosjournal.org, subject line: Home Planet.
The Home Planet series is a production of Immediacy Learning.
---