Autumn Poetry, Music, and Mosaics!

October 15, 2019 Kosmos Community News
Dear Reader,
During the beautiful autumn in this hemisphere, I am paying attention to the wild and generous 'seeding' taking place all around. Milk weed pods burst with downy floss sending tiny angel-seeds aloft, to settle and sleep for the winter. Acorns bombard me in the woods, each nut containing the blueprint for a tree. Yet, even under a microscope, the tree cannot be seen. Something has to wake it up. Seeds are a mystery. Who knows what will grow? We will have to wait and see.
Inspired words, art and music are like seeds. They open in our hearts. Kosmos is committed to sharing the beauty and artistic expression of our community, especially in times of profound change, such as these.
Mother Earth has experienced transformation many times and at all scales.  To the human species, one million years is a very long time, but in geological time, one million years is nothing at all. Birth and death are mere appearances, just as autumn appears to be an ending, even as it seeds new beginnings. (R. Fabian)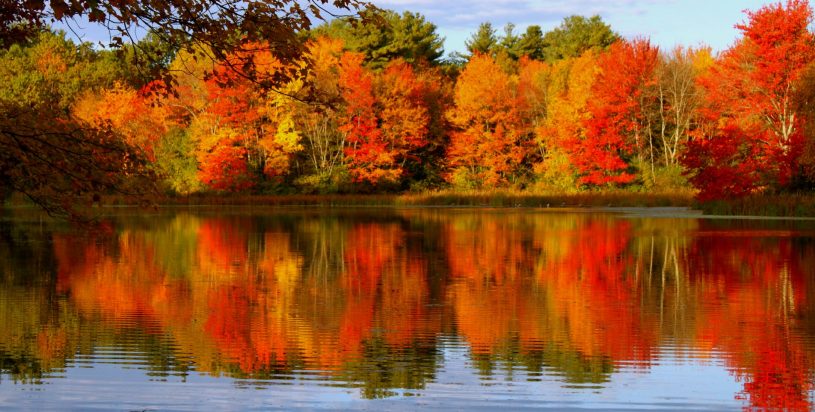 Once again, our poetry editor Carolyn Martin has harvested a fine collection of poems from our community. To me, these all share a certain quality of watchfulness or waiting. See what you think. Enjoy poems by Lorene Delany-Ullman, Juleigh Howard-Hobson, Laura Grace Weldon, and Suzy Harris.
When I am 100
by Juleigh Howard-Hobson
I'll be like May Sarton: alone but not
really alone. Old, but not terrible
in my olderness. Reasonable,
approachable, given to deeper thought
than conversation casually made in post
offices, banks, gas stations, will reveal
about me. I will share myself, both real
and unreal, honest and dishonest (most
of me is not who I think I am at
all). I will plant seeds in well worked earth, I
will watch deer and porcupines pick through my
garden behind me. I'll make peace with that
by then, considering it part of this
compromise called living. Called truth. Called is.

In Honor of the Kurdish People…
Four poems by Kajal Ahmad, translated from the Kurdish
Were I a Martyr
Trans. Darya Ali and
Alana Marie Levinson-LaBrosse
I want no flowers,
no epoch of union,
no dawn of disunion.
I want no flowers
for I am the loveliest flower.
I want no kisses
if for a true wrist
I must hold some knight –
no epoch of marriage,
no dawn of divorce,
no widow's fever.
I want no kisses
if, along with love, I become a martyr.
I want no tears
over the coffin or me, a corpse.
I want no cherry tree of sympathy
dragged to the walls of my grave,
no flowers or kisses,
no tears or miseries.
Bring nothing.
Hold nothing.
I die as a homeland without a flag, without a voice.
I am grateful.
I want nothing.
I will accept nothing.
Translating these poems is an act of archaeology. I work with co-translators, unearthing with raw strikes of the shovel until I can see the lines of the poem and switch to gentle brushes. When I first saw the shape of this poem, the shape of its idea, my mind began to echo with its nothingness.
No flowers, no kisses, no tears, no miseries, no candy at the funeral, no financial or heavenly incentives. She commands the bereaved to bear nothing. She wants nothing.
The emptiness resounds in each line's negation: "I want no." At the end of four of the last six lines, "nothing" tolls like a bell. This nothing is a cousin to the winter of Stevens' "Snowman," the wintering to which Rilke invites Orpheus. Ahmad as a martyr has a mind of winter, she chooses to be ahead of all parting. Yet, Ahmad's character, the martyr, is not alone in a forest clearing nor is she mourning a lost lover. She is a political figure.
As Abdulla Pashew, another famous Kurdish poet, has said, "The poet is more than a poet in Kurdistan." Unlike in America, where the poet seems to belong mostly to other poets, Kurdish poets are public figures. Every personal choice means something. No personal choice is private.
Our Growing Kosmos Music Collection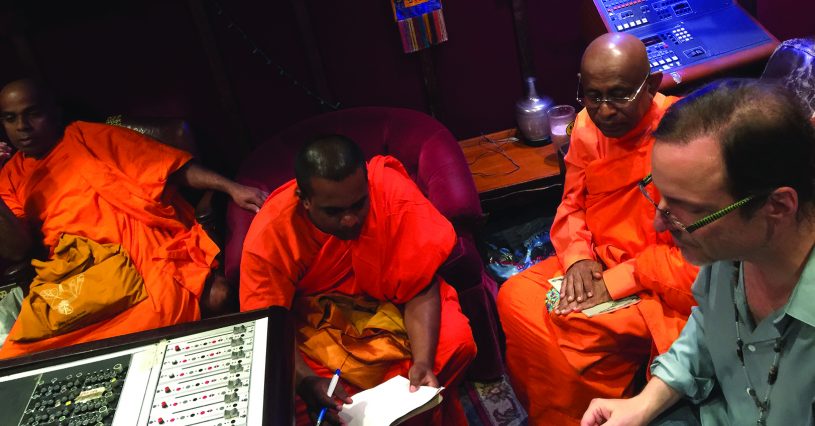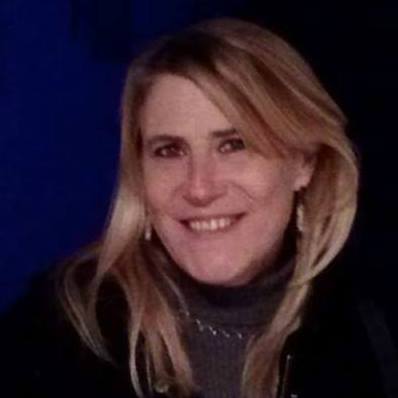 For nearly two years, music editor Kari Auerbach has been enriching Kosmos Quarterly with wonderful music features. From projects like sacred scripture collaboration, Sapient, (above), to deeply personal interviews with musical activists such as Jesse Paris Smith, Xiuhtezcatl Martinez, and Sam Lee, Kari has been interpreting the music scene through the Kosmos lens of transformation. Here is an excerpt from her recent interview with Big Lazy's Stephen Ulrich, and a selection of Kari's features.
by Kari Auerbach
Stephen Ulrich is a guitar player, composer and leader of the band Big Lazy. Big Lazy is an instrumental trio from New York City. Their music dwells in the unmistakable landscape of gritty yet gracefully crafted American music. Simultaneously noir and pastoral, gothic and modern, Big Lazy conjures images of everything from big sky country to seedy back rooms. With sparse instrumentation—electric guitar, acoustic bass and drums—the trio creates richly evocative soundscapes with a distinctly narrative quality and an undeniable sense of place.
Stephen composed music for the HBO series Bored To Death and more recently, the film Art and Craft.
Kosmos | I've heard listeners describe your music as 'the soundtrack to my life'. It connects at a visceral level with people who are experiencing turmoil in their lives. There is a raw honesty at the core of your work.
SU | Thank you. Yeah, the music is not consoling. It's saying, 'everything's open and everything's gray, not black and white'. The songs don't have a happy ending. They don't have a sad ending. You get to make up your own ending. I also get the description 'good driving music'. It's about the trip – telephone poles passing – not necessarily the arrival. There's an element of human resistance and the power to act when you can actually write your own script.
Kosmos | There's a yearning in the music, and also in your performance of it.
SU | There is an unresolved quality to the music which gives it a sense of danger but also sadness. Most of the tunes are in minor keys and to our Western ears the minor key lacks resolution. That quality of danger attracts film makers to use the music in dramatic situations. What I love about composing music is I'm using math – music theory – to affect people's emotions.
More Selected Music Features in Kosmos, by Kari Auerbach
Composer Steven Chesne spent a year unearthing ancient, precious peace invocations and prayers from all over the world: words of the oneness of mankind, spoken by Buddha, Lao Tzu, Jesus, Mohammed, the Sikhs, the Hindu, the Jews, the Cheyenne, the Kikuyu, and the Baha'i.
Sound and music are very powerful, and we as emotional beings are sensitive to what we hear. We do not only hear with our ears but with our whole bodies.
The idea for this project arose from a common belief that music has the power to break down boundaries and overcome distances between people. No matter whether people come from different geographic, political, economic, spiritual or ideological backgrounds, music had the universal power to transcend and unite us as one human race.
The EUO was deeply inspired by the work Pierre Teilhard de Chardin, Thomas Berry, Brian Swimme, and Mary Evelyn Tucker and John Grim from the Forum on Religion and Ecology at Yale University. These seminal thinkers have endeavored to lead us to a new understanding of the place of humans in the Universe.
The Mosaics of Kathy Thaden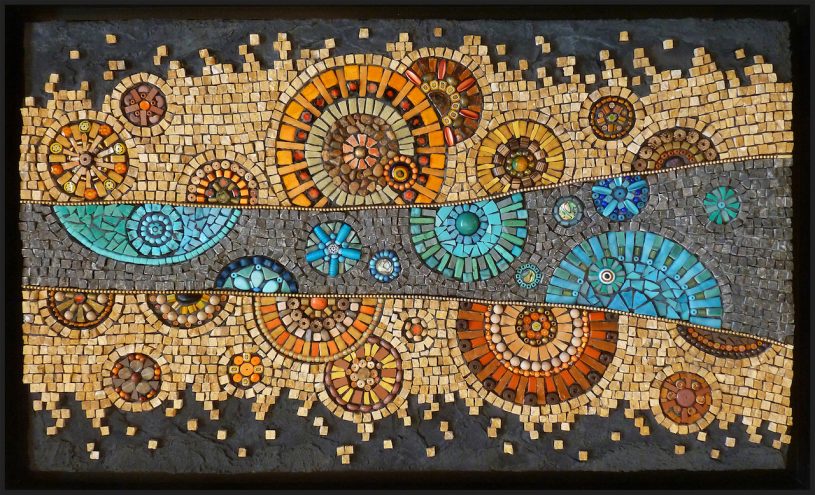 'At your command all things came to be: the vast expanse of interstellar space, galaxies, suns, the planets in their courses, and this fragile earth, our island home.' (Episcopal Book of Common Prayer p. 370)
These words from the Eucharistic Prayer articulate the environmental focus and inspiration for much of Kathy Thaden's mosaic art. She writes, "As an artist, my work is informed by my Christian faith – expressing awe at creation and the Creator, as well as responsibility, a divine call to stewardship of all that we have been given. As a mosaicist, I treasure glass and stone scraps or discarded items from our 'throw-away' consumer culture. It is important to me that nothing be wasted, finding beauty in what was once broken."
Linking her art to her faith Thaden says she tries to be always open to God's possibilities, giving rise to sacred art formed in prayer.  "How do I discuss the impact of environmental issues – on both our natural surroundings and the rest of humanity? What can I contribute to the narrative of healing and restoration? By imagination and inspiration, I believe as artists we can be truth-tellers."
---