Kosmos Fall Quarterly | Special Preview

September 17, 2019 Kosmos Community News
New Spirit, Wise Action | Aligning Inner and Outer Purpose
Dear Reader,
The times we live in ask much of us. How can we know the best ways to respond to the converging crises we face? How can we live lives of deep meaning and joy in the midst of confusion and pain, and be catalysts for positive change?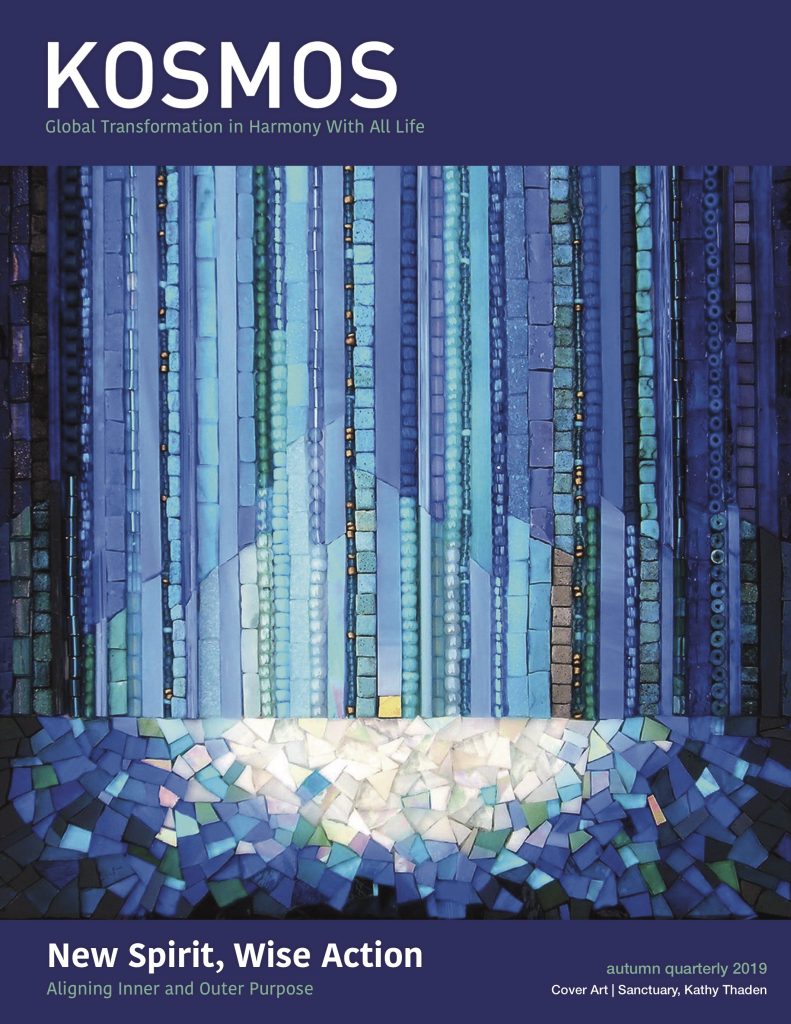 The Fall edition of Kosmos Quarterly explores the dynamic between our inner work and outer actions. Creating this edition, we kept our focus on emergent ways of being and doing in these challenging times. For veteran activists like Lisa Fithian, it is 'conscious organizing'. For Brian Robertson and Extinction Rebellion, it is the distributed authority and autonomy of holacracy. At Burning Man, burners annually create and dismantle a post-apocalyptic city for artists and lovers in the Nevada desert. Zen Master Thich Nhat Hanh offers a global ethic for humanity – the Five Mindfulness Trainings. Professor Jem Bendell, shares his personal practices for surviving climate despair. And enigmatic musical artist Kendra Smith, chooses life off-grid, chopping wood and carrying water.
Each of these actions, among others, is a valid response as we navigate the liminal space between the disintegrating 'flat' worldview of objective rationalism, and the incoming convulsive energy of a new integral era. And how we live now is nothing less than the greatest test ever faced by a known species. Unlike the dinosaurs, we alone have the capacity to awaken, to cherish the gifts of awareness and insight, and to recognize the reality of our interconnection with all Life.
Never have the stakes been so high, the choices so profound.
Scilla Elworthy | Charles Eisenstein | Jem Bendell | Kendra Smith | Daniel Pinchbeck | Caveat Magister | Gary Gach | Llewellyn Vaughan-Lee | more…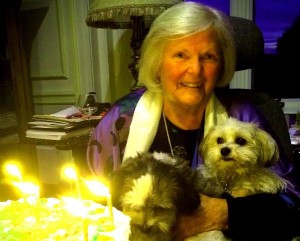 Please join us in wishing Nancy Roof, our beloved founder and Editor Emeritus, a very happy 90th birthday. This wise world-server is a beacon of light to everyone touched by her vision and her love.
EXCERPT |

Shut It Down: Stories From a Fierce, Loving Resistance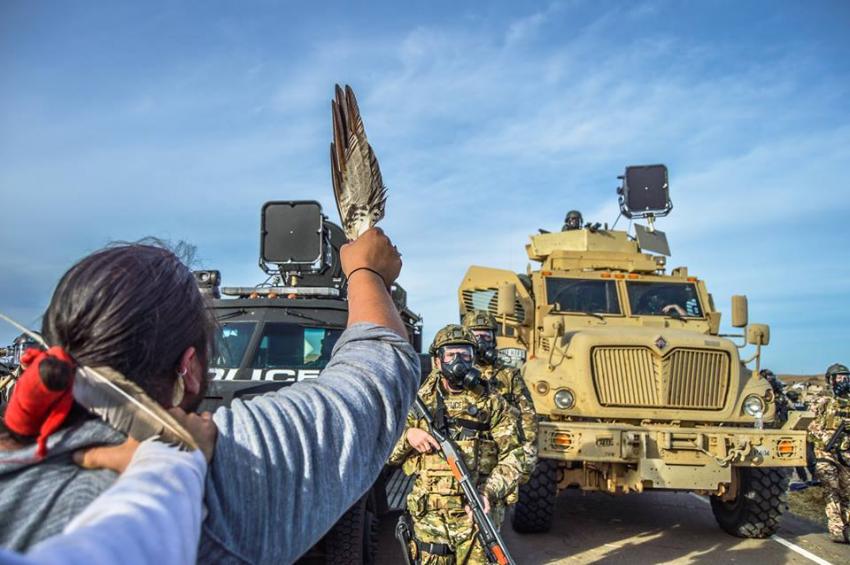 By Lisa Fithian
Many of us [who participated in actions at Standing Rock] drew from years of grassroots organizing experience, including a model of horizontal networking. In more recent years, with the rise of the nonprofit model, it has been difficult to get people to understand the power of small self-organized groups as an ongoing structure for our movements—yet this model has been a vital part of some of the most successful people-powered movements in recent years, including the climate justice movement, Occupy, and Black Lives Matter. The model [we] used at Standing Rock was similar to how some of us organized in Ferguson in advance of the non-indictment of Michael Brown's murderer. It was a combination of mass meetings/assemblies and mass trainings to gather folks together, build affinity groups, and share a common language, analysis, and organizing strategies.
As a white person participating in these movements, it has been helpful for me to think of this type of organizing as both conscious and transformative. By conscious organizing I refer to the intentional, day-to-day work of building a culture that restores our humanity. Our movements can't only be about the practical outcomes. If we don't succeed in stopping the pipelines, or Black Snake (the desired practical outcome), the movement is still important because we have organized ourselves according to a different vision of how the world can be.
LEARN | Shut It Down! The How-To of Conscious, Transformative, Anti-Oppressive Organizing coming September 21st. SUBSCRIBE
EXCERPT |

The Sun of Darkness

By Daniel Pinchbeck
…What Karl Marx once noted about the innate tendency of modernity – "all that is solid melts into air" – now seems true across the board. Our environmental support systems, to take one example, have been destabilized to such a degree that all future bets are off. That our financial system is entirely evanescent, based upon collective faith, was starkly revealed by the massive crash of 2008, as well as by the rise of blockchain-based currencies able to generate vast fortunes without any known utility. An ongoing breakdown of outmoded patriarchal structures is underway as women join forces, amplifying their voices through the Internet. At the same time we witness the rise of "fake news" which impacts popular opinion and elections, and the new threat of "deep fakes," doctored video and audio that can convincingly show any person saying or doing anything. Then there is Artificial Intelligence, CRISPR, three-dimensional printing, new technologies capable of reading our thoughts, total surveillance systems, and so on.
The felt sense that we have moved from a time of clarity to one of murky ambiguity, confusion and corruption is, of course, exemplified by Trump's Presidency as well as the rise of the Alt Right. In many respects, Trump's ascendancy has a dream-like, surreal quality to it. Trump himself seems a liminal, trickster, or Loki-like figure – akin to the Lord of Misrule from a fairy tale. The Trump card is the one that automatically and unfairly wins over all of the others. Symbolically, this reflects the impermeable psychic field surrounding his meteoric rise as well as his astounding capacity to shrug off scandals that would have annihilated any previous president many times over. Trump has trumped the system. With his victory, it feels as if we have fully entered the realm of the hyper-real or what the French philosopher Jean Baudrillard called the Simulacrum.
EXPLORE | The Sun of Darkness, from the Periphery to the Center, coming September 21st. SUBSCRIBE.
EXCERPT |

Burning Man: What We've Learned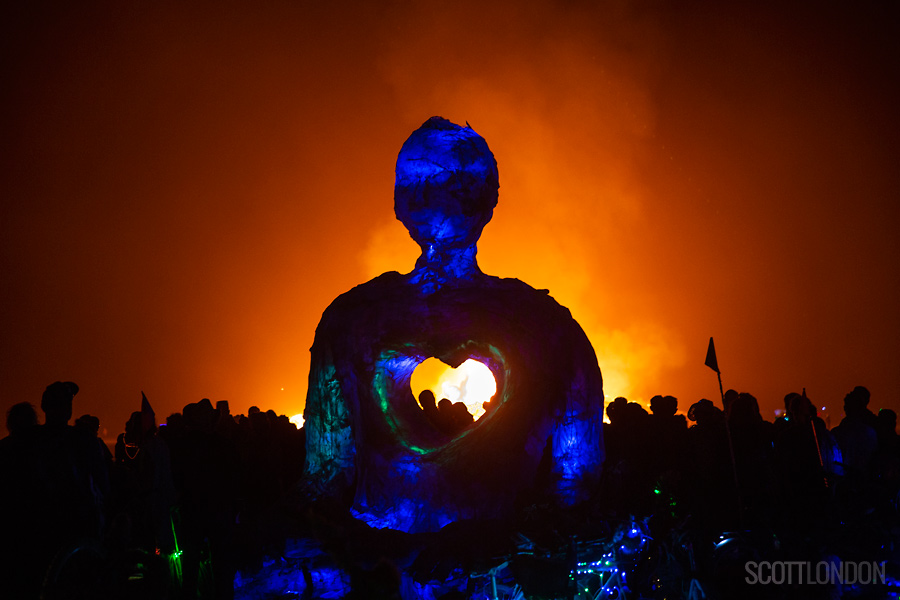 By Caveat Magister | Photography, Scott London
Sisyphus is a mythological figure, an ancient Greek king who was so clever that he was constantly fooling and tricking the gods. Long myth short, eventually he died, because clever only gets you so far, and was given a special punishment in Hades: he was eternally condemned to roll a giant boulder up a steep hill, and every time he was about to reach the top, the boulder would slip from his grasp and roll back to the bottom, and he'd have to start over again. All his labor was in vain, all his best efforts futile.
In 1942, French philosopher and novelist Albert Camus wrote an essay titled The Myth of Sisyphus in which he used Sisyphus as a metaphor to describe the absurdity of the human condition. We are searching for truth and beauty and clarity in a world that is empty and devoid not just of God but of any truth and value at all. Camus concluded his essay by saying that even though we are all Sisyphus, we can be happy anyway. We can embrace the absurdity, and make our choices, and find satisfaction in the futile struggle to raise that boulder up the mountain, again and again.
The evidence from the experiment of Burning Man is conclusive: we can do better than this. Burning Man is a better offer. Even if Camus's basic description of our existential condition is correct, we don't want to live that way. Burning Man shows how we don't have to. It is a prototype demonstrating how we can live very different lives than the myth of Sisyphus allows.
Paying attention is the very minimum qualification for doing this. The place where you have to get started individually. There is no replacement for it. There is no hack for it. It is where participation begins, and culture only belongs to those who participate in it.
ENJOY | Burning Man, The Scene That Became Cities, coming September 21st. SUBSCRIBE.
---