Zach Street
Zach Street is an Artist/Activist/Educator living in Hilo, Hawai'i, and shares his island home with the 'Ōhi'a Lehua featured here. Endemic to the island, these iconic trees are symbolic of love, dance, and the spirit of Nature. Currently under threat from human introduced diseases, the 'Ōhi'a Lehua are inspiring the local community to act for the future of the forests of Hawai'i.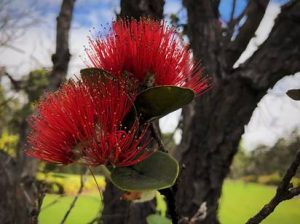 Zach will be attending the Climate Change & Consciousness conference (CCC19); you can view his photography on the CCC19 website and visit this CCC19 blog post to learn more about his motivation to attend this global gathering in Northern Scotland.
To connect with Zach or view more of his work, follow him on Instagram, Facebook, Twitter, and Patreon.