Chung Hyun Kyung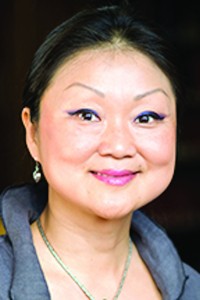 Associate Professor Chung Hyun Kyung, graduated from Ewha Women's University in Seoul with the B.A. (1979) and the M.A. (1981). She holds the M.Div. from the School of Theology at Claremont (1984), a diploma from the Women's Theological Center in Boston (1984), and the Ph.D. from Union Theological Seminary (1989). She is a lay theologian of the Presbyterian Church of Korea, as well as once having become a temporary Buddhist novice nun. In 1999, she lived for a year in a Buddhist monastery in the Himalayas studying mediation. Now she is in the process of becoming a dharma teacher at the Kwan Eum Zen School in New York City. She first came to international attention in 1991, when she made a now famous speech– a feminist/Asian/ Third World interpretation of the Holy Spirit–at the World Council of Churches in Canberra, Australia. She defines herself as a "salimist" (Korean Eco-feminist) from the Korean word "salim," which means "making things alive."
Professor Chung's teaching and research interests include feminist and eco-feminist theologies and spiritualities from Asia, Africa and Latin America; Christian-Buddhist dialogue; Zen meditation; approaches to disease and healing in varied religious backgrounds; mysticism and revolutionary social change; Goddesses and women's liberation in Asia; interfaith peacemaking; as well as the history and critical issues of various ecumenical theologies (e.g., Minjung theology, EATWOT theology, Gospel and Culture, interreligious dialogue).
Prof. Chung tries to synthesize the wisdom of the worldwide people's movements, spiritual legacies of Asian religious traditions, critical academic analysis, and the world of the arts in her theology. In 2006, she successfully extended an invitation to the Dalai Lama to speak at Riverside Church at a Union-sponsored event called Peace is Possible! She organized this week-long conference in collaboration with the International Interfaith Peace Council, of which she is a founding member and councilor, and with Peacemakers in Action. A charismatic speaker, her numerous lecture engagements, interviews, and televised appearances have taken place at universities and people's movement settings throughout the world, and have been broadcast through the international media. She also produced an award-winning, eight-part series, "The Power of Women in World Religions," on Korean Public T.V.
Professor Chung's published works include Struggling to be the Sun Again: Introducing Asian Women's Theology (1991); In the End, Beauty Will Save Us All: A Feminist Spiritual Pilgrimage, Vols. I and II, published in Korean, (2002); Letter from The Future: The Goddess-Spell According to Hyun Kyung, published in Korean, (2003); and Hyun Kyung and Alice's Fabulous Love Affair with God (2004), co-authored with renowned American novelist, Alice Walker; as well as numerous articles. She is currently working on a new book, Salimist Manifesta: Korean Women's Theology of Life. She is also conducting ongoing interviews with scholar-priest and ecotheologian Thomas Berry for a prospective book project, Four Seasons with Thomas Berry.
Prof. Chung was on sabbatical during the 2006-07 academic year, doing research through a year-long immersion experience with Muslim women, who are involved in peacemaking work in 16 different Islamic countries. She hopes this project will provide a creative method of Christian feminist dialogue with the Islamic world.
Journal Article
Building our retreat center taught me a lot about construction, but most of all I learned about building community. There's an African proverb that says, "If you want to go fast, go alone. If you want to go far, go together." I would like to add to that clever wisdom: "If you want to go joyfully, go in friendship." There are some things, and some distances, that we can't or wouldn't want to cover alone.