Alexa Bradley and Julie Ristau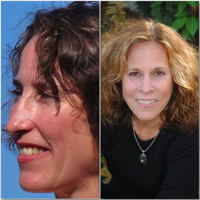 Alexa Bradley (left) is a Program Director at On The Commons. As part of the organization's leadership team she works to foster community solutions rooted in commons principles. Her current work includes a focus on the Great Lakes Commons Initiative. Alexa has worked as an organizer, facilitator and popular educator for over 25 years.

Julie Ristau (right) is Co-Director at On the Commons, where part of her mission is to infuse commons principles and practice to various local initiatives OTC has launched. Julie has been publisher of Utne Reader Magazine, held an Endowed Chair at the University of Minnesota Institute for Sustainable Agriculture, and worked as a community-based animator, organizer and civic leader in both rural and urban settings.

On the Commons is a commons movement strategy center. We work with communities to explore and demonstrate how we can exercise power in the decisions that affect our lives. Through initiatives like the Great Lakes Commons, we connect a rapidly growing network of people, organizations and ideas and foster the creation of solution oriented work aimed at reclaiming the public domain, shared resources and our own humanity. The tremendous and widespread growth of the commons movement over the past few years is testimony to the resonance of this ancient concept as a fresh solution to 21st century problems. http://onthecommons.org
Article
There are 70 of us assembled here at the University of Notre Dame in South Bend, Indiana for the opening of the first ever Great Lakes Commons Gathering. In the opening circle we introduce ourselves and pour water brought from our homes around the Lakes into a large clear bowl. This confluence of the waters reflects the real and symbolic center of our meeting.