Watershed
Environmental art in collaboration with Philippa Jones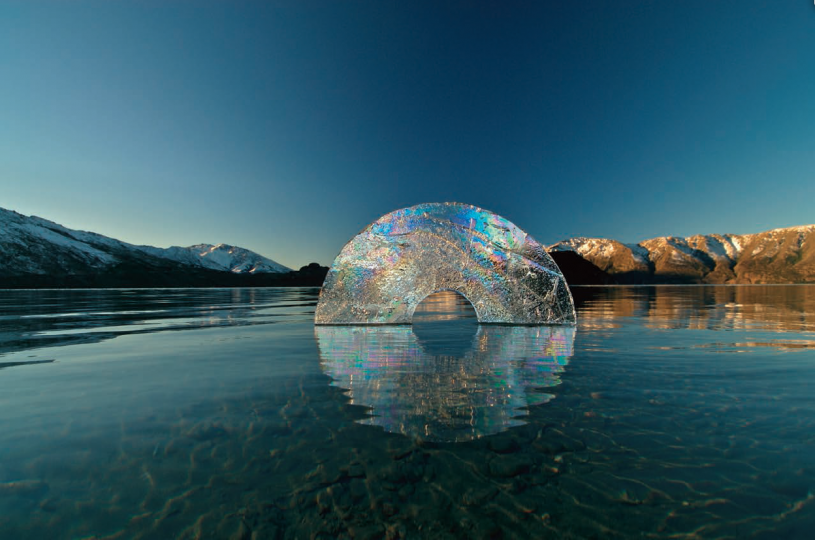 I work in nature because we are nature…
My materials come from the earth to which they return…
Learning to live by nature's design is our only hope for the future
Artist Statement
Since 1992, in collaboration with Philippa Jones, I have focused my art practice on making environmental sculptures in nature that return to nature. My photographs are all that remain of the sculptures. They are exhibited, published, and collected worldwide. For me, making this body of work is my way of connecting with nature to tell the story of the transition that is underway now towards a circular economy that emulates the way nature works. Nature is sustainable by design. Fuelled by sunlight, everything is recycled: all waste becomes food for something else. In the new circular economy, businesses and social systems are designed with principles learned from natural systems. Innovations using what is available locally run on renewable energy in cooperative relationships with one another; these cyclical systems eliminate waste and deliver multiple benefits and jobs. They out-compete existing harmful models, making them obsolete. What has art got to do with this? Changing to a new model of progress that does not destroy the living world on which life relies requires us to use a new way of thinking. I believe art can help trigger this change and inspire us to look at problems as opportunities for innovation from which multiple beneficial outcomes increase well-being for all.
PHOTOGRAPHS FROM THE WATERSHED EXHIBIT
Watershed was created in response to being awarded the Kenneth Myer Artist's and Writer's Alpine Retreat, a 21-day stay at Whare Kea Chalet at 1700m on Albert Burn Saddle near Mt. Aspiring in the Southern Alps of New Zealand. After research, I decided that since the source of two rivers emanate from the Albert Burn saddle the project would focus on the water cycle. It is titled Watershed because humanity is now at a watershed in its relationship to natural systems. In collaboration with Philippa Jones, the Watershed Project consists of 25 ephemeral sculptures, two sculptures and two videos made over a year. Watershed was first exhibited at McClelland Sculpture Park+Gallery Melbourne Australia where it was viewed by 20,000 people over three months. View the Watershed Experience video at www.kosmosjournal.org. The Watershed exhibition is available to exhibit internationally.
Enquiries: martin@martinhill.com.
Visitors are welcome at Martin Hill Studio Gallery in New Zealand: www.martin-hill.com. Martin Hill is an award-winning environmental artist. His book Earth to Earth featuring sculpture inspired by nature's design, has reached a wide audience internationally. He has had solo exhibitions in Japan, Sweden and New Zealand, and has completed numerous privately commissioned sculptures and projects. The Fine Line Project, begun in 1995 in collaboration with his partner Philippa Jones and nearing completion, is a symbolic line encircling the earth connecting ephemeral sculptures made on 12 high points.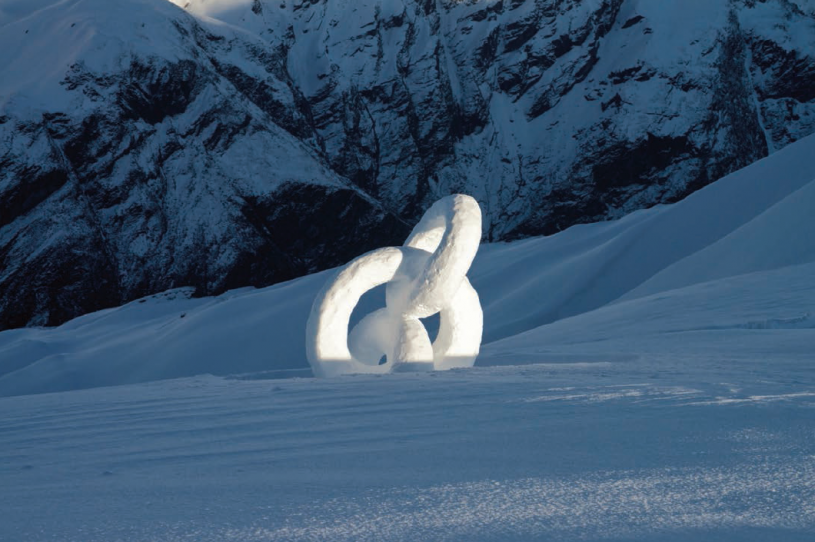 A sudden storm deposited 30 centimetres of new snow that allowed this improbable sculpture to be made by adapting the remains of an earlier work (Solve for Pattern).
The earth's interconnected systems in dynamic balance with each other form one integrated whole system.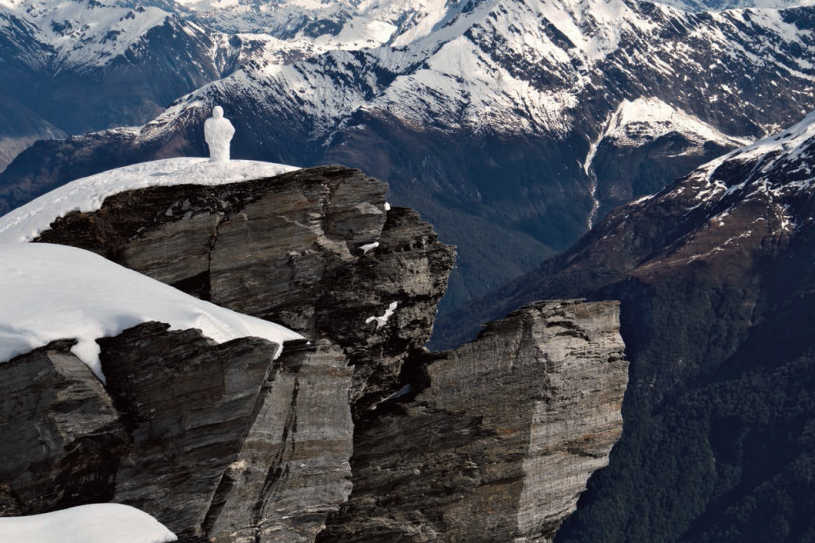 Surveying this pristine wilderness from an altitude of 2000 metres in Mt. Aspiring National Park we felt insignificant but the reality is the combined impact of seven billion of us on the world is now even affecting these mountains.
Mountains are the source of the world's greatest rivers that enable human populations to feed themselves. Protecting mountain water sources protects life.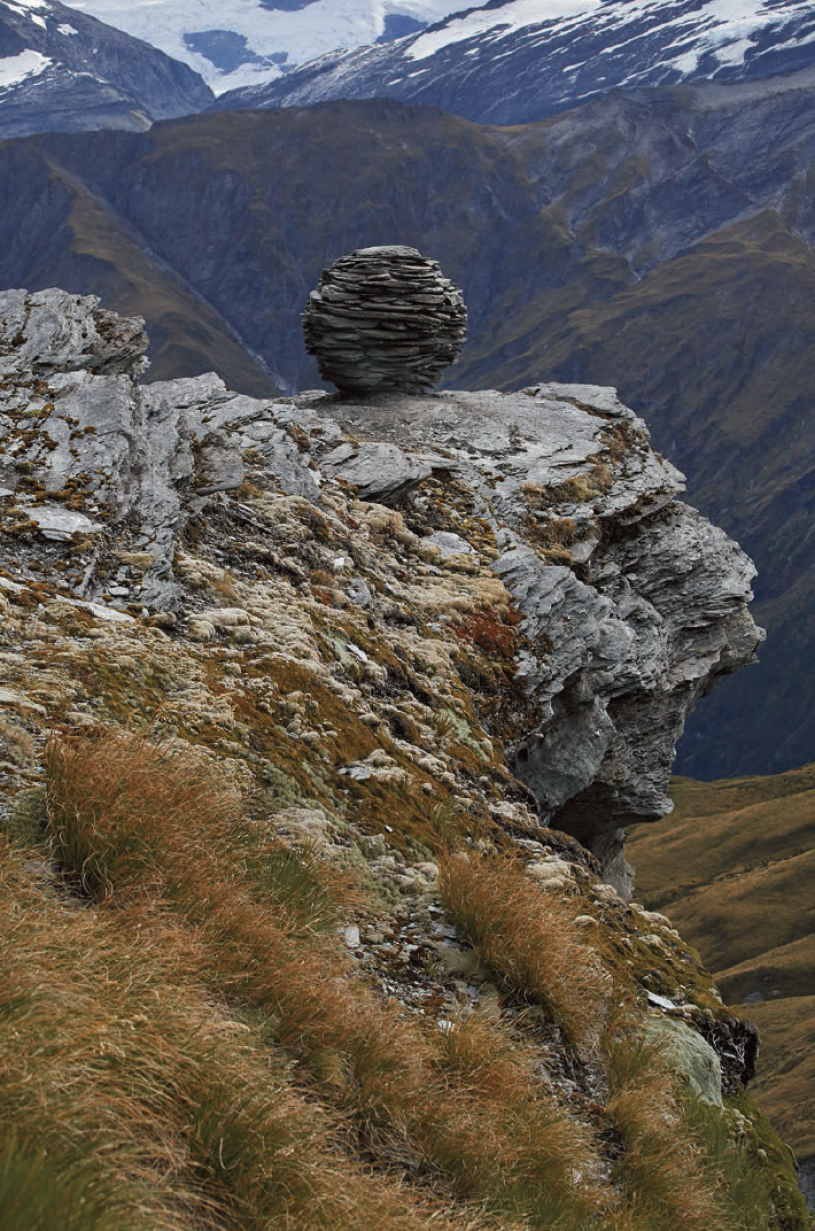 A quest for balance is embodied in a rock sphere built on the very edge of a bluff shared by alpine plants.
Life creates the conditions conducive to life. Interrupting natural processes puts life on the edge.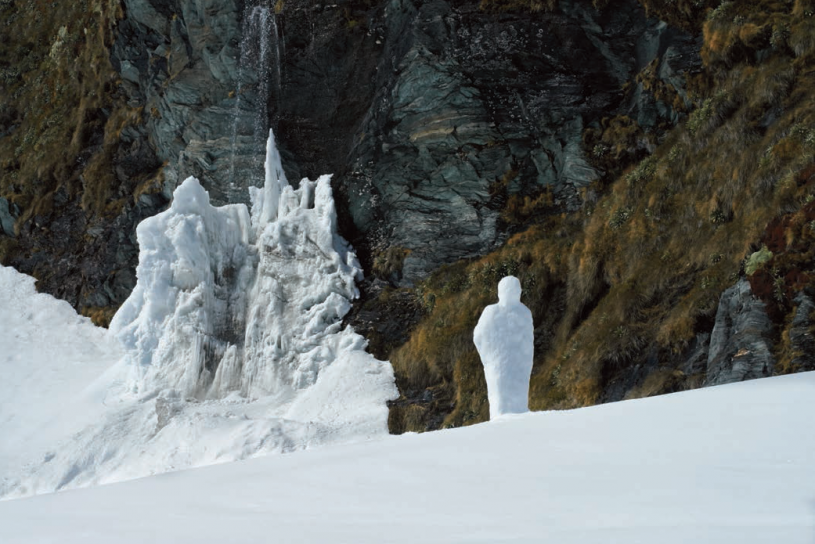 Winter conditions transform waterfalls into sculpted forms. Constantly changing alpine conditions remind us what we are made of and how fragile we are.
Humans are 68% water. Protecting water protects us.
A shaped rock figure contemplates Lake Wanaka and its surrounding mountains, standing witness to the clouds and rain.
Clouds are an integral part of the water cycle delivering water from the sea and the lowland back to the watersheds in the mountains.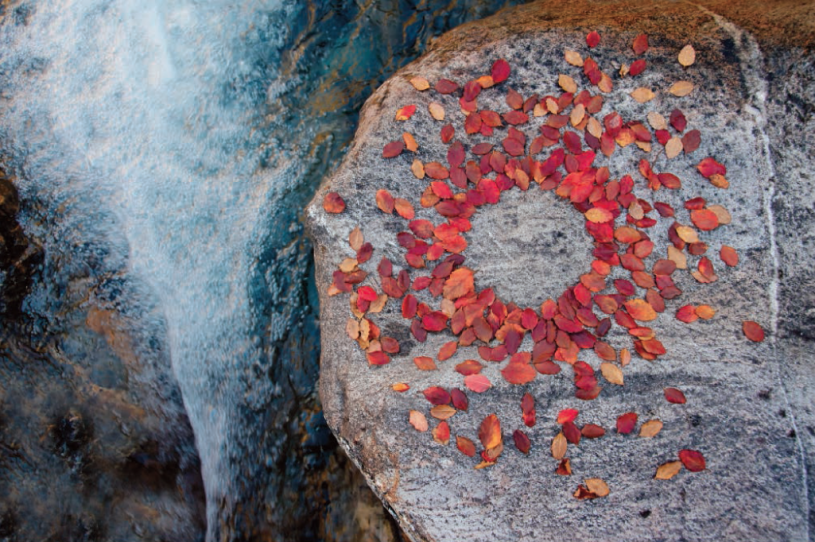 Red beech trees drop leaves as part of their life cycle. This work creates order from chaos and is a narrative on the continual progression towards entropy.
Everything is evolving from or devolving towards nothingness. Life flows in cycles.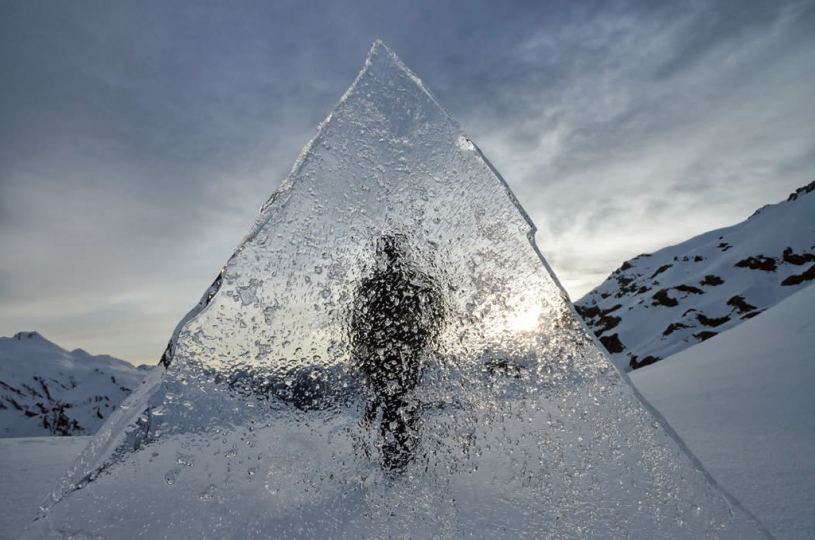 This triangular sheet of ice references the elegant shape of Mt. Aspiring. The real figure behind it presents a human from nature's perspective.
The Earth's ice keeps the climate in a condition suitable for human life. Anthropogenic climate change now means humans are responsible for guarding the ice.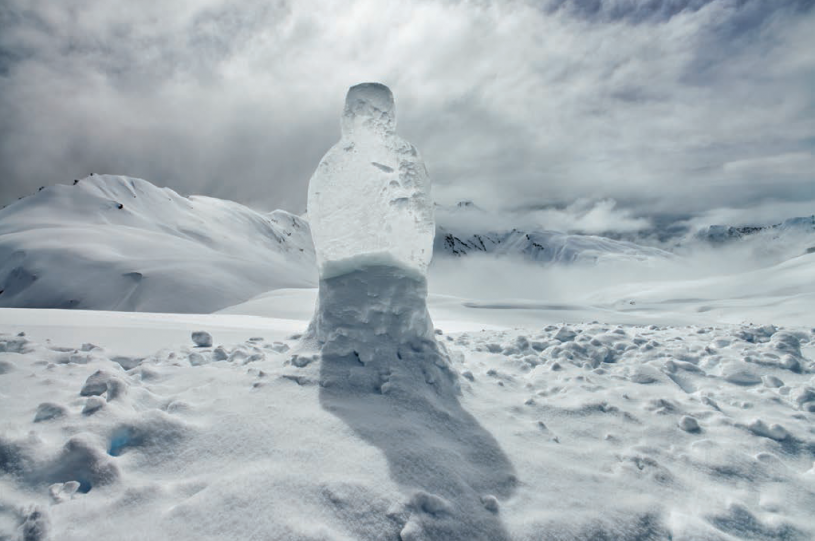 To make ice we froze water overnight in a tarpaulin. Its fragility reflects that of the climate and the seriousness of the water crisis.
Humans are now responsible for guardianship of all watersheds. Increased world populations require more water than is available in many places.