Mapping the Global Transition to the Solar Age: From 'Economism' to Earth Systems Science
by Hazel Henderson
Review by Monica Sharma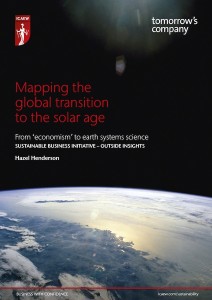 Hazel Henderson takes us on a journey through time—future, present and past—and weaves new pathways to one of our next milestones in human civilization: the Solar Age. Based on current scientific knowledge and irrefutable facts from the domains of finance and economics, these innovative, transdisciplinary pathways connect strategic action to the conscious human and our quest for happiness. While being firmly grounded in what is possible, these new pathways were synthesized by Hazel from a vast array of initiatives around the world. Reading this practical and thought-provoking book inspired and informed me. It offers both hope and direction for an emerging future with a different global context.
As a thought leader exploring alternatives in action, Hazel shares both the positive changes she has generated as well as the ridicule and opposition she has sometimes faced. However, she has remained unshakable in her pursuit of economic and social justice. Indeed, her professional journey and steadfast commitment can inspire each one of us to be bold and courageous! For example, Hazel describes her experience of challenging the assumptions of conventional economics and formulating new metrics to correct GDPs—after all, what we measure is what we move! Recognizing that most individuals do not fathom the intricacies of the world of money and finance, Hazel demystifies key policies and factors while building links for us to be able to demand or design the reforms needed in global finance and renewable energy. She tells the story of power dynamics and vested interests that keep the fossil-fuel industrial era going—a story we must know in order to 'connect the dots' as global citizens endeavoring to change the paradigm.
The book focuses on current challenges related to human and planetary well-being and our grossly inadequate global response. It maps powerful initiatives that signal a change in the trajectory set by past policies and action. Hazel cites research that shows that the assumptions of human nature (individual competition and maximizing self-interest) in conventional economics are inaccurate. There is hope to be found in knowing and sharing examples of people making change around the world. Her evidence-based assertion that global systems are shifting is most exciting! She stimulates a new way of thinking—an invitation to join and co-create a new set of policies and theoretical underpinnings for impact. For instance, she suggests internalizing the externalized costs; changing the metrics of social well-being; valuing intergenerational equity in natural resource use; and leveling the playing field by changing subsidies.
With a gold mine of references, the book reviews the world's current challenges and how we arrived here, as well as how shifts are occurring now based on the universal values of equity, justice and inclusion. I did not know that "if the US government had subsidized solar, renewables, and energy efficiency by equivalent subsidies as those to oil, coal, and nuclear power, that the US could have been 100% powered by renewables by 1975!" Hazel's anecdotes from over four decades of grappling with naysayers and those with 'theory-induced blindness' of the much needed reforms ground us in stark realities of power and politics, even while optimistically pointing to significant possibilities for sustainable change and happiness.
Focusing on the Global South, Hazel notes that the special agencies of the United Nations were drivers of a new planetary awareness, new memes and new norms. The UN promoted, and continues to promote, human rights, well-being and a thriving environment. The UN is often perceived as an unnecessary entity and an ineffective bureaucracy by some in the US and other countries. Perhaps they are unaware. Having worked with the UN for over two decades and seeing both its successful contributions and its limitations that are in need of reform, I am delighted to know and share the perspective of an eminent scholar and human development practitioner!
Hazel notes that innovations for earth systems, as we transition from the industrial era to the solar age, must be values-based, drawing from the principles of equity, social inclusion and ecological sustainability. These values lay the foundation for designing new systems and determining the new rules of the game. Data and numerous global examples (north and south countries) will make the lessons of this succinct book valuable throughout the world. Her arguments direct us toward concrete action. Hazel sees a tipping point in the great transition to a cleaner, greener, healthier Solar Age.
Skillfully written for a wide range of readers—scientists, global citizens from every country, policy makers and economists, among others—the book simplifies (without being simplistic!) the complex arenas of money, finance, economics and environment. It is sophisticated simplicity. A must read!
Publishers: The Institute of Chartered Accountants of England and Wales (www.icaew.com) and Tomorrow's Company ( www.tomorrowscompany.com )
London: Feb, 2014
The full e-book is downloadable at www.ethicalmarkets.com
Hazel Henderson is the founder of Ethical Markets Media, LLC and the creator and co-executive producer of its TV series. She is a world renowned futurist, evolutionary economist, worldwide syndicated columnist, consultant on sustainable development, and author of The Axiom and Nautilus award-winning book Ethical Markets: Growing the Green Economy (2006) and eight other books. She co-edited, with Harlan Cleveland and Inge Kaul, The UN: Policy and Financing Alternatives, Elsevier Scientific, UK 1995 (US edition, 1996).
Monica Sharma is the former Director of Leadership and Capacity Development at the United Nations. She teaches her pioneering methods of social change around the world based on strengthening the inner self, living values and integrity.