Kosmos Seed Grant Awards 2015
In January 2015, Kosmos Journal invited open submissions for two Seed Grants in the amount of $2,500 each. We received more than 1,700 short proposals from all over the world. Fourteen years ago, Kosmos was honored to be the recipient of a $2,500 grant from Lifebridge Foundation to publish our first Journal. This generous act made Kosmos Journal possible. Today, we are privileged to extend this act forward to two outstanding projects that embody our mission, transformation in harmony with all Life.
Harlem Grown Growing Food, Growing Knowledge, and Growing Future Leaders
Project Location: Harlem, New York City, NY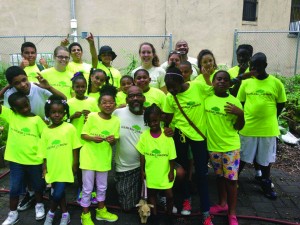 Harlem Grown is a nonprofit organization working with children in Harlem to transform ideas about food and community by inspiring youth to live more healthy and ambitious lives. They offer hands-on education and mentorship in urban farming, sustainability, and nutrition. Harlem is home to some of the highest needs children in New York City. It is also home to four times the number of fast food restaurants than higher income neighborhoods. Children in Harlem face serious challenges spanning poverty, crime, and health—almost one out of every two elementary aged children in Harlem is either overweight or obese. Harlem Grown strives to change these circumstances. Children learn how to grow their own food, how to be leaders and teammates, how to generate sustainable change in their community, and how to live healthier lives.
"We are very grateful to be a recipient of one of Kosmos Journal's first seed grants. Working with youth ages 5 to 15, we create urban farms in Harlem that are home to educational and mentor-based programs. In the past five years, we have grown over 3,000 lbs of fruits and vegetables, composted several tons of food scraps, and developed two urban farms, one school garden, and a hydroponic greenhouse. Our farms and programs reach over 1,200 youth and engage 700 volunteers yearly. Our work is based on community and partnerships: we cannot do it alone. As Harlem Grown's reach expands, so does the need for additional growing space. This Seed Grant from Kosmos will allow us to develop the 131st Street Garden into a thriving educational living laboratory. From purchasing tools and plants, to supplying youth members with t-shirts and snacks, this grant will fund development work at the new garden during the 2015 growing season."

~ Kelly Gillam, Program Coordinator, Harlem Grown
UniTED – A Global Community of Students Uniting for Effective Social Action
Project Location: Lake Victoria, Uganda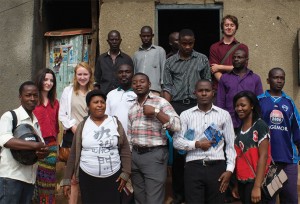 UniTED connects students to collaborate internationally and strengthens their social action projects locally. Established in 2013, they work with over 3,000 university students as the leaders of tomorrow's institutions and organisations, empowering them to tackle local manifestations of global problems through over 100 projects and connecting students across the world to create longlasting relationships across eight institutions.
UniTED believes that injustice in the world flows from an inability for individuals to deeply connect with each other and value each other as fellow humans. UniTED helps create relationships that lead individuals to approach decisions and behave in a more socially and globally conscious manner. Their flagship training 'The Uniters' Camp' will take place in August 2015, bringing together 130 Uniters on the shores of Lake Victoria in Uganda.
"UniTED is delighted to have been awarded one of the first Seed Grants by Kosmos and very much looks forward to collaborating with Kosmos over the coming months. We agree with Michael Nagler, a contributor to the Fall|Winter 2014 edition of Kosmos, that our collective action as a human race needs to be much more effective. At UniTED, our way of enabling collective action is through creating relationships. Equal, authentic, deep, long-lasting relationships between university students, chosen as they are as future leaders of our institutions, companies, and countries. We work chiefly through training student leaders to organise fellow students and their projects on campus, and then act as the facilitators of international collaborations between partnered universities on different continents. We look forward to growing with the support of Kosmos into our vision of a world united in social action."

~ Vicky Clayton, UniTED Team Member
The Kosmos Shortlist: five Projects of Promise
Kosmos has selected five additional projects that demonstrate special promise and align with our mission. We will follow these projects closely in the year ahead, offering editorial support and other services. The five 2015 Projects of Promise are:
Lots of Love Mobile Tool Lending Library Detroit, MI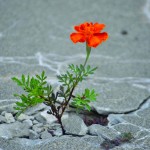 Lots of Love is a volunteer-powered, city-wide organization in Detroit, Michigan. Co-founded by two seasoned community organizers, Lots of Love builds capacity for Detroit residents by offering a free, mobile tool lending library via a mobile tool truck. They promote resident engagement and community care in Detroit neighborhoods through the tactical transformation of vacant lots into productive community spaces. Every investment in Lots of Love has a rippling effect across the City of Detroit, as the program builds capacity for tens of dozens of community organizations each year. They purchase quality tools and equipment that can handle wear from vacant lots and can be used time and time again.
ReGeneration A Global Citizenship Curriculum Oakland, CA
www.generationwakingup.org/regeneration-curriculum
www.indiegogo.com/projects/regeneration-a-global-citizenship-curriculum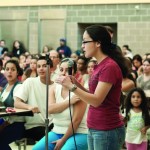 Generation Waking Up (GenUp) is a nonprofit organization based in Oakland, California whose purpose is to ignite a generation of young people to bring forth a thriving, just, and sustainable world. Through their core programs–WakeUp, Thrive, and Synergize – they are helping the Millennial Generation realize its fullest potential and impact. The ReGeneration Curriculum will provide high school students with a big picture understanding of today's global challenges and opportunities. They will learn to see the interrelatedness of issues through a multidisciplinary framework that will give students tools and resources to identify solutions and to find their role in transforming their schools, community, and our global society. Learn more and support them here.
The Seattle-Havana-Tehran Poster Show
www.seattlehavana.com
www.seattletehran.com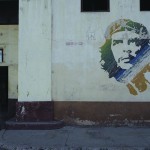 The Seattle-Havana-Tehran Poster Show builds on two firsts: the first US-Cuba, inter-city design exchange since their 1959 revolution (The Seattle-Havana Poster Show, 2007), and the first US exhibition of contemporary Iranian posters since their 1979 revolution (The Seattle-Tehran Poster Show, 2008). The responsible curators, Daniel R. Smith (Seattle), Iman Raad (Tehran) and Pepe Menéndez (Havana) are currently collaborating on a three-city 'super' project. It will premiere in Seattle this September before traveling to Iran and Cuba in 2016. Featuring up to 60 arts-related posters, the show will be a lively exchange of each country's contemporary design and popular culture.
EmerGENcies Protocol mapping ecovillages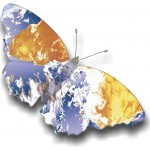 The natural disasters triggered by climate chaos are responsible for 150,000 deaths every year and cause millions of people to seek refuge elsewhere. The Intergovernmental Panel on Climate Change (IPCC) predicts 50 million 'environmental refugees' by 2010 and 150 million by 2050.
The EmerGENcies Protocol is an emerging initiative developed by the Global Ecovillage Network (GEN) mapping ecovillage, permaculture, and sustainable led responses to crisis. GEN is a volunteer led international NGO that connects ecovillages and communities around the world.
Through an inclusive process honoring local knowledge, culture, wisdom, and best practice, their hope is to empower partner communities of participating ecovillages in co-designing the modules and technologies that will emerge. Learn more about the Global Ecovillage Network (GEN)
The Embodied Cosmology Project
The Embodied Cosmology Project has two branches: an educational performance called "Cosmogenesis: The Story of Us. A Story of the Cosmos, Deep Ecology and Human Choice" and a fifteen-part, non-formal movement and arts-based science curriculum. Both branches of the work take people of all ages through the 13.8 billion-year, evidence-based, scientific story of Universe and Earth. Cosmogenesis powerfully activates the creative instinct within people that responds to and commits to protecting life's delicate beauty. The project addresses the loss of human creativity and the myth of separation that contribute to war, conflict, climate change, habitat loss, and species extinction.