Investigative Reporting | A Reporter's Notebook
For 30 years, I was a television reporter, roaming the world to investigate stories that needed to be told and the public deserved to understand. The last stop along that journey was a return to the cradle that helped launch me in journalism: WJLA-TV in Washington. It was, at first, a sweet homecoming. I worked with the same brilliant photographer that I had teamed up with 25 years before. The news director promised me independence, time and resources to do the kind of reporting that would have an impact. But it was not to last. Ultimately, the experience proved to be symbolic of the larger issues assailing journalism.
One of the first investigations I launched was about a nationwide chain of pediatric dental clinics called Small Smiles. I learned that the company headquarters set daily production goals for its clinics with thousands of dollars in monthly bonuses to the dentists when they exceeded the goals. There were even contests among the clinics for who could do the most baby root canals because that's what Medicaid paid the most for. Our cameras showed how parents were separated from their children and told to stay in the waiting room while small children were strapped down onto papoose boards in the back in order to get them 'in and out quickly,' according to dental staff.
The video of children screaming for their mommies was heartbreaking, as was seeing how roughly a dentist pinches a little boy's nose shut in order to force his mouth open. A dozen stories on the tactics of this dental chain led to a public outcry. The clinic on which we focused attention was closed. The Office of the Inspector General at Health and Human Services immediately launched a nationwide investigation that culminated earlier this year in a $24-million dollar settlement with the parent company and a Corporate Integrity Agreement to monitor its business practices for the next 5 years.
The series of reports won a national Emmy, a Scripps Howard Award, and a prestigious duPont Columbia Award for journalism. But on the day that I was in New York getting the duPont award, I got a call from my news director who had already warned me that there were sweeping cutbacks coming. Twenty-six people were being let go, and he said, "The bean counters upstairs say they can no longer afford investigative reporting." My name didn't make it into the Washington Post article about the 'bloodbath' as some called it because I was picking up the award and the reporter couldn't reach me to confirm the rumor.
When the ax fell, it was predictable and not personal. There was a bittersweet sadness to it. It was the end of a 30-year run doing something I deeply loved and felt privileged to have done. But I've been watching newsrooms implode for years as budgets hemorrhaged and people turned to online sources for their information. I've been to more journalism conferences discussing "who will pay for the next news?" than I can count. The answer remains a mystery. And when I think about my career, I reflect on what is being lost, and I wonder how it will continue, given the financial pressures of journalism today.
Such worries were not even on the horizon when I began my reporting career in 1978. My adventures took me from Borneo to Baku, Bogota and beyond. I relished being in far-flung places: remote coffee farms along Lake Tanganyika in Tanzania or tracking pilot whales off the coast of the Faroe Islands.
Most reporters are drawn to the defined beats of covering city hall, education or courts, all so essential for a well-informed public. But my passion was to find neglected stories, those the public would otherwise not hear. Usually this meant chasing down people who were reluctant to talk and pursuing information that others wanted to keep hidden.
In fact, the investigations I loved the most were the ones that were hardest to tell. They often made the biggest difference. Some put people in prison. Others changed the way companies conducted business or led to changes in federal and state laws. Because the most difficult investigations usually yielded the most satisfying results, when the hurdles loomed highest, I would become most inspired.
When I began my career at WLS in Chicago, one of the first big stories I ever chased led to the beer industry changing its malting process. When the beer industry told me that there were only minute levels of cancer-causing nitrosamines in beer and called it a 'mystery drama' as to how to get them out, I decided to check. I tested 18 beers at the same lab beer companies used in Waltham, MA. The results were stunning. Just one bottle of Heineken was equivalent to 175 slices of bacon at the maximum legal level. The investigation immediately sent shock waves through the industry and the public. It even had a ripple effect on late night television: Johnny Carson teased his audience to calculate how many bacon slices they consumed along with their favorite brew.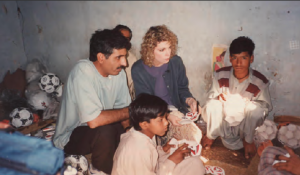 CBS anchorman Walter Cronkite reported the story, even though he was at a competing network. Coors took out full-page newspaper ads in the Wall Street Journal announcing "There are no detectable nitrosamines in Coors beer." Under pressure from the public and Congress, the FDA gave American and foreign child labor soccer story in Sialcot, Pakistan Roberta reporting on consumer protection regulations, Sweden brewers six months to switch their malting process and eliminate the health concern. Phil Donahue invited me to go on his NBC News "Today Show" segment to talk about the story. And movie star Steve McQueen called me while shooting his Chicago-based movie "The Hunter." He was alarmed by the high levels of cancer-causing agents in his favorite beer and volunteered to send telegrams to the FDA, the White House and the station. This early success motivated me to ferret out more such stories.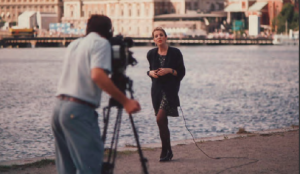 This was an era in which the competition was fierce, the resources were plentiful, and the hunger for investigative reporting was insatiable. Hidden camera investigations were almost an expectation. Even better, Chicago had its legendary tradition of public corruption. One of the everyday examples of this could be found at the Secretary of State's Office through its network of drivers license facilities. When I obtained my Illinois drivers license I noticed others heading in and out the back door without the bother of taking road tests, written tests, or showing any identification. "How does that work?" I wondered. I got the go-ahead to pursue a three-month investigation during which I bought seven drivers licenses at the Secretary of State's office.
Adorning wigs, hats and glasses, I purchased my various drivers licenses through a web of pay-offs, and documented each of the transactions with undercover cameras. In one case, a driving school I'd signed up with surprised me at the motor vehicle facility by saying I'd need to take a quick road test, but not to worry about it. I was advised, "Just give the road test examiner $10 and you'll pass."
I knew I'd be in trouble with the ABC attorneys for that. So I decided that I'd put the 10 bucks on the seat next to me and if he took it, it wouldn't be because I'd given it to him directly. To my chagrin the minute I started to put the money on the seat, the examiner whisked it out of my hand. So I attempted to do everything I could to fail. I floored the accelerator, went right through the stop sign exiting the parking lot, and almost careened into the undercover van parked across the street before hitting the brakes and screeching to a stop. The startled road test examiner's clip board and papers went flying as he grabbed the steering wheel and barked directions at me to return to the parking lot. It was entertaining TV to see that my attempt to fail my abbreviated road test didn't matter. I scored yet another drivers license with a phoney name. No identification needed. No questions asked.
In the aftermath of exposing the payoff scheme, more than two dozen people were fired. But what surprised me most were not the calls telling me to grow eyes in the back of my head, but the dozens of viewers who called to say, "So what! That's how I got my drivers license." The corruption seemed a part of the institution that made Chicago proud of its motto: "The city that works."
In a sense, public corruption stories were like low hanging fruit. After spending a year gathering infection rates and records from Chicago area hospitals I went up against a more powerful institution than machine politics: American medicine. It was the same year that the Centers for Disease Control announced that 80,000 hospitalized patients a year died from an infection they didn't have when they entered the hospital. Even patients who sought simple outpatient procedures came down with deadly infections. The medical community petitioned WLS-TV not to run my stories, arguing that the information should be limited to medical seminars and withheld from the public. My station management didn't flinch and aired my reports.
In a bolder move, we investigated the problem of nurses addicted to painkillers like Demerol. Some injected their patients up with saline solution, stealing the Demerol for themselves. Although every state had a treatment program for doctors addicted to drugs and alcohol, only a few states had programs for nurses, despite the fact they had equal access to narcotics. I interviewed ten nurses in treatment who described what it was like shooting up in the bathroom with their patients' pain medication. As a result, Illinois became the next state to pass legislation providing 'equal treatment' for nurses to get rehabilitation if they developed a drug problem.
Because Washington DC is the nerve center for regulators, public interest groups and business interests on Capitol Hill, I moved there, hoping my investigative reporting could have the greatest impact.
One of my earliest investigations challenged the Environmental Protection Agency's reassurance that there was no radon problem in the Washington area. The agency believed there was nothing in the geology to cause radon contamination, but estimated up to 25,000 people a year died from radon-caused lung cancer. I got WJLA-TV to launch a radon check campaign to cut through public apathy and encourage viewers to test their homes. Nearly 100,000 homeowners took the test with stunning results. About a third of the homes in Metropolitan Washington exceeded the EPA's safety level. Some houses and schools were so radioactive that they exceeded the occupational safety limits for mines, where workers would have been required to wear full-face respirators. The reports led to Congressional hearings and the birth of the radon testing and remediation business across the United States.
"Put it to the test" turned into a theme in my reporting. I'd periodically do lab testing, always with surprising results. In the mid-eighties when the federal government began doing widespread drug testing I decided to put drug testing labs to the test. I sent 70 urine specimens to the top laboratories in the country after having them professionally spiked with street drugs. The results revealed a 60% error rate. In one case a specimen with seven times more marijuana than the laboratory's claimed level of detection came back drug-free. Congress held hearings and certification of labs evolved as a way to assure accuracy.
Given my skepticism about the accuracy of drug testing labs, I was curious about the National Football League's drug testing program. A series of reports turned up problems there, too. Some players were being accused of using drugs when the testing methods used by the league wouldn't have held up in court. At the same time, there were some quarterbacks who tested positive for high levels of cocaine, but no action was taken against them. After exposing the flaws in the Nfl's program, the league fired the head doctor and overhauled the drug testing policy.
I would do many more testing stories: finding high levels of mercury in tuna, America's favorite fish. Testing organic ginger from China for pesticides and finding an illegal pesticide contaminating more than 30 other food products sparked a nationwide recall. Matching up National Driver Registry records against pilot licenses showed 16,000 pilots had drunk driving convictions. I interviewed a dozen pilots who told harrowing tales about how their alcoholism affected their flying: "I used to take two stiff drinks before getting into the cockpit just to steady my hands," said one.
When I became a network correspondent, more challenging stories followed. Some of the most challenging stories were found in far-flung places. I traveled to Indonesia and Vietnam to investigate Nike's subcontractors. I found that women who made the famous shoes were paid less than a living wage. The workers in Vietnam were making less than $40 a month for a 6-day work week to make Nikes that sold in America for $140. Worse, some workers endured physical abuse. Women had their mouths taped shut for talking on the line. Team leaders were beaten if team quotas fell short. The report inspired boycotts and picketing, launching debates about Nike's portrayal of itself as a good global citizen vs. its sweatshop labor practices.
In other far-flung investigations, I traveled to Sialkot in Pakistan to expose child labor in the making of the worlds' soccer balls. Thousands of children as young as six missed school to stitch soccer balls, trapped in a cycle of poverty to work for companies like Adidas, Reebok, Puma and Nike. The report led to Congressional action and widespread industry efforts to alleviate child labor.
For more than 30 years, both on the air as a reporter and off as a senior producer for investigations, I felt honored and humbled to do journalism that I was passionate about.
But shrinking budgets have marginalized the halcyon days of old-fashioned investigative reporting. Investigative teams are the first to go because the stories produced are labor intensive, riskier ventures, and take more time and resources than what goes into daily news.
Investigative reporting matters, and it can't be replaced on the cheap. That's not to say that there are not creative, exciting experiments taking place, with new models for investigative reporting emerging online. At the moment, philanthropy is stepping forward to foot many of these bills, knowing that investigative reporting is crucial to democracy. But charity is unlikely to be a sustainable model. It's more like a stopgap to rescue investigative journalism until new systems emerge that will support enterprise reporting.
---
I'm watching all these changes from a new perch. In the aftermath of "Small Smiles," the Medicaid dental scandal, I had many conversations with the Office of the Inspector General. I agreed to come and work in communications, to help them be more transparent and accountable. Medicare and Medicaid fraud is a $60 billion a year business that affects all of us as taxpayers. I sometimes feel like I'm doing investigative reporting with subpoena power. I'm working for a watchdog agency with a mission I admire. And I'm working with reporters to amplify the impact of stories about healthcare fraud, waste and abuse. I'm enjoying a quirky combination of investigative reporting skills, facilitating for a network of journalists, and becoming an inside source for stories that need telling. It's not what I predicted, but it continues a life-long theme in my work: exploring new ways to have an impact and embracing the adventure ahead.
Investigative journalist Roberta Baskin recently joined the Office of the Inspector General for Health and Human Services as Senior Communications Advisor. She had served as Executive Director of the Center for Public Integrity, senior Washington correspondent for "NOW with Bill Moyers," senior investigative producer for the ABC News magazine 20/20. Honored with a Nieman Fellowship at Harvard University, she served on the Nieman Foundation's Advisory Board, Executive Committee, and selection committee. She also was named an Ethics Fellow at the Poynter Institute. Winner of over 75 journalism prizes, Roberta has been a popular guest lecturer