International Cultural Engagement- Part One: Are We at the Tipping Point?
Culture has been described as the social programming of minds. Recent collective and global transformative events have expanded participation in public and cultural activities to include interactions among individuals, non-profit organizations, corporations and many other entities. Many are calling this phenomenon international cultural engagement.
Culture has always been present in international relations. Reciprocal gifts between ancient rulers aimed to show who they and their people were, to demonstrate power and to build lasting relationships. Culture became a component of soft power when states began to appear. During the Cold War, culture became a symbol of West-East confrontation. In the current foreign policy rapidly invaded by realpolitik, culture is regarded as desirable but not essential. However, in emerging countries, the cultural component of soft power is increasing.
Cultural, religious and ethnic factors now play a much bigger role in defining our sense of self and community, but finding an effective balance between culture and politics is a challenge. Citizens feel that state control of cultural activities undermines their effectiveness; they understand that a meaningful part of cultural activity comes precisely from its independence and freedom. In an increasingly interconnected world, cultures meet, mingle and morph more than ever. Soft power has reached an incredible level of exposure, as shown by the Korean pop singer Psy with 1.6 billion views of his YouTube video. Instead of culture being relegated as subordinate to politics, culture can now be seen as providing the operating context for politics—and vice versa, some would argue.
States historically played the leading role in international cultural relations, but recently cultural exchanges have been decoupled from state power and, therefore, not linked to political or commercial interests. Transnational cultural interactions constitute a new space of vibrant creativity, curiosity, meaning, collaboration, enterprise and learning. In this new international context, cultural engagements do not necessarily have pre-determined outcomes. There is an open and autonomous space for innovation and improvisation; for new ways of collaboration; for multifaceted streams and actors; and for new forms of partnerships with cultural organizations, activities, funders and networks. We have moved from a world where cultural diplomacy was primarily about prestige and status—"This is who we are, this is what we stand for, and, by the way, aren't we wonderful?"— to one where culture is deeply co-creative. Peer-to-Peer (P2P) contacts have become the rule. People listen to global music and even support petitions for the release of artists imprisoned on the other side of the planet.
Culture and the Emerging Collaborative Paradigm
Looking at the big picture, the ballet of soft power between states may soon become irrelevant. We can feel the shift unfolding and coming close to the surface. Several paradigms are simultaneously fading away, including the patriarchal paradigm and its centralized and command system based on inhuman decentralized competition. The new collaborative world that is emerging will be accompanied by new modes of production, property and governance. These underlying tectonic changes go well beyond the field of cultural engagement.
Gift economies have long been the basis of economic activities in human history. To make international cultural engagement sustainable, the properties of gifting must be respected:
giving and receiving must be in balance over time
the source of the gift must be acknowledged
gifts must circulate rather than accumulate
gifts must flow toward the greatest need.
P2P cultural contacts were identified as a trend in culture about five years ago, and P2P sharing quickly exceeded all early predictions. Individual citizen co-creative culture will continue to expand. More pop-up cultural phenomena will appear. Through social media and other online communication, previously unheard voices will reach a wide audience. P2P contact between members of diaspora communities and people in their countries of origin will intensify. Self-organizing P2P communities are mostly innovative, and their collaborative practices are paving the way to a global flat society.
The means of participation and appreciation have shifted dramatically. Culture is centred on interaction: "I communicate, therefore I am." New channels of engagement are needed to reflect these collaborative, reciprocal practices of balanced partnerships. People-powered transformations linked to globalization have evolved quickly and institutions in the cultural sector have not caught up.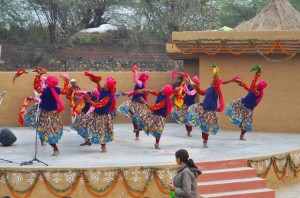 The flux of culture will not remain circulating in the same North-to-South direction. Fortunately, a myriad of cultural activities are bursting from all sides, subverting the earlier vertical centre-to-periphery order. The directions and sources of cultural production have diversified. New kinds of culture and cultural practices have emerged—often from Bahia, Beijing or Bombay. International cultural exchanges now encompass a wider array of creative expressions well beyond those of elite cultural institutions.
The new approach to culture is inherently collaborative: understanding host cultures prior to engagement; listening to others' stories rather than telling one's own; connecting with foreign publics rather than elites and officials; creating partnerships; and increasing the use of social media. Local context matters, as illustrated by the For Africa By Africa (FABA) trend that proposes African solutions to African challenges done the African way.
Times of crises have generated vibrant forms of street culture, well beyond the classical graffiti. While it first appeared in industrialized countries, this self-organized, open and collaborative culture is also emerging elsewhere—for example, in Asia.
Social Media—A Critical Instrument
Interpersonal communications have undergone a revolutionary change of scale over the past decade. In a remarkably short period of time and across the entire world, the Internet and, to a lesser extent, mobile technologies have become a part of everyday life. Technologies enrich and amplify international cultural engagement. People around the world use their cell phones for a variety of purposes. Once people have access to the Internet, they quickly begin to integrate it into their lives. YouTube has more than one billion unique visitors every month. People use social networking sites to stay in touch with family and friends and to share views on an array of topics, including popular culture. This trend is deepening fast, providing a melting pot for cultural engagement. In Latin America, 75% of consumers agree that social media gives ordinary people an 'extraordinary ability' to influence others and create change.
New modes of communications break down old entrenched barriers to cultural exchange. They circumvent nation state–based institutions and offer a counterpoint to market-based mechanisms for sharing and valuing culture.
Culture and Multiple Actors
Foreign policy today is no longer the preserve of governments. For decades, culture has been part of multi-track diplomacy—for example, through shared engagement in sports, research, music and the arts. The scale of cultural contacts between peoples and the exposure that most global citizens have to other cultures has increased exponentially over the last decade. The proliferation of actors and partnerships in global communications offers an opportunity of de-politicizing. Individuals and groups can now shift public opinion and mobilize for change. P2P cultural contacts set the tone and sometimes the agenda for traditional state-to-state diplomacy.
Cities, where half of the world population now lives, and regions have become increasingly involved in cultural relations activity. For more than a century, cities have supported large venues for the arts including museums, concert halls and theatres. Increasingly, resources have been directed to support artists. New trends have appeared in arts participation; people care more about the experience, the venue and the uniqueness of cultural offerings. Artists, rather than arts institutions, are increasingly providing impetus for (re)modelling cities. In Medellín, Colombia, social organisation and culture are pillars of an alternative approach to urbanisation; the result has been a dramatic fall in homicide rates..
The Finances of Cultural Relations
Citizens have amped up their efforts to lobby governments to advocate for global cultural engagement, as culture is not an expense but an investment in the growth and well-being of nations and their people. New self-financing cultural programmes that do not depend on state support are also needed. Between a fifth and a third of the population in industrialized countries take part in non-profit activities. However, cultural funding is down in all Western countries, especially since the 2008 economic crisis. Western operators, both governmental and the private sector, are devoting growing attention to cultural exchanges with emerging countries. The same situation exists in the middle class of emerging countries, but the driver is different: the attraction is for global cultural flows, where an emerging country can elevate their culture into a wider political economy of prestige.
There is a need for alternatives sources of funding for cultural activities, like crowdfunding and innovative financing schemes (i.e., guarantee of cultural bonds). The trend of decreasing philanthropic giving may reverse once a more co-creative and collaborative approach spreads into the sector. The role of government is critical in enabling a genuine and open exchange of culture.
Culture and Mutual Understanding
Western countries still tend to project their mindset and their worldview on other countries with little understanding of the diversity of ideas and culture. There is now widespread demand to transcend the previous superior status of Western countries toward more complex, balanced and reciprocal relationships.
Mutual understanding is critical to establishing trust, and trust is critical for developing sustainable international relations. Artists have a particular ability to use social media and face-to-face communications at the same time. The dissemination of co-creative practices is propitious in becoming aware of differences, and at the same time, pointing to our similarities. Our mutual relationships have a lingering impact on us. We are not billiard balls bouncing off each other. While billiard balls change direction and speed as they interact, they remain essentially unchanged. As humans, we evolve internally with every contact we have with another human being.
Culture and Peace, Conflicts, Security and Disasters
Cultural activities contribute to conflict resolution at all phases of the cycle: prevention, resolution, peacekeeping and peace-building. Cultural initiatives are a platform upon which opposing hostile groups can converse, interact and collaborate. They empower people in conflict areas by restoring their cultural heritage and promoting traditional craft industries, generating both income and pride. Culture is a vital resource for empowering communities and the benefits of intercultural dialogues are many. Culture can be vital for reconciliation and recovery after conflicts or disasters and for gaining perspective for those living in conflict areas. Step by step, we progress towards a culture of peace.
Most conflicts nowadays are protracted sub-national conflicts that are often linked to discrimination and the marginalization of minorities. It is often forgotten that these situations inherently have cultural aspects and are community-related. It is assumed that refugees living in camps need only the bare necessities: food, water and security—not culture.
With the changing nature of war, cultural interactions are more critical. Combatants are often in direct contact with local populations that can make sending soldiers abroad more complicated. There is a growing awareness of the value of a culturally-sensitive approach to crisis management. Artists and cultural workers can be skilled conflict early warning actors. They can also restore hope to destroyed people and communities and help them move beyond revenge.
Culture, Social and Economic Development
Arguments for how culture benefits social and economic development have been ongoing for decades. The recognition of the economic role of creative industries (including in times of crisis) is more recent. At a micro level, artists are a distinct category of entrepreneurs. Most cities understand that traditional policies and services do not work for artists. Many artists have experienced unemployment and have marketed their skills and ideas outside firm walls. They spend more time in non-profit and community sectors, are not consumer oriented and are less experienced with leadership and marketing.
P2P means of percolating international cultural engagement have spotlighted the issue of artists' incomes. Artists often contribute to the whole with little or no remuneration. More broadly, the means of compensation is a challenge to those engaged in P2P phenomena. The question remains—how do we maintain the quality and talent in the production of cultural and artistic goods and services?
Culture and the Private Sector
The business community still views supporting the arts as a promotional strategy and therefore prioritizes the visible, influential, safe and respectable. In emerging countries, the expansion of the middle classes has sometimes reinforced civil society activities, bringing into the civil society arena new horizons of commitment, social energy and aspiration, including strong support for cultural rights and democracy. The private sector is under stress to adopt new values and better ways of doing business. More than 80% of Latin American consumers believe that companies should be involved in improving people's well-being and quality of life, including cultural activities. Social entrepreneurs have a bright future. They are changing "I work for my company" to "I work from my company." The new layers of cultural exchange have transformed the ability of citizens to produce and consume (cultural prosumers) their own culture, enabling them to use culture of all types for their own purposes.
The Internet and the everybody-an-artist mindset unleash creativity and shake up old hierarchies. Emotional aspects become drivers of economic choice, making the prospects for cultural and artistic activities very promising. The more heart you have in your product, the higher the price you can ask for it. People will buy built-in value, meaning and stories that inspire. Some argue that the people who can inspire us to improve our quality of life, to laugh, to enjoy beauty, will become the most admired people in society, not those who earn the biggest salaries. For now, artists and cultural actors can only aspire to this kind of economy.
Culture and Religion
Some people smoothly integrate their faith into the cultural aspects of their daily lives, especially progressive Asians. This integration has economic impact, as the recent expression of 'faithfacturing' illustrates—faith-based products, services and media have been tailored to modern technologies and lifestyles. Ninety percent of Muslims in Asia (1.6 billion) say that religion is very important as compared to only 30% of Europeans. Two-thirds of young millennial consumers in China and India want to keep their traditional (inherited) religious observations despite globalization. Muslim pop culture magazines celebrate the hijab (Islamist headscarf for women) fashion in Indonesia. However, this new evolution takes place in a context of religious antagonism. The share of countries with a high or very high level of social hostilities involving religion reached a six-year peak in 2012.
Culture, Knowledge, and the Commons
Our troubled political institutions have lost sight of real people and practical realities. But if we look to the edges, ordinary people are reinventing governance and provisioning on their own terms in the emerging collaborative paradigm we call the Commons. The Commons is arising as a serious, practical alternative to a pure market approach. Here is where P2P emerges as the integrative paradigm. The beauty of commons is that we can build them ourselves right now. The bigger challenges are, can we learn to see the commons and, more importantly, can we think like a commoner?
Cultural literacy goes beyond teaching our children and teens about others' cultures, histories and societies. The pace of cultural interaction and change is so fast that it implies making real-time choices to navigate through diversity with a capacity to actively interpret, rather than simply building on knowledge. Some argue that creativity is becoming the critical factor of this century—including in politics. Through all of its collaborative forms, culture becomes an ideal tool to develop a new social contract for diversity, so that we fill the gap between increasing global interdependency and the existence of worldwide cultural diversity.
Artists have never been more integral to the functioning of society. Artists are vibrant actors in street life, home life, interactions between people, between people and objects, and maybe soon, also between machines. Artists can explore what it means to be human at a time when people and machines are becoming integrated. Modern technologies give artists and cultural institutions an opportunity to be part of co-creating the future. Digital experiences are enhancing but not replacing physical experiences. For instance, a 3D visit to a top museum can transform a masterpiece into a personal experience. People can also look at and 'like' each other's photographs via a cultural engagement with no intermediary. This is a dramatic change as governments and the media previously instructed us on how to perceive other cultures. Now with online culture, we become aware of the interconnectedness of life in a very personal way.
Performance art is becoming a mixed-media process connecting global performers and audiences worldwide through multiple screens placed in several venues at the same time. The idea here is to create participatory audiences, not just usual one-way broadcasts. Recent experimental cultural events show that musicians can improvise together, going beyond the immediate incompatibility of their traditions, while audiences in various locations watch live on their screens. This is powerful and transformative cultural engagement. Consequently, artists are not only part of the global economy and culture, they help drive the solidarity of humanity. This broad context offers a huge opportunity for a typically human cultural characteristic to materialize: the voluntary transmission of knowledge to non-related individuals. Social media and the collaborative paradigm have raised the speed at which this transmission and cultural evolution build in a cumulative way. Communities of practice and techniques of collective intelligence become critical tools to launch new and meaningful conversations through international cultural engagement.
Culture and Development Cooperation
Culture used to be correlated with elitist art and also with old traditions and customs that had fallen out of practice and had become obstacles to innovative development. In other words, culture was of the past whereas development was for the future. In stark contrast, the power of culture is now recognized as a force for sustainable development. Assistance programmes often include cultural components without naming them as such. For example, human rights programmes can include support to popular theaters with scripts written by local populations. This cultural approach still takes place in a paradigm where development cooperation is the expression of various interests on behalf of the donors and in relation to the interests of local elites.
Recent social and natural science research shows that people cooperate all the time—and enjoy doing so! A biological predisposition to cooperate seems to be independent of culture. Humans manage to coordinate and cooperate even at a very young age. Contrary to rational choice theory, cooperation is a major driver of human behavior. Communities with many cooperators and altruists do better than groups dominated by narrow and selfish thinking.
If we are good at cooperating at an interpersonal level, why is international cooperation so hard? One way to increase international cooperation is to develop basic mechanisms that ensure cooperation is the basis of our policies. Recent research shows these mechanisms are reciprocity, trust, communication, (subjective) reputation, fairness, enforcement and we-identity (group-belonging). If human history is, ultimately, a long process of intense cooperation, human inventions such as language, science, cities and states are collective cultural products.
Culture and the Cultural Creatives
Cultural creatives are changing the world. They are community-oriented while still being aware of planet-wide issues. They honor and embody several so-called feminine values (empathy, solidarity, spiritual and personal development, relationships). The tipping point in international cultural relations will probably entail a re-honoring of the feminine side, including the inner worlds of individuals and society. Cultural creatives like people, places and things that are different. They are unhappy with mainstream politics but remain optimistic towards the future. Their day-to-day behavior reflects these values.
Culture is most influenced by the prevailing spirit of a society. If positive thinking and concern for well-being become a stronger political priority—as was proposed in 2012 by the president of the European Union in a letter sent to his world leader peers—the new collaborative paradigm will emerge faster.
Culture and the Sacred
International cultural cooperation raises our sense of gifting. It helps us to reach back in time, before the divorce of matter and spirit, when sacredness was inherent to all things. Some have called this a 're-sacralization' of society. Culture resonates with the two aspects of sacred: uniqueness and connectedness, which are contrary to the sameness and impersonality in which we often live. International cultural engagement can lead us again—this time, at a global level—to return to a home that was always there, where we find the interconnectedness of all things. The tipping point will make us unique and enspirited individuals once again, far from the current commoditization of everything, including our relationships.
Human history is the product of a series of radical transformations. As we approach the limits of our planet's sustainability, do our cognitive boundaries impose restrictions on our ability to cooperate at a global level? Is there any limit to collaboration? It does not seem so. The emerging collaborative paradigm that is unfolding offers a radical and unique opportunity to review our intention, concept, policies and practices of international cultural engagement.
Among all the worlds that are falling apart, the age of separation is also crumbling. Welcome (back?) to the world of wholeness.
I am indebted to More Europe, the British Council, Mervyn Levin, Salzburg Global Seminar, Kauffman Foundation, Joni Maya Cherbo, the RSA, Rita J. King, NESTA, Esko Kilpi, Michel Bauwens, Trendwatching, Dirk Messner, Matthieu Ricard, Marc Luyckx, Frank Barrett, Mika Aaltonen, Charles Eisenstein, EUNIC, and many bloggers.
My title is Senior adviser on cultural matters, Office of the Secretary General, EU External Service, however, the views expressed here are my own.