Images and Voices of Hope World Summit 2009
The Social Impact of Images and Voices in Challenging Times
Catskill Images
A few leaves just beginning to show a tint of their soon to be blazing autumnal colors, you and your companion drive into the Catskill Mountains on a late September Afternoon. After passing through a string of quiet towns, your drive takes you across the famously painted waters of the Hudson River via the Rip Van Winkle Bridge. The enduring beauty of the surrounding scenery is the timeless element here.
Elevation steepens and your car shifts into a lower gear to climb the mountain grade. Navigating the winding road that hugs this mountainside, you occasionally peer into the ravine to see rushing white water. Every few miles, you notice that the volume of your mental chatter has dropped a few decibels. An hour later, you arrive in the aptly named Peace Village.
The Brahma Kumaris are your incomparably gracious hosts for the next three days. With bright eyes and the warmest smiles, they embody seva, selfless service to others. Near a small pond in front of your simple lodge, three deer graze the luscious grass, still green from the summer's excessive rains. They pause only for a moment as you walk nearby, then drop their heads again, confidently safe on these grounds. Golden, velvety butternut squash soup greets you for dinner. You are well nourished even before picking up your soup spoon.
Exhale everything you left on the other side of the bridge. Let go of what does not serve you. Drink lungfuls of mountain air. Receive. Rejuvenate.
Common Hopes

Images and Voices of Hope (IVOH; www.ivoh.org) is an organization that celebrates media professionals who are bearers of hope and brighten the sense of possibilities in all of us. Their goal is to host reflective conversations—about 50 so far—on the impact of images and stories portrayed in the global media. Their resolve is to strengthen media as an effective agent of world benefit.
An IVOH Summit is an unconventional convention. Media professionals—writers, artists, producers, documentary makers— come together and share candidly. They are real people, sharing their triumphs with pride and divulging their failures with soft-bellied compassion. Journalism here is a passion, even a calling. As the field has dramatically changed in recent years, journalists have been hit with layoffs three times harder than those in similar job categories. The Internet, the multimedia explosion, and the economic recession continue to morph the shape of journalism and its future. But all of the journalists in attendance here are resilient. As IVOH Director Judy Rodgers said, "Being in transition is in our DNA."
These unwavering storytellers live at the intersection of personal mission and social impact. They resourcefully figure out how to relay the neglected stories that need to be told. Sometimes that means flying to a third world country with uncertainty about which direction to go After you step off the plane. Sometimes that means draining your personal checking account balance down to single digits to shout the truth that racism has suppressed. Sometimes that means logic and depression conspire to keep you from getting out of bed, held down by the weighted question of why you chase these stories. Sometimes that means finding stable footing on the wobbly stones in your path. It always means being aligned with an intention and being a willing vessel for the story.
Throughout the conference, there were strong currents of optimism: hope for the individual, hope for society. Vu Thanh Thuy, Co-founder of Radio Saigon Houston, recounted the emotional tale of how, post-hurricane and with no electricity across the eastern Texas region for a week, local residents brought gasoline cans (sometimes even siphoned from their cars), to power the generator that kept the radio station broadcasting as a beacon for the Asian community. Seth Farbman, President of OgilvyEarth, described the pro bono work of many advertisers that have joined forces to create the media campaign leading up to the UN Climate Change Conference in Copenhagen in December. Harboring our optimism to address the global climate crisis, the Danish city has been redubbed 'Hopenhagen.'
Gayatri Naraine, the UN Representative for the Brahma Kumaris, gifted lovely journals to all attendees. Along with Eric Le Reste, Senior Producer for Canadian Public Television's investigative weekly show Enquête, she led a reflective meditation After each session of presentations, and encouraged that the journals be used to capture the wisdom that arose within each person.
Raising Voices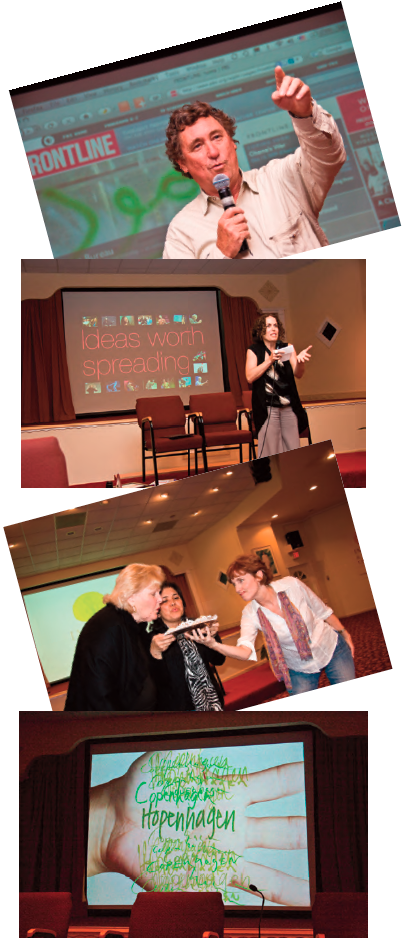 This year, the 10th year of the annual Summit meeting, IVOH honored five individuals with an Award of Excellence. IVOH gave a special recognition of the rich career of David Fanning, who has been the Executive Producer of the award-winning investigative documentary series Frontline since its inception in 1983. After 27 seasons and more than 500 films, Frontline consistently establishes the stellar mark for thought-provoking broadcast journalism.
June Cohen, Executive Producer of TED Media, was applauded for her production roles in the TED conference, salons and blog. Since 2006, she has extended online accessibility to the public of the 'idea bombs' dropped each year at the annual conference through TED.com video and TEDTalks, the groundbreaking podcast series. Cohen has an eclectic 15-year history in multimedia innovations.
Nancy Roof, Founder and Editor-in-Chief of Kosmos Journal, is an international speaker on global consciousness and the emerging values-driven world community. Roof is one of the founders of Transpersonal Psychology and has been in consultative status with the United Nations for over 20 years. Since 2001, Kosmos Journal has brought leading-edge ideas to global citizens, UN Secretariat and ambassadors, and NGOs around the world.
Kim Spencer is the Co-founder and President of Link TV, a USbased satellite television network that broadcasts educational programs to more than 42 million homes worldwide. The network provides a unique perspective, often covering news not touched by the American media. A strong supporter of independent media and cross-cultural dialogues, Spencer was an early pioneer in satellite news broadcasting.
Georgia Popplewell is the Managing Director of Global Voices, an international citizen media project founded at Harvard Law School's Berkman Center for Internet and Society. Translated into 15 languages, Global Voices is an online volunteer community of more than 200 bloggers who diligently amplify the voices that are not typically represented in international mainstream media.
Fernanda Baumhardt, documentary producer and Director of Pro Planeta, has dedicated her work to helping change lives on a very practical level. Her latest documentary, Hope on a Red Bucket, was literally seen through the lens of African farmers-turned-filmmakers. Villagers of Malawi were handed cameras to show how climate change has made their farming more strenuous and unpredictable and how they are learning adaptive farming practices.