Good Morning, Beautiful Business: The Unexpected Journey of an Activist Entrepreneur and Local Economy Pioneer
Chelsea Green Publishing April 2013, Review by Judy Wicks
A few years after I started my restaurant, I hung a sign in my bedroom closet in my home above the White Dog Café — right where I would see it each morning. Good morning, beautiful business, it read, reminding me daily of just how beautiful business can be when we put our creativity, care and energy into producing a product or service that our community needs. I was just beginning my journey. I didn't know then what I do now: that when you connect head and heart in business, you can transform not just business as usual, but the economy in general. You can find a way to make economic exchange one of the most satisfying, meaningful and loving of human interactions.
The sign would stay there for many years and would often make me think of my own business, and how the farmers were already out in the fields harvesting fresh organic fruits and vegetables to bring into the restaurant that day. I would think of Judy Dornstreich picking rose geraniums at Branch Creek Farm and how she once told me that when she picked it, she would imagine our pastry chef, James Barrett, making rose geranium pound cake for our dessert menu. I would think of the farm animals out in the pastures—pigs, cows, goats, chickens—enjoying each other's company in the warm morning sun and fresh air. And I would think of Dougie Newbold, the goat herder, who claimed that when she kissed her goats' ears it made their cheese better. And I'm sure that's true.
I would think of our bakers coming in early in the morning to put bread and pastries into the oven for our customers to enjoy that day, and of our property manager, Long Pham, who for over 20 years arrived before daybreak to make repairs and oversee cleaning before our guests arrived. And I would remember the Zapatistas down in Chiapas, Mexico, growing the organic coffee beans for my morning cup.
Business, I learned, is about relationships. Money is simply a tool. What matters most are the relationships with everyone we buy from, sell to and work with—and our relationship with Earth itself. My business was the way I expressed my love of life, and that's what made it a thing of beauty.
The world, though, isn't always a beautiful place. Not yet, anyway. There is a news photo of a little girl that not only proves that point, but also still haunts me. Though I saw it years ago, I vividly recall how vulnerable she looked in a tattered pink dress, standing on a garbage dump in Haiti, looking for food. The image hovered above a front-page New York Times article telling of a global food crisis, and speculating about the causes for the rise in food prices that had left this little girl and millions like her hungry. Was it the drought in Australia? Or the diversion of corn to ethanol in the United States? Or the increase in meat eating in China? I read the whole article and found no mention whatsoever about the failure of the industrial global food system itself.
The year was 2007, and by then it had become clear to me that to rescue that vulnerable little girl from hunger or, worse yet, abuse and exploitation, we would need to do far more than examine a few episodic causes here and there. We would need to change our failed economic system from one dominated by transnational corporations to one based on local self-reliance—one in which the inevitable fluctuation of prices in the global marketplace would have little effect.
Ideas like that were still far from making it to the front pages of major dailies. But a growing network of people around the world were showing how building strong local economies—rather than relying on transnational ones—could empower communities to feed, clothe and care for their children and meet the basic needs of all their people. And the effort wasn't just to end hunger or rein in poverty or challenge corporate power. No, ultimately, building local food, water and energy security provides the foundation for lasting world peace.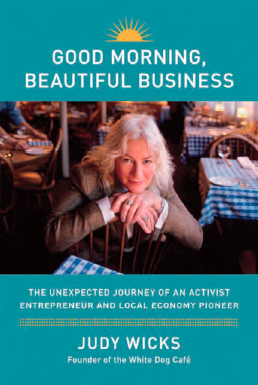 My recent book, Good Morning, Beautiful Business, is the story of how I arrived at that conclusion—from growing up in a small town, to a short but unforgettable experience living with indigenous people, and most of all to creating, over the course of 25 years, the White Dog Café. It's also the story of where that café led me as I worked with others to build a local food system and then a whole new local economy for our community. It's about how I finally joined with my colleagues across North America in an effort to help relocalize economies and enliven communities across the nation and around the world.
But it is also the story of my own awakening from a girl who denied all things feminine and refused to wear pink to a businesswoman who found strength in her feminine energy—a quality that's available to both men and women. I used that energy to
build caring business relationships, make heart-based decisions, cooperate with my competitors, and ultimately work collaboratively to build a compassionate and caring economy.
I started my work to build that new economy in the year 2000 with the simple premise that an environmentally, socially and financially sustainable global economy must be comprised of sustainable local economies. Rather than a global economy dominated by mammoth, and often unnecessary, transnational corporations, I envisioned a global economy as an intricate network of small-to-small, win-win business relationships connecting communities that were self-reliant for their basic needs.
A year later, I cofounded the Business Alliance for Local Living Economies, known as BALLE. If you are wondering just what a 'living' economy is, it's one that supports three areas of life— healthy natural life, vibrant and culturally unique community life, and long-term and just economic life. Examine a thriving local living economy and you'll find a multitude of locally owned, human-scale businesses committed to the health of their community and their ecosystem. They produce basic needs locally, export the surplus, import—through fair-trade practices—goods not available locally, and develop products unique to their region for exchange in the global marketplace—be it a fashion design, fine wine or cheese, artwork, entrepreneurial innovation or any of the many other things that celebrate what it is to be human.
This book is more than a memoir. It is a survival manual. It is certainly not about a utopian dream. Rather, it is about solving deep problems unique to our time—and the need is urgent. Today, we are confronted with crises the world has never faced before: a depleted natural environment no longer able to sustain our materialistic society; increasingly severe and erratic weather brought on by global warming; a declining oil supply that will likely, in time, make global transport prohibitively expensive—if burning the oil does not destroy us first. There is growing wealth inequity; an American political system increasingly controlled by corporate interests; and escalating global violence, social upheaval and environmental destruction over control and extraction of the remaining oil, freshwater and other natural resources. It doesn't have to be this way.
I imagine a future where the little girl in the pink dress is in a different photograph. She's smiling over an abundant meal of organic locally grown food seated along with the rest of the world's happy people at what I've come to call the Table for Six Billion (or maybe seven or eight). And where are the transnationals who claim we need their mono-crops, fossil-fuel-based pesticides and fertilizers, genetically modified seeds, cruel animal factories and long-distance transport to feed the world? They are not in the photograph. Turns out we didn't need them after all.
This book is both a love story and a business book. It's about a love of life, nature, animals, community, and unique local culture, a love of good food and family farms, and a love of democracy— all being threatened by a global economic system driven by profit.
It's also about a deep love of business, and how we can embrace a way of doing business that is beautiful, that nurtures all that we cherish, and that furthers the creation of a whole new economic system based on caring relationships.
Though this new economy is global in vision, my story and the story for each of us begins right at home in our own community—and with our own capacity to recognize and protect what we truly care about.
Adapted from the preface of Good Morning, Beautiful Business: The Unexpected Journey of an Activist Entrepreneur and Local Economy Pioneer, a memoir by Judy Wicks.