AIM2FLOURISH
Epiphany is defined as a "sudden and striking realization." But it doesn't work that way with me. My epiphanies sometimes simmer gently for years, particularly one that emerged in the aftermath of a class I took on Appreciative Inquiry, taught by its guru, Professor David Cooperrider. Because I was a journalist long outraged by the corporate malfeasance I exposed as a network correspondent, David invited me to learn about asking questions from a new perspective. This caused me to shift my view. But I was a journalist, after all, and stubborn. The process was a slow conversion, indeed.
David Cooperrider is the co-creator of Appreciative Inquiry. It's about accentuating the positive, shifting problem solving from its usual focus on "what's wrong" to a process that starts by asking, "What's possible?" When our attention is focused on problems, we'll find them.
And I was very good at that.
At that point in my life I'd spent 25 years in broadcasting as an investigative reporter and was working as a correspondent for the PBS program NOW with Bill Moyers. On David's invitation, I decided to take a week of vacation and look into this thing called Appreciative Inquiry, taught at Case Western Reserve University's Weatherhead School of Management.
My guiding questions had always centered reflexively on what's wrong. Most often, I probed what's wrong in major corporations. The "what's possible?" question would only be asked in the aftermath of exposing some kind of corporate malfeasance, as in how could this (insert heinous corporate crime) be avoided in the first place, or fixed, now that I'd laid out all its problems.
I was disaster-driven but in a perversely well-intentioned way. I believed in the power of muckraking to expose what's wrong in order to make it right. Over the years, on many occasions, shining a stark light on what was broken did lead to getting things fixed.
Some snapshots…
After I broke a series of stories on the sweatshops behind athletic shoes made in Southeast Asia, the public responded with boycotts and demands for better conditions.
An investigation of cancer-causing agents in popular beers led to regulations and a change in brewing around the world.
Exposing child labor and bonded labor in the making of soccer balls pushed the industry to join forces in a campaign to create fair trade.
My discovery of widespread radon gas problems in American homes led to congressional hearings and the creation of an industry to remediate homes.
And my investigation of a chain of pediatric dentistry performing unnecessary baby root canals led to a $24-million dollar settlement and its eventual expulsion from Medicaid.
Public outrage can shame bad practices and reform entire industries. But a relentless preoccupation on mayhem can also be dispiriting and contribute towards public apathy.
That class on Appreciative Inquiry heightened my awareness of how words create worlds. How our questions frame the stories we choose to tell. I became sensitized to how much news is obsessed with all that is wrong, unjust, and broken… leaving despair and malaise in its wake. There's even an old newsroom credo: "No news is good news, and good news is no news." That kind of editorial decision-making leads to a dulled public, one that shrinks from the constant noise of a doomed world.
And here's where hope emerges. Even with all that doom and gloom, there's a growing movement to provide a more balanced version of the news. There's an awakening that we live in a world of opportunity, innovation, and resilience. Humans are fueled by hope as an engine to create solutions to the challenges we face as a species. Without hope, why bother to even try?
We're living in a time where all around us there's a global shift in consciousness toward optimism. The world is wearying of the worn-out narrative thread about everything that is wrong. There's an energy coalescing around a solution-driven, energetic, we're-in-this-together framework. You can find it popping up in online news sites that are devoted to good news. In a sign of the times, the Huffington Post started a section called Good News,1 as well as an even newer one called Impact: What's Working.2 One of the earliest adopters, the Good News Network3 is all about providing good news to its one and a half million unique visitors a month. The Solutions Journalism Network4 is a project co-founded by two New York Times columnists who are training newsrooms to do solutions-driven reporting about social problems.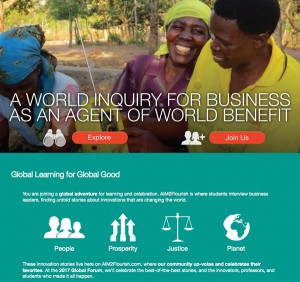 With the mission of strengthening media, Images & Voices of Hope5 (ivoh) is a community of media makers I belong to who gather each year in conversation around media as an agent of world benefit. ivoh is exploring the notion of a new genre in storytelling called 'restorative narratives.' The idea is to cultivate resilience in communities affected by serious disruption.
With new ways to share information, various studies reveal6 that the stories most likely to be shared on social media are positive.
The more positive an article, the more likely it is to be shared and to go viral. It may explain the Internet's obsession with cuddly dog images and adorable cats.
There's also a surge toward optimism in the trajectory of the positive psychology movement. For many decades, the narrative of psychologists' questions focused on patients' anger, depression, and sorrow. Sigmund Freud once declared that the goal is to "transform neurotic misery into common unhappiness." With the developing field of positive psychology, the questions shift into what makes a patient feel joy, gratitude, hope. The real wonder is what took psychology so long to begin framing questions that draw out a patient's core strengths and gifts? And across the medical field, more doctors want to prevent disease in their patients, instead of treating them for conditions that could have been avoided.
All this positive energy leads me back to the perspective I experienced at Case Western Reserve's Weatherhead School of Management some twelve years ago trying out that course on Appreciative Inquiry. In a radical career change from chasing after bad companies, I've returned to work with Professor David Cooperrider on a world inquiry to find and highlight path-breaking business innovations. In so doing, I've tuned up and embraced myAppreciative Inquirylens. And it couldn't lead to any more exciting and surprising discoveries.
We're calling our mission AIM2flourish7 because we want to catalyze and celebrate inspiring examples of business innovation that tackle humanity's biggest challenges. Our pilot project partnered up with the UN Global Compact PRME8 initiative and the Globally Responsible Leadership Initiative.9
We started our search with 24 professors in business schools spread across 19 countries. We invited them to participate as our pioneer professors with a two-hour webinar to learn aboutAppreciative Inquiryand consider how to inspire their students to find stories about outstanding innovations in businesses. To guide the students we set criteria aligned with the UN's brand new Global Goals. These are the UN's 17 sustainable development goals10 that address the most pressing needs facing our world such as ending poverty, sustaining the planet, and education for all.
Our technology partner, Purposeful Networks,11 designed and built a dynamic technology platform to house the stories the students write from their research andAppreciative Inquiryinterviews. The feedback we've heard from our trailblazer management students reflects the joy they feel in discovering how creative, nimble, and noble running a business can be. Students called it a transformative experience to see firsthand what business innovators can do to improve our world. More important, students report they see themselves becoming these kinds of leaders when they graduate.
Bernard Bairoy, a student from the IPMI International Business School in Indonesia wrote about his experience this way:
"Having an opportunity to conduct an interview and probe a particular innovation and flourishing story is already a great learning experience for us."
"Our paradigms somehow shifted toward a sustainable direction of conducting business (in the future) wherein social innovation will form the nuclei of our business models."
"Writing the story highly inspired us. That in itself is already a huge reward for us."
Across the board, students appreciated getting out of the ivory tower of theory to sit down with a business leader they admire and have a one-on-one conversation. A number of students described it as an opportunity to develop a mentoring relationship from which they would benefit, post-graduation and beyond. No doubt the innovators benefited, too, gaining an uplifting experience by taking part in a cross-generational interview showcasing their business.
Bernard's professor, Amelia Naim Indrajaya of IPMI International Business School, Jakarta, reflected on the learning opportunity for her students saying, "The idea of the project itself, the flourishing idea, really touched their hearts, and made them really look at the subject, not as a matter of passing the grades or not, but more like, 'ah, this is my calling!'"
Professor Naim assigned 55 of her students last semester to track down untold stories of innovation. For example…
PT Tirta Marta used to make plastic bags that took 500 years to degrade. But its new biodegradable polymer is made from tapioca, a naturally abundant starch from the cassava root. The eco-friendly bags can degrade in just two weeks, depending on soil exposure to microbes. And the company's operations and sourcing are from local tapioca cooperatives that follow fair trade standards to earn a living wage. Why aren't these eco-friendly bags used beyond Indonesian supermarkets?
At the Toulouse Business School in France, a student found her way to the Sunwaterlife company. This innovative company is supplying solar-powered systems that generate about 800 liters of pure water a day. It's easy to operate, built for rugged environments, and weighs so little that it can be carried into tough terrain across Africa.
Students at the Pontifical Catholic University in Argentina discovered a certified eco-hotel called Posta de Purmamarca Country Inn. Amidst a World Heritage site, the little inn has a big passion for sustainable tourism. It adheres to international sustainability standards, recycles waste, and relies on natural materials and solar energy. The family-owned business cares deeply about its supply chain, its employees, and inspiring its guests to develop a lighter footprint in the world.
There was a lesson for all of us in the story of the Argentina inn. Since we were asking for stories of innovation, the professor and students had a lively debate about whether this story met the criteria and would qualify for submission to AIM2flourish. The word 'innovation' seemed to translate as something technological. But there was no maverick technology to discover around this inn. Quite the opposite. This is a story about a business promoting elegant simplicity and respect for the land. It could be celebrated as the innkeeper's innovation of the heart.
All these innovation stories that students are uncovering across the globe are showcased on our AIM2flourish.com platform. More business school professors have signed up to teach around the initiative this semester, with some schools adding it to their core curriculum requirements. There is even a place on the platform for members of the public to get involved by sharing 'sightings.'
The 'Sightings' tab allows anyone to add an idea about a corporate innovation, contributing clues to help business students discover promising innovations worthy of research and attention.
As more schools, professors, and business students get involved, everyone benefits by learning how businesses are innovating for people, planet, and profit. We envision thousands of stories on AIM2flourish linking the next business managers and leaders to empowering examples of innovations. In fact, there's the potential for consumers to find uniquely good businesses to support, as well as investors to find companies who are successfully contributing to a better world. We also imagine an abundance of story ideas for the media to further amplify.
These stories of innovation will lead to a celebration of nominations to highlight at the next Global Forum June 14-16, 2017 at Case Western Reserve University. We will honor the most flourishing innovations around the globe, and in so doing, reveal a new story of business as agents of world benefit.
With a twinkle in his eye, David Cooperrider likes to tell the cosmic story of Indra's Net. It's the symbol of connectedness and interdependence represented by the Vedic god Indra's net of jewels that glitter like stars. I love the image of many faceted jewels at each point of the net reflecting the light of all the other jewels in an infinite dance. This ancient wisdom resonates with our hyper-connected world today. We're at a moment in time of extraordinary challenges and epic opportunities. If we aim high and choose wisely, we can—and must—create a flourishing world for all.
References
1. www.huffingtonpost.com/good-news
2. www.huffingtonpost.com/impact
3. www.goodnewsnetwork.org
4. solutionsjournalism.org
5. ivoh.org
6. Tierney, J. (2013, March 18). Good news beats bad on social networks. The New York Times. Retrieved from www.nytimes.com/2013/03/19/science/goodnews-spreads-faster-on-twitter-and facebook.html?pagewanted=all&_r=1
7. aim2flourish.com
8. Principles for Responsible Management Education. Available at www.unprme.org/index.php.
9. www.grli.org
10. United Nations (2015). Sustainable development goals. Available at www.un.org/sustainabledevelopment/sustainable-development-goals.
11. purposefulnetworks.com