We do not need a new paradigm but rather a return to the original indigenous paradigm that treated the Earth as a sacred Mother and understood that God was all of us, in harmony with one another and the cosmos, living by one principle (do no harm) and one practice (seventh generation thinking).
The Industrial Era has been both a blessing and a curse. It has radically altered the quality and diversity of life for a billion humans but it has also come at a great cost: the repression in extreme poverty of the other five billion; the eradication of thousands of species; and the destruction almost to a tipping point of the Earth. Changes to the Earth that used to take ten thousand years now take three years or less. In combination, colonialism, militarism, and capitalism have squandered the wealth of the Earth, creating an elite 1% that profits from the misery, enslavement, and deception of the 99%.
A revolution is in the making, aided by the Internet. Pockets of cultural and ecological wisdom, both indigenous and modern, are now connected at the same time that the lies—such as the 935 lies that led us into the elective war on Iraq—more easily detected.
Still absent is a precipitant of revolution—our Tunisian fruit seller—and a groundswell of demand for the fundamentals of conscious evolution, the tools for information-sharing and sense-making as a collective, a new civilization, one without corruption and waste, both made possible by transformative politics, which is to say politics with integrity, based on evidence, and in the public interest.
How are we to achieve this mass elevation of humanity in the face of what some call the looming 'sixth extinction?' I offer three visual interventions for reflection.
Electoral Reform
With a humble apology to all of those fighting for climate change and other worthy causes, I will tell you what I told Tom Steyer: no amount of money or protest will lead to an honest hearing for any single issue as long as we continue to have a rigged system in which two parties control the public treasury and 70% percent of all eligible voters are disenfranchised. While I speak of the US in this instance, the same conditions apply in most countries, where virtual dictatorships and virtual fascism (control by banks) is the common standard.
Electoral Reform Act of 2016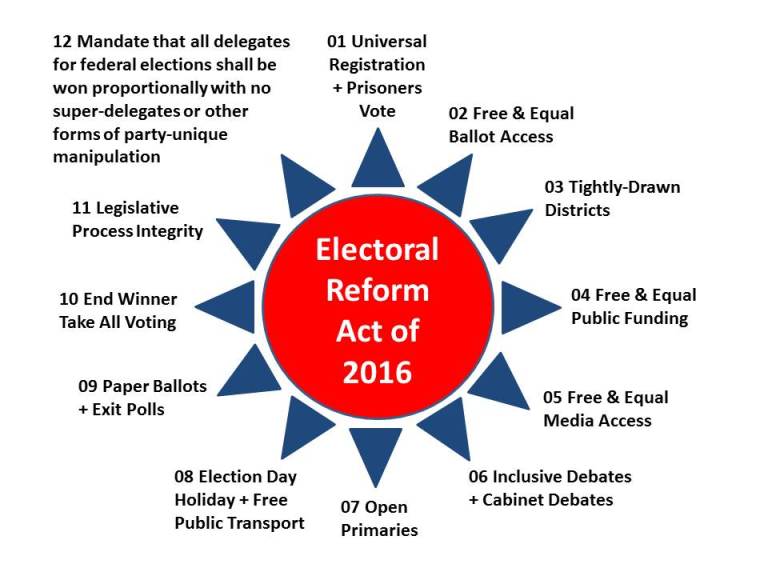 I tried eight times over two years to connect with Bernie Sanders. Note that point twelve would have assured him the nomination and he, not Hillary Clinton, would be facing off against Donald Trump today, at the same time that Gary Johnson and Jill Stein would be viable nominees given the Instant Run-Off reform (point ten) as well as all the others.
The current effort to re-ignite a race war in the US, with leftist billionaires funding Black Lives Matter protests and fascist billionaires funding white paramilitary shooters killing cops and seeking to place the blame on blacks, will fail. To their credit, black leaders have identified the twin elements of this strategy. The race war is intended to distract us from the fact that it is now clear to most that we are in a fight between the 1% who have destroyed the Earth and the hopes of humanity for their own selfish profit, and the 99% capable of creating infinite wealth.
Open Source Everything Engineering (OSEE)
I wrote the book itemizing over sixty opens, The Open Source Everything Manfesto: Transparency, Truth, and Trust, and subsequently developed, with Michel Bauwens and Marcin Jacubowksi, the below starting point for radically expanding public appreciation for what an open source everything mindset can accomplish.
Using this approach, I was able to document how one million Somalis could be moved from ghastly United Nations resettlement camps in Ethiopia, Kenya, and Uganda, back to an uncontested portion of Somalia (the northeast) with three things only in abundance: dirt, sunlight, and seawater. For a one-time cost per person of $500 (i.e., $500 million total), I documented how we could provide them all with free energy, water, housing, food, and communications.
End All Waste
We can not only lift up the five billion poor, we can eradicate waste, now documented at 50% on average across agriculture, energy, housing, health, and security, among the one billion 'rich.' The below diagram shows how we do that, with a tip of the hat to co-creator Bojan Radej of Slovania.
The Waste Eradication Tri-Fecto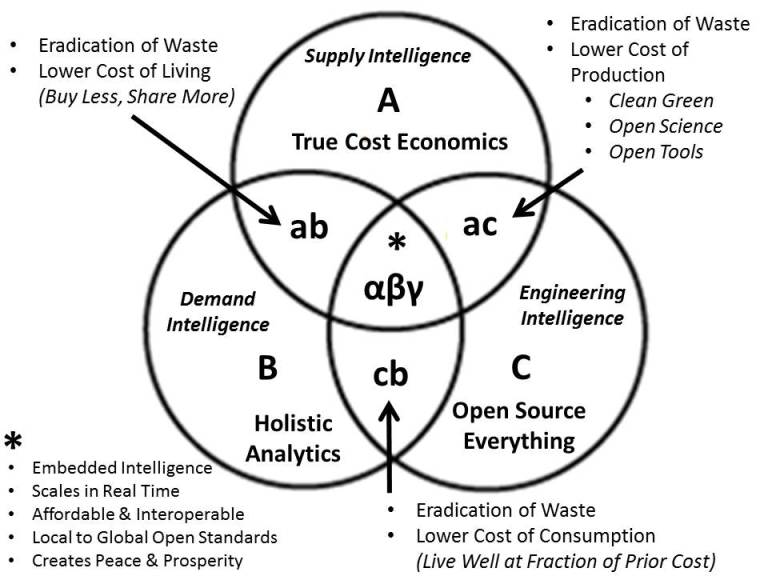 We do not lack for money on Earth. We lack for applied collective intelligence with integrity. We lack the precipitating event that will spark the revolution in which we all say "ENOUGH!" to predatory capitalism, unilateral militarism, and virtual colonialism.
What we have in abundance, what we have repressed for centuries, is the human imagination. Electoral Reform and Open Source Everything Engineering are the twin pillars of our liberation.