COVID-19 Part 3 | and May's Featured Poet

May 12, 2020 Kosmos Community News
Dear Reader, 
As many continue to shelter in place, it is increasingly apparent that COVID-19 is an experience shaping our global future – how we gather and work; what we consider 'essential'; where our food is produced; even what 'home' means to us. This is a transformational time and Kosmos continues to explore the virus through that lens. The process of transformation can't be rushed. It will take time and patience for what is emerging to unfurl her wings and be revealed. Going back to 'normal' is no longer an option – it is a false future, seen in a rear-view mirror.
The toll is heavy – much suffering and lives lost. And yet, if we can gain insight from this prolonged pause, if we can look deeply and make peace with our own weary minds, maybe we will see that much of what matters most is right in front of us, and was all along.
In community, in trusting relationship, we will carefully begin to expand our circles of safety and support when the time is right. Taking slow mindful steps, we will honor the ones in our community who led us through the crisis, support the ones most severely impacted by economic disparity, heal the ones who lost their beloveds.
In the thoughtful, intentional process of re-emerging into right relationship, our collective future will become more clear, our steps more sure.
Three Trending Essays at Kosmos on COVID-19
Searching for the Anti-Virus | Covid-19 as Quantum Phenomenon by Martin Winiecki
True Health | What if the Virus is the Medicine? by Julia Hartsell and Jonathan Hadas Edwards
Coronavirus Spells the End of the Neoliberal Era | What's Next? by Jeremy Lent
Shelter

This, at least, we share
with the inhabitants
of cell and cilia,
multiple invisibles of dust
and with those earliest of teachers
in den and burrow,
nest and tunnel,
hive and hollow tree.
From them, we learned
geometries of roof and wall,
the weaving of dry grasses,
tension strengths of mud and clay.
Let me bring the story forward
to these four rooms, white walls,
a breadth of windows
keeping out a morning rain,
allowing in the late fall light.
And back to that progenitor
of architects whose eye
once lighting on a beaver's lodge,
seeing craft and ingenuity,
provides me now
a place to write. To him,
today I offer up this note of thanks.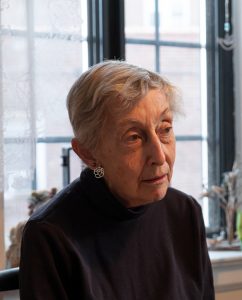 About the Author | Marjorie Mir is a retired children's librarian whose work has appeared most often in Atlanta Review and the online journal, Eclectica. She received two awards from Atlanta Review: first prize in their annual contest and later, a Merit Award. She served as poetry editor for the newsletter, Monhegan Commons, and edited an anthology of poems from that site. She lives in Bronxville, New York, with Mocha, a recently adopted shelter cat.
Soil Wealth and a Regenerative Green New Deal |
Grass Roots Rising

By Ronnie Cummins
"Ultimately, we need to transform finance and shift the flow of investment capital to perpetuate a Regenerative Economy that serves humanity and is a steward of Earth's ecosystems." – John Fullerton and Hunter Lovins, "Creating a Regenerative Economy to Transform Global Finance into a Force for Good"
At the present time, trillions of dollars are invested in the industrial, "conventional" global food system, a system with annual sales to consumers of $7.55 trillion. This system is artificially propped up by hundreds of billions of dollars in annual government subsidies, sustaining energy-intensive, chemical-intensive, GMO-driven agriculture and food processing. The massive external costs and damages of the conventional food system—that is, degeneration of the environment, public health, and climate stability—are hidden from citizens, taxpayers, and investors alike (in other words, those who will eventually pay the bill for this collateral damage), with "true costs" never included in the bottom line. If true cost accounting were required, massive amounts of capital would move out of industrial food, farming, and land use into more productive sectors such as organics, holistic grazing, agroforestry, and agroecology. Unfortunately, very little money, relatively speaking, is currently invested in the organic, agroecological, and regenerative sector. According to one recent study, there is already approximately $321 billion invested in regenerative, "soil wealth" enterprises and projects—but that amounts to just a little over 1 percent of current global liquid assets.
Trust and Truth |
At a Spiritual Crossroads
By Rev. Deborah Moldow, courtesy Garden of Light
"When I was growing up, in the 1950's and 1960's, almost everyone belonged to a religious community. We relied on the expertise of doctors, lawyers and other professionals. Our parents believed in science. We all watched the same news on one of three television networks, all with trusted reporters to whom we turned in times of crisis. We expected the government to make wise decisions and believed our nation had a mission for the good of the world.
Our world has changed. Today our entire western world is suffering from a lack of trust in any authority. We no longer believe that the press is free, that business is fair, that the medical establishment promotes our best health, or that those in government wish to serve the common good. Science has removed any sense of solid ground to stand on, embracing concepts like the uncertainty principle and the unsettling discovery that light can be a wave or a particle depending on the observer. We don't turn to the elders in our family or community anymore in a culture that glorifies youth. And we were already losing trust in religious leaders well before the uncovering of longtime abuse of children by Catholic priests.
Scripture may still be revered but is rarely held up as authority except in societies regarded as repressive. And we have come to realize that even the facts in the history books that we accepted when we were young can only offer an interpretation of events, expressed by the winners at the time.
Our history doesn't tell us of a previous time when there was no leader, no tribal elder, no shaman to which to turn. This may be the first time that so much of the world is experiencing this discomfort all together, just when extreme polarization of both income and politics has made the world a tinderbox of biased information – rather ironic in a time known as the information age.
Onto this stage has stepped the pandemic of Covid-19, making it all too evident that our sources of information can be a matter of life or death.
So where can we turn to find the truth?"
About the Author | Rev. Deborah Moldow is Founder of Garden of Light and an interfaith minister who is committed to assisting in the transformation of human consciousness that will lead to a culture of peace. She contributes to this global awakening through her ministry, international peace efforts, interfaith work, speaking, writing and singing.
Otto Scharmer in Dialogue with Thomas Hübl |
Global Social Witnessing and the Current Crisis
In this energized dialogue, Otto Scharmer, senior lecturer at MIT Boston, and inventor of Theory U, and Thomas Hübl bring together their concentrated expertise, analysis of the situation and outline a future perspective. A total of 1,400 people followed the livestream on March 30, 2020. This exchange was part of the Global Social Witnessing Conference of the IfGIC (Institute for Global Integral Competence), which had to be cancelled as an onsite event due to the crisis and was partly held online. The conference will now take place in spring 2021. More info: http://www.globalsocialwitnessing.org.  
More info on Thomas Hübl: http://www.thomashuebl.com The GAIA project initiated by Otto Scharmer: https://www.presencing.org/gaia
In this time of crisis, and for the foreseeable future, Kosmos has eliminated pay walls. All our content is free to access. We accept no advertising.
---