Kosmos Quarterly Summer Preview | All My Relations

June 11, 2019 Kosmos Community News
Dear Reader,
When I chose the phrase, 'All My Relations' as the theme for the Summer Quarterly, I chose it with the understanding that it is sometimes misused. In the Lakota language, Mitákuye Oyás'iŋ is an important ceremonial prayer of harmony and oneness with all beings.
Mitakuye means relations and Oyasin means more than family, more than a Nation, more than all of humankind, everything that has a spirit. The Earth herself, Maka Unci, is our relation, and so is the sky, Grandfather Sky, and so is the Buffalo and so are each of the two-leggeds, the four-leggeds, those that swim, those that fly, the root nation and the crawling beings who share the world with us. Mitakuye Oyasin refers to the interconnectedness of all beings and all things. We are all interconnected. We are all One." — Chief Arvol Looking Horse
The Buddha had a similar idea about the inter-existence of all things. To perceive interbeing, is to see that 'all is one and one is all'. We have a self, but at the same time we are contained in each other. The reality of 'oneness' is expressed in numerous faith traditions. Like 'namaste' or, 'I bow to the divine in you', the truth of such words can't be appropriated. They are universal.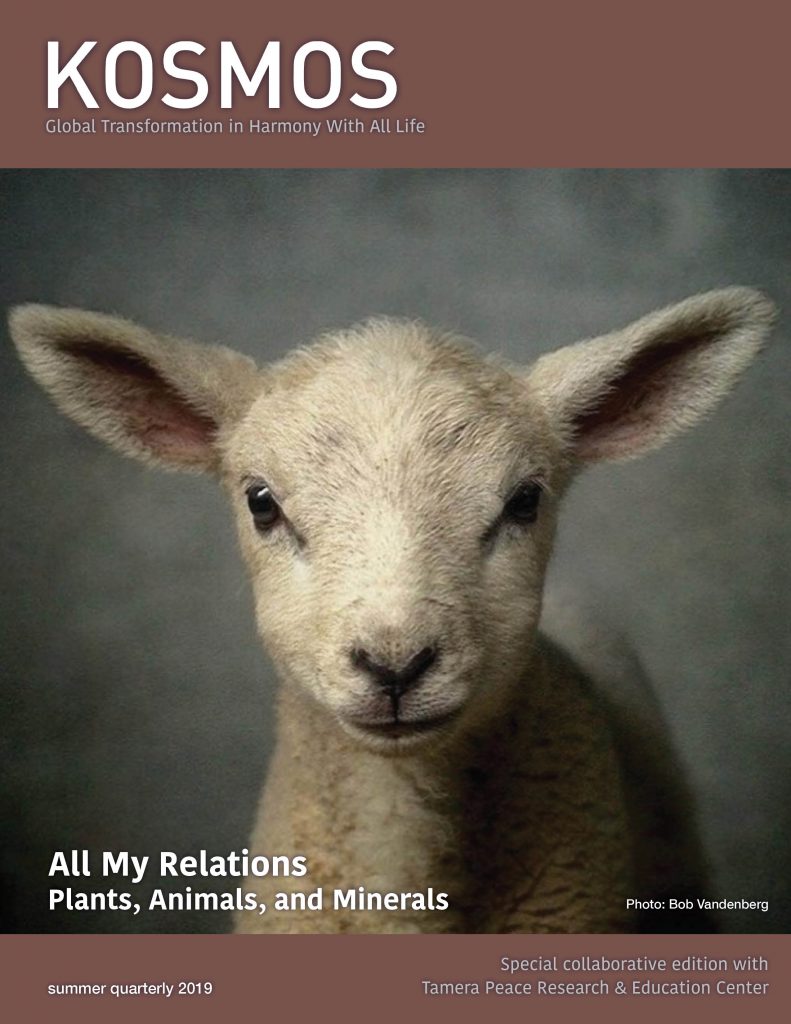 The second line of the Spring Quarterly theme, 'Plants, Animals, and Minerals' are words that continue this idea: without minerals, plants can't exist, and without plants, all life would would cease to be. Yet, how deeply do we contemplate our plant, animal and mineral relations?
The beautiful lamb on the Cover of our e-journal might be asking, 'Am I food? Or am I your relation?' But looking deeper, we see that the lamb is us. And how we honor or dishonor animals says a lot about how we honor or dishonor ourselves, 'others', and the Earth. The lamb's innocent sweet eyes are a doorway to the divine, if only we care to see. The photo is by Bob Vandenberg.
Kosmos subscribers will enjoy insights from leading 'Earth-holders' John Liu, John Bell, Pamela Boyce Simms, Bill Twist and Belen Paez, among many.
The Summer Edition is a also special collaboration with Tamera Peace Research and Education Center in Portugal. Read four essays about their wonderful work empowering people around the world to build a regenerative, nonviolent culture.
Please enjoy some brief excerpts below and if you haven't subscribed yet, you can do so for as little as $5.
Explore Our Table of Contents
Excerpts from the Summer Quarterly |

Arriving June 21

To All My Relations | A Sacred Response to Ecological Crisis and Social Injustice
By Martin Winiecki | Keynote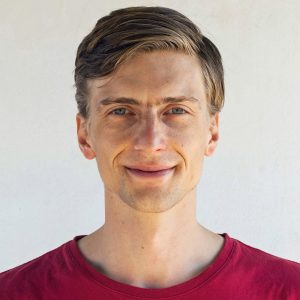 People of many different ideological camps, nationalities and cultures converged in one spirit at Standing Rock, because at the center of this struggle lay not only a "no" to the crimes of the fossil fuel industry and colonialism, but a shared reverence for this sacredness of life itself. Standing Rock evoked the possibility of a more sacred activism in the consciousness of humanity. To support this emergence, we invited activists from around the world to gather with us at the Tamera Peace Research & Education Center in Portugal, in 2017 and 2018. We felt that what began with the uprising of Indigenous "water protectors" against the Dakota Access Pipeline could and must turn into a planetary movement. Tamera has researched the foundations of a possible post-capitalist society for over 40 years and works on building models for ecosystem restoration, regenerative autonomy and above all, for freeing love from fear and reconnecting society with the "sacred matrix" of life.
In the "Defend the Sacred Alliance," leaders of Indigenous communities, social movements and systemic alternatives are coming together and building a planetary community of trust, shared ethics, prayer, vision and action to serve global system change. Our gatherings involved aerial art actions to stop offshore oil drilling in Portugal – a response that proved successful.
A core question we've been moving is: What is a more "sacred" activism and how can it be a genuine response to the worldwide destruction? With infighting in many groups as well as widespread burnout and overwhelm, many who still dare to confront the global situation feel the painful limits of what they themselves can do to counter our disastrous collective development. At a time when radical systemic change has never been more urgent, activism itself is in an existential crisis.
Sacred Headwaters of the Amazon | Waking Up to Pachamama
A Conscious Conversation with Bill Twist and Belén Páez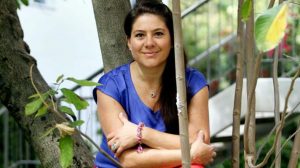 Belén Páez | I think that it is clear we are facing the Sixth Mass Extinction on Earth, and that's affecting every ecosystem on the planet. There are deep studies in Ecuador about how biodiversity is threatened in the Galapagos, in the Andes region, and in the Amazon. There is a critical relationship between the Andes and the Amazon. Certain fish are not migrating anymore, vegetables and plants are changing. Many indigenous people are letting us know that things are changing in the forest.
One example: One friend has been taking pictures every month of caterpillars in different stages and he has been able to show that the larvae are not becoming butterflies at the end. The Achuar people say that even our thoughts and our brains are facing these kinds of changes and that it is very important to protect the sacred places that remain on Earth – these places of 'nature intelligence' that could be expanded to the next generations if we are able to protect them.
Birdsong Hits the Charts | Rewilding with Extinction Rebellion
An Interview with British Folk Singer, Sam Lee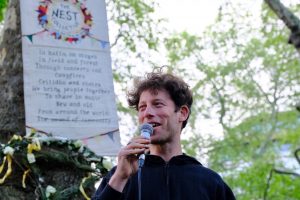 Sam Lee | I went to Extinction Rebellion's first declaration at Parliament Square and George Monbiot, the great British writer was there, Caroline Lucas, the Green Party MP, plus about 800 of us. I had my daughter who was only 6 months old, and we just sat down in front of Parliament and said "No, we're not moving". That was the beginning, and I felt a really fresh energy about this.  They had a plan, they had a vision, they had forward thinking process of direct action, non-violent but direct action and through art as well!
The next happening was already planned, and someone said "Sam will you come and sing at it?" I sang one of the songs that I had just recorded for the new album, which is a sort of hymn to the world in some ways. I sang it as they started to dig the grave in Parliament Square, for the coffin that represents our children's future, a physical coffin at which point the police started closing in. I sang this hymn, this lament, and then finished, stepped down and the police surged in… ironically, the police were trying to protect the land from being dug up. I knew at that point that this movement was going somewhere.
Kari Auerbach | I did want to talk to you about a really great event you organized with Extinction Rebellion, which was the Nightingale Sang in Berkeley Square event and the ensuing rewilding of Mayfair. Since you were at the epicenter of that, you were the idea man, speaker and singer, I'd like you to take us to that day, because that was such a great event.
Sam Lee | It's an idea that I've had for years and years, and every year, I've been in touch with the council in Westminster and each time, they've said, " It's 15,000 pounds per hour to rent the Square". I'd just spent two weeks with Extinction Rebellion, taking over London. I thought, "hold on a moment, we can finally do it! We'll just GO into Berkeley Square!"  I put the idea to Extinction Rebellion and it obviously fitted perfectly.
The rebellion was supposed to be two weeks but they didn't really have a closing event. We worked together to devise the event so that it was playful but didn't have any political speeches to it. It was all about the love of nature but also about extinction itself because at the heart of it, that was so important. In many ways the animals, the birds, the invertebrates, the plants and trees were not being mentioned enough. It was a time for us to pay some attention to the things we were trying to save so we did a requiem for extinct species and I reworded the song, A Nightingale Sang In Berkeley Square. There was an open call to any musicians who wanted to come, and everyone played a nightingale recording out of their mobile phone from a link on our website.  We got people to go off into clusters and musicians would move from cluster to cluster like bumble bees pollinating flowers, go and play a song, move on to the next one, read a poem, sing a song, whatever.  Suddenly Berkeley Square was filled with 1500 people and about 100 musicians, all just singing and playing with the nightingale blasting out like a rainforest. It was so surreal.
The Holy Grail of Restoration | Mending the Sinai Peninsula
By John D. Liu, Visiting Fellow at the Netherlands Institute of Ecology
Dust has blown over the Sinai's denuded landscape for so long that it is hard to imagine it as the biblical "Land of Milk and Honey". Yet satellite images and other evidence tell another story.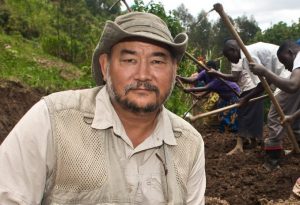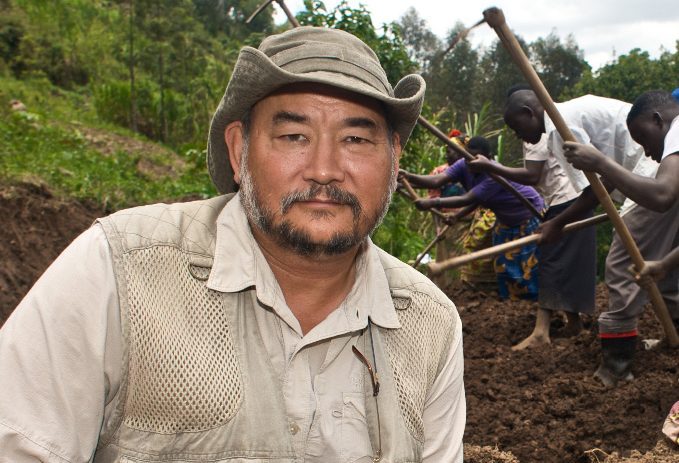 Seen from space,­ the Sinai Peninsula looks like a beating heart, with arteries and veins flowing to nurture the body.  Clues from geologic time, evolution and human history are all etched on the exposed soils. If one knows how to read this landscape it is possible to see that rivers flowed through the Sinai over vast evolutionary time. Even now there are periodic flash floods when because of the degraded landscape, rain that would nurture the land flows immediately into the sea.
This strategic land is literally at the heart of early western civilization, situated at the intersection between Africa, the Mediterranean and the Middle East. Figuring prominently in the cosmologies of western religions the Sinai has had an immense impact on human civilization in both historical and contemporary times. Some of the earliest human mining of minerals took place in the Sinai. Repeatedly emerging cultures vied for this prized real estate. Humanity has been moved by poetry and art emanating from the region but conflict and suffering has emerged as well.
For several hundred generations humans have altered the habitat of living aquatic, plant, animal, birdlife, microbial and fungal communities with devastating effects to the region's ecology. Over historical time the vegetative cover and evolutionary biodiversity of the Sinai has been in large part lost. Imagine the importance if it were possible to restore the region to ecological health.
Rhino Conservation | In the Sixth Mass Extinction
By PARCA President, Heather Smith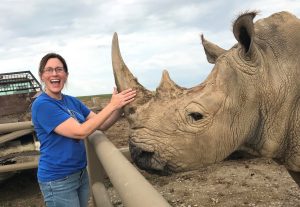 I literally won an auction. It was a live auction for a trip to Namibia. That was completely on a whim, but it was a bucket list item that I always had. I am the quintessential animal lover, the little girl who was picking up the strays and the little birds. I've always loved animals. I've always liked being out in nature. I probably never would have taken the plunge to go to Africa because it was daunting to me. Where do you go? How do you figure it out? It seemed so foreign.
When I got to Namibia, the first large wildlife that I saw wasn't a bird or baboon but a giraffe. It was actually a group of giraffes walking towards a waterhole. The sauntering and the movement of those giraffes coming above the trees, that was it for me. I was so… taken. That's what sowed the seed.
I happen to have a friend at work, Dr. Mullen of Penn Medicine, who's also a wildlife lover who has been to Africa a number of times. He is a National Geographic supporter, and connected me with Dereck and Beverly Joubert, National Geographic Explorers-in-Residence. They were on tour in the US in the fall of 2015 for their film Soul of the Elephant which was debuting and had won some awards. The Jouberts came and spoke at the Department of Surgery at Penn Medicine on leadership from their perspective as conservationists.
Connecting with them after their talk, I had one question for them, "How can I help?"
They had just started their joint program Rhinos Without Borders. There has been lots of press around big cats and elephants, but not as much for rhinos. So not as many people knew the plight of the rhino, and, in fact, I did not. I said, "Fantastic. If the rhinos need help, then we are here to help the rhinos." That was really the beginning for PARCA.
Enjoy these and 21 more stories of transformation in the Summer edition of Kosmos Quarterly.
---