Youth LeadeR | Five Young Activists Speak to Kosmos
Eric Schneider's Youth-LeadeR (YL) is a resource platform and community for "facilitating the emergence of a global, peaceful, just, thriving and sustainable civilization".
How can we make humanity's finest sustainability solutions and role models part of daily life for our global young generation – and equip them for action? This is the question at the heart of Eric Schneider's efforts to design media, methods and services that cultivate a youth leadership culture and changemaking climate among young people at school, globally.
Mr. Schneider facilitated interviews with five amazing young changemakers for Kosmos. We asked them about rites of passage, role models, and their messages for the world. Here are some highlights.
Kehkashan Basu (http://www.worldfuturecouncil.org/)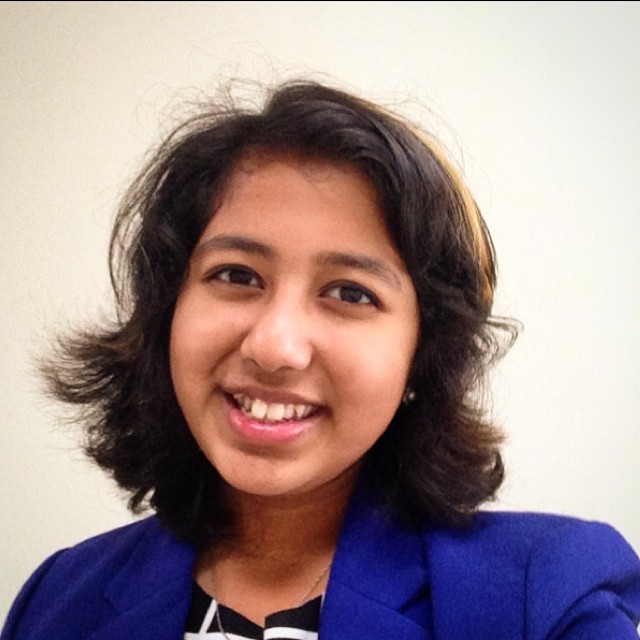 As a native of the Arab desert region, Kehkashan grew up sensitive to issues of water and land loss, sustainability, girls' rights and peace. With Green Hope UAE, she organizes ground level projects on biodiversity conservation, waste segregation and reversing land degradation. Her outspokenness for the rights of children and future generations has made her UNEP's Representative for Children and Youth, and youth ambassador of several organizations.
Kosmos: Who are your role models Kehkashan?
Kehkashan : I have two role models –Mother Teresa and Prof. Dr Abdul Kalam . Mother Teresa once said – Peace begins with a smile  and I found this to be absolutely profound. She was a changemaker who found joy in the human spirit. Professor Dr. Abdul Kalam is a huge inspiration for every Indian and I am no exception. He was the people's president and his humility, despite his amazing intellect, draws everyone to him. He is a role model to me because he too lives his life for others and for the general betterment of society.
Kosmos: What makes you optimistic enough to try so hard and continue to strive for change?
Statement from Eric Schneider, Director of Youth LeadeR (YL):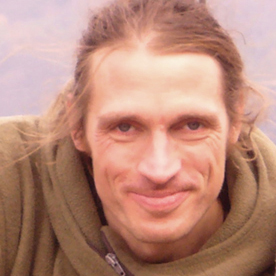 Solutions for a world of abundance exist. The role models exist, even the support networks are in place. My goal is therefore to inform and inspire others to know of these solutions and get involved in scaling and replicating them. And one of the most efficient ways to reach people at scale is schools. Youth leaders are in high demand as speakers at schools, and We Days unite more than 250,000 youth active in student clubs at 10,000 schools across Canada.
I founded Youth LeadeR to unite hundreds of young and adult changemakers on one platform to bring their media, solution stories, role models and services to our global young generation at school. We bring their stories alive in a variety of formats for various uses and users settings – cardgames, books, teaching tools, poster sets for exhibits, music, take action packs, online profiles – in 18 languages.
Now, a one-of-its-kind International Youth NGOs Summit (IYONS) is being held in Chennai, India July 24th – 26th 2015 on the theme 'Peace, Environment and Prosperity'. Prominent youth leaders from at least 120 countries and all Indian states will participate in the three-day conclave. IYONS is calling for Youth Organizations, Corporations, Youth leaders and volunteers to help us create global positive change by supporting  the IYONS Global Program. At our 2,000 square feet Youth Camp in the main auditorium, Youth LeadeR will offer more than 30 workshops to train delegates in our programs.
We are sponsoring fifteen stellar Youth LeadeRs to meet for the first time and present to this assembly of the world's finest young changemakers. You can join us via webcast, and beyond – to help write the story of the Change Generation with us!
More about YL@IYONS: www.global.youth-leader.org/youth-leader-at-iyons/
The YL PORTFOLIO: www.global.youth-leader.org/about-us/yl-portfolio-2015/
Youth LeadeR WEBSITE: www.youth-leader.org
Mr. Schneider is also an Images and Voices of Hope IVOH Award laureate, and member of the Round Table for the Implementation of the United Nations Decade of Education for Sustainable Development
Kehkashan : I once read a Pearl S Buck quote which goes this way "The young do not know enough to be prudent, and therefore they attempt the impossible — and achieve it, generation after generation." This has been my guiding philosophy. I believe that young people have the fire in them to be changemakers and can surmount all odds.
Kosmos: What is one important lesson you have learned you would like other young people to hear now?
Kehkashan: The greatest challenge I continue to face is due to my young age. Civil society, in general, still has pre-conceived notions and biased mindsets about the capability and passion of young people. This has been a barrier to my progress ever since I began my journey of sustainability at the age of eight. Even though I have spoken at over 45 international summits, I still have to answer queries about my age even now. My message to them is "look at my work and not my age".
Kosmos: How can we introduce or strengthen active global citizenship in our schools? 
Kehkashan: I am very fortunate to study in a school (Deira International School in Dubai)  which has students from 80 different countries. Dubai is now a global city with people coming in from all over the world. Just talking to my school friends, who come from all over, is a huge learning experience for us. The social media is the most powerful tool which can foster global citizenship and schools need to take full advantage. However, the social media is also full of risks and teachers need to monitor it effectively to ensure that the evils of the cyberspace ( cyberbulying, netporn etc) are kept away from the young minds.
Xiuhtezcatl Martinez (www.EarthGuardians.org)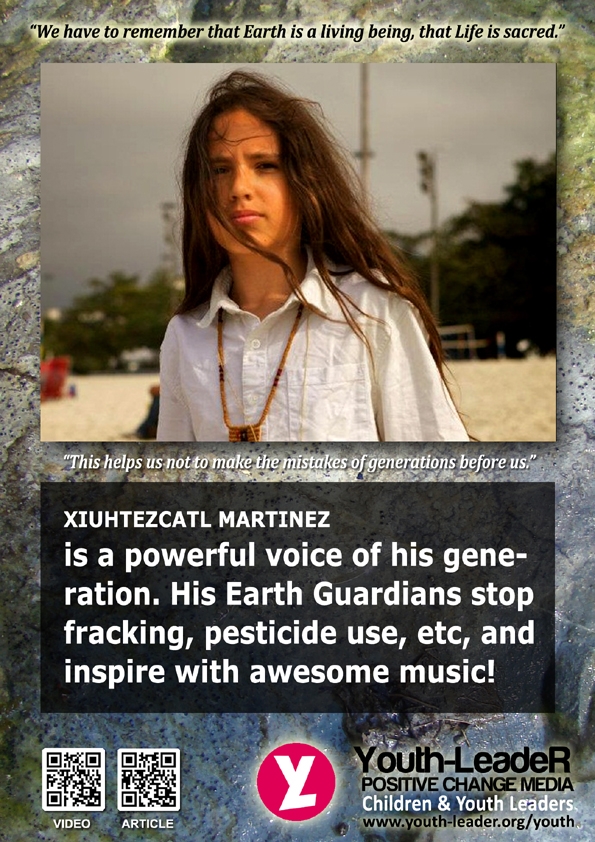 Kosmos:  In some cultures, young people are offered a 'rite of passage' as an entryway to adulthood. Have you had a rite of passage? If so, how did that unfold for you?
Xiuhtezcatl: In our Aztec culture, rite of passage is a very important part of transition and moving into different phases of our life.  For my rite of passage my family and community prepared a sweat lodge for me and a ceremony to support this transition. I also go to school called Watershed where their motto is the "World is our Classroom".  They prepare rites of passage journeys for all the youth transitioning from middle school into high school.  I had the privilege of participating this year with my class in a ten day back packing mountain journey where we explored two things as part of our rites of passage.  One was, what does it mean to live a life of privilege? and two, what do we want to leave behind as we move forward into adulthood? It was a very powerful journey and I think life changing for all the students that participated.
Kosmos: What keeps you strong?
Xiuhtezcatl: My greatest role models have been my parents. My father raised me in the Aztec tradition so I grew up in the ceremonies learning all life is sacred.  My mother and her unwavering commitment to protecting the Earth so that our generation inherits a healthy sustainable planet has also really inspired so much of my work. The way they raised me is why I have become who I am today and I am deeply grateful!
I see the power that I and other young people have around the planet to create huge changes and the kind of world we deserve to inherit. I believe if we as young people unite our efforts, we can accomplish just that.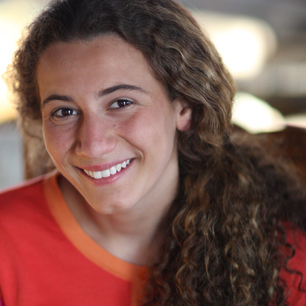 Chloe Maxmin (www.firstheretheneverywhere.org)
Chloe Maxmin spent her youth on farms and forests of Maine. When the country's largest real estate developer moved in to build marinas, house lots, a golf course and helipads, Chloe stood up in defense. She testified at public hearings, wrote for local papers and started a Climate Action Club. The tiny student club galvanized a movement in the community.  Now at Harvard, Chloe asks the university to divest its $30 billion endowment from dirty energy. Her tiny group quickly gained support of thousands, and is now part of a nationwide movement.
Kosmos: What was your 'rite of passage' Chloe?
Chloe: I was raised in the Jewish tradition and was Bat-Mitzvahed, which is considered to be the ultimate rite-of-passage into Jewish adulthood. My Bat Mitzvah was filled with meaning and significance. I learned how to dedicate myself to a cause, to act for the sake of others, to make myself and my family proud. But my activist rite-of-passage came at a different point in life: the first time that I spoke to a big crowd of people. I was a Sophomore in high school, and I was starting the Climate Action Club. Although I was a natural introvert, I stood up in front of my peers and pitched this idea. I learned how to speak truth to power.
Kosmos: What motivates you?
Chloe: The climate crisis asks all of us: what will you do to protect what you love? Love is my core motivation for action. I love my home. And that love never fades, so my momentum as an activist never fades. I believe that love will triumph in this crucial historic moment. I notice that a lot of the motivation and rhetoric in the climate movement is oriented AGAINST something—against capitalism, the government, the fossil fuel industry. But the reason we are against these entities is because they threaten everything that we love and care about. So we need to access that deeper level of love that motivates our work. That is how we create a 'radical now'—a moment in the present that reflects our values. We can't wait for a better future. We must act and live the world we envision today.
Rhiannon Tomtishen (www.projectorangs.org)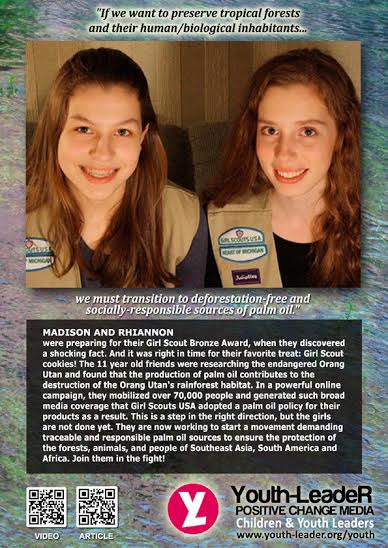 Kosmos: Tell us about your role models Rhiannon.
Rhiannon: Dr. Jane Goodall has been my role model since I was a little girl. I admire the passion and courage with which she pursued her professional goals. She went to Tanzania at a time when women didn't do such things and became a world-renowned expert on chimpanzees. Even now, she's over 80 years old, and still travels the world most of the year sharing her story and wisdom to encourage others, young people and adults, to follow their passions to create change. I cannot imagine a day that Dr. Jane is no longer my hero, but I anticipate adopting role models as I explore new forms of advocacy. At the moment I am very interested in sustainable community development and women's empowerment, so I would predict that my future role models will be leaders I come across in those fields.
Kosmos: What is one important lesson you have learned you would like other young people to hear now?
Rhiannon: Start small and grow big! It can be overwhelming to realize all of the local, national, and global issues out there, but don't let a fear of failure prevent you from taking action. An individual, of any age, gender or background, can make the world a better place. If you find a cause you're passionate about, start small. Madison and I began our campaign with a homemade poster board educating classrooms in our local Michigan community! With hard work and determination, you can grow your work to a huge national or global scale.
Oliwia Borkowska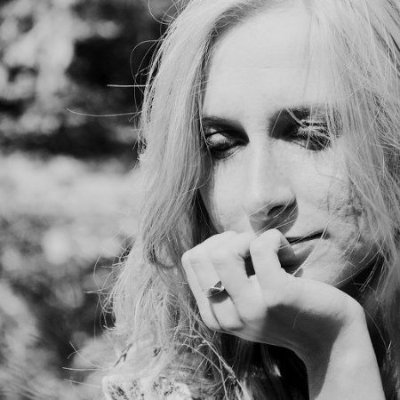 Oliwia Borkowska is a young activist from Poland involved in the EU Citizen Campaign for making Ecocide a Crime. Erosion of natural resources, ecosystem pollution and collapse naturally lead to loss of inner and outer peace, thus to violent conflict on personal, domestic, communal, national and international levels. In the upcoming IYONS conference in India, Oliwia will present the simple, powerful legal framework, promoted by Earth Lawyer Polly Higgins.
Kosmos: What teacher or aspect of your schooling inspired your sense of global citizenship?
Oliwia: We used to take part in the international exchanges of students, conducting some researches, comparing the results with other countries. Teachers were initiating the projects, submitting them to various agencies. During the project itself they were translating, mentoring, taking care of the logistic aspects.  After, they were collecting the results and via various platforms distributing the outcomes. It gave a sense of what is possible together.
Kosmos: Oliwia, do you have words of advice for aspiring activists?
Oliwia: There is always a right place and right time. Things have to happen naturally. Do your best, however do not push time, do not push people. Love and respect the nature.
Each little move, single words, one gesture is enormously important. Let's do not only concentrate on the huge projects, but also care about the daily routine. Be open minded, be thoughtful, listen. Keep meeting, not just sending mails. Have time to take part in the projects, not only send some representatives. Learn from each other.