World Water Day | Bren Smith and Restorative Ocean Farming
Via Future of Fish and Green Wave
Each year, World Water Day highlights a specific aspect of freshwater. Under the theme 'Water and Jobs', the year 2016 provides an important opportunity to consolidate and build upon the previous World Water Days to highlight the two-way relationship between water and the decent work agenda in the quest for sustainable development. 
Bren Smith is a former fisherman turned sustainable shellfish and seaweed farmer and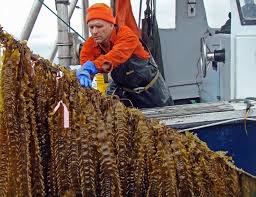 entrepreneur. His company, Thimble Island Oyster Co., operates one of the first sustainable 3D ocean farms in the country. Nestled in the Thimble Islands of Long Island Sound, their 40-acre farm uses the entire water column to grow a variety of species—ranging from sugar kelp and oysters to mussels and scallops—and has emerged as a national model for hyper-local sustainable food production, ocean restoration, and economic development.
Tell us the story of how you went from a fisherman to an ocean innovator.
My story is one of ecological redemption. At age 14, I dropped out of high school and headed out to sea. My first job on the boats was to stand on deck with a shotgun and shoot as many birds as possible before they stole the bait. I worked 30-hour shifts on factory trawlers scraping the seafloor, ripping up entire ecosystems; fished illegally at night in protected waters; and have personally thrown thousands of pounds of dead by-catch back into the sea. As a young fisherman with salt in the veins, the destruction was too much to bear, so I headed off to try my hand at aquaculture, and got a job working on a large salmon farm in Canada. Aquaculture was to be the answer to overfishing, but it was more of the same destruction, achieved in new ways. Disillusioned with the fishing industry, I kept hunting for a sustainable way to work the seas, own my own boat, live a self-directed life, and leave my ocean in a better place. My journey took me to Long Island Sound where there was a program to lease shellfishing grounds to young commercial fishermen under 40. I leased 20 acres, started harvesting oysters and then slowly, with many experiments and failures, transitioned the farm into one of the first 3D ocean farms in the country.
What is a 3D ocean farm?
A 3D ocean farm is designed to restore rather than deplete our oceans. We use our new farming methods to meet the growing need for sustainable seafood, while restoring ecosystems, mitigating climate change and building a new blue-green economy. We grow and produce mussels, oysters, kelp, scallops, and even sea salt—all with a small underwater footprint. The environmental effects are stunning. Our kelp—known as the "rainforest of the sea"—absorbs five times more carbon than land-based plants. So I'm not just a fisherman; I'm a climate farmer. Our farm gear also functions as a storm surge protector, reducing the impact of storms on shoreline communities. Kelp and oysters need nitrogen to grow, so our farm—soaking up to 164 kg of nitrogen per year—is vital for restoring water quality. We also turn our kelp into liquid fertilizer for the Yale Sustainable Food Project in order reduce nitrogen run-off from land-based farming. Finally, our farm system doubles as an artificial reef, attracting 150 species that come to hide, eat, and thrive. After a decade of farming, what was once a barren patch of ocean is now a robust ecosystem.
What kinds of things can you do with kelp?
My team prepares kelp linguini, kelp ice cream, even kelp cocktails. So it's fun, but also healthy. Fish don't make omega-3's; they consume them. So by eating like fish, consumers get the same benefits, while reducing pressure on dwindling fish stocks. I've created a blue-green jobs program to hire inner-city kids to process seaweeds and other farm product. I've developed multiple sustainable commercial uses for kelp, including organic liquid fertilizer and biofuel; and developed solar refrigeration systems for transport and storage. The possibilities appear endless. We've just begun a project to revive the Scottish tradition of using kelp feed as a core food source for sheep and cattle as a way to reduce methane output, as well as develop new artisanal kelp-fed lamb for high-end markets.
How are you rethinking aquaculture?
Fundamentally, my model is about two things: 1) growing environmentally restorative species that mitigate climate change, restore ocean ecosystems and reduce pressure on dwindling fish stocks; and 2) re-imagining the role of the fisherman from hunter-gatherer to ocean entrepreneur growing food, fuel, and fertilizer for local communities. We have started GreenWave, an organization that works to replicate our model throughout the US and globe, both by creating new 3D farms but also by pushing the edge of what's possible on the sea, such as embedding 3D farms in offshore wind farms. Our goal is to train thousands of new ocean farmers. We want fishermen of the future to be at the front edge of jump-starting a new ocean economy that meets the growing need for sustainable seafood, habitat restoration, and resilient communities in the era of climate change. We believe this sort of large-bore re-imagining of the ocean economy and role of the fishermen is our only hope for saving our seas—and ourselves—in the era of climate change.
Videos about Bren Smith, 3D Ocean Farming and Restoration
Called a "visionary" by Barton Seaver, Director of Harvard's Healthy and Sustainable Food Program, Bren's farming model is designed to restore ocean ecosystems, mitigate climate change, and create blue-green jobs for fishermen — while ensuring healthy, local food for communities.  In 2015 he was awarded the Buckminster Fuller Prize for ecological design. In 2013, Smith was chosen as one of six "Ocean Heroes" by Oceana and Future of Fish's "Ocean Entrepreneur" of the year. He is an Ashoka Fellow and Echoing Green Climate Fellow.
Here's Bren's TEDx Talk entitled "The Least Deadliest Catch"
After dropping out of school at the age of 14, Smith worked a wide array of jobs in the commercial fisheries, ranging from longlining for McDonald's on the Bering Sea and "sliming" in the canneries of Bristol Bay, Alaska to lobstering in Lynn, Massachusetts and aquaculture farming in Newfoundland, Canada. After years of exploration and experimentation with new restorative forms of ocean farming, he transformed himself in the nation's first 3D ocean farmer. To learn more check out Scientific America about his new model of farming:
Bren work has extended into the nexus between climate change, food production and the emerging new economy. In 2013, Bren was awarded EchoingGreen's Climate fellowship, designed for next-generation social entrepreneurs committed to working on innovations in mitigation and adaptation to climate change. In 2012 Smith was asked to join the Young Climate Leaders Network, a program supporting 25 young "innovative leaders and visionaries, including many who operate largely outside of the traditional environmental community. Most recently Bren traveled by boat with CNNto the People's Climate March in New York City to join fishermen and farmers on the front lines of the climate crisis. Here's a video following his journey: