Transboundary Water Cooperation – a brief overview
Last week Israel and Jordan signed a major water cooperation agreement called the "Red-Dead" project, to supply water for both countries and help replenish the diminished Dead Sea.
Hailed as "the most significant agreement since the peace treaty with Jordan," the project will connect the Red Sea to the Dead Sea via a 200-kilometer-long pipeline that will transport 100 million cubic meters of water north every year. The Dead Sea has been shrinking in recent decades as incoming water from the Jordan River is diverted.
Water Cooperation agreements are becoming increasingly important and there are numerous examples where transboundary waters have proved to be a source of cooperation rather than conflict. In fact, nations that cooperate on water use are more likely to maintain peaceful relations overall. The vital nature of freshwater is a powerful incentive for cooperation and dialogue, compelling stakeholders to reconcile even the most divergent views. Water more often unites than divides people and societies.
Mobilizing political will and commitment to address water issues worldwide is critical now, and new ways are needed to approach local, regional and international cooperation, including strong citizen participation in decision-making. The people who rely on waterways for survival and livelihood should be the first ones consulted on its fair use at the local, bioregional and international levels. And all decisions have to be made in a way that respects the biophysical limits of the earth.
Stakeholders upstream and downstream should be included in all decision-making and all parties have a shared responsibility for protecting the shared environments surrounding rivers and their associated watersheds.
 WATER FACTS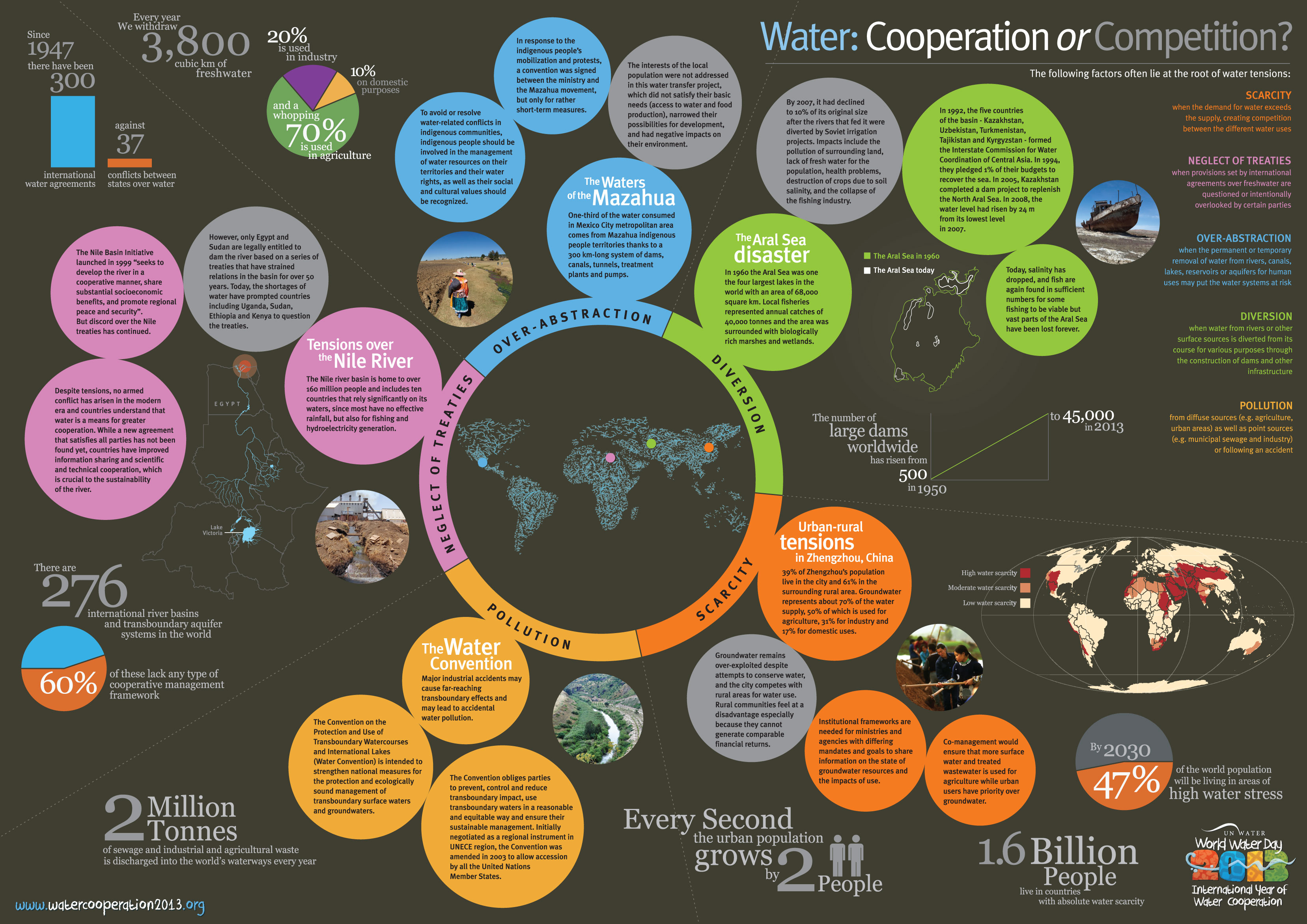 http://www.icpdr.org/main/publications/achieving-peace-through-water-management
MORE NUMBERS
There are 276 transboundary river basins in the world (64 transboundary river basins in Africa, 60 in Asia, 68 in Europe, 46 in North America and 38 in South America).
185 out of the 276 transboundary river basins, about two-thirds, are shared by two countries. 256 out of 276 are shared by 2, 3 or 4 countries (92,7%), and 20 out of 276 are shared by 5 or more countries (7,2%), the maximum being 18 countries sharing a same transboundary river basin (Danube).
46% of the globe's (terrestrial) surface is covered by transboundary river basins. (statistics: UN Water Day)
TWO EXAMPLES OF SUCCESSFUL TRANSBOUNDARY WATER COOPERATION:
SOUTHERN AFRICA
As human populations and their economies continue to grow, pressure on limited water resources is also bound to grow. Time and again, there has been talk that conflict may erupt over these limited water resources.

Countries in the Southern African Development Community (SADC) region, however, are successfully using transboundary water cooperation as a conflict prevention initiative. The SADC Water Division, supported by the GIZ, serves as a role model for cooperation rather than conflict over scarce water resources using proactive awareness-raising and multi-level collaboration.

The spirit of social justice. At the heart of the cooperation is the philosophy of 'Ubuntu', that all people are interconnected, and therefore interdependent. "Ubuntu is one of the tenets of all cultures in the SADC region and represents a social contract of mutual respect, responsibility and accountability that members of society have towards each other," says Horst M. Vogel, Programme Leader for GIZ Transboundary Water Management in the Southern Africa Development Community. 'Ubuntu defines a process for earning respect by first giving it, and to gain empowerment by empowering others. It encourages social justice for all.'

Leading through collaboration. At the local level, stakeholders can already see this conflict prevention in action. The Kunene Transboundary Water Supply Project is developing and rehabilitating water supply and sanitation infrastructure in southern Angola and northern Namibia for communities and towns along the border region between the two countries. The project benefits each country, but is also having a positive effect on the neighbouring Cuvelai Basin.

The success has been possible through all stakeholders participating in the philosophy of Ubuntu. "The challenge for us in development cooperation, or as temporary guests to the region, has been to first see and comprehend this unique ethical philosophy, which runs counter to our Western system of individualism, and then try to apply it to day-to-day cooperation, to work on the ground," says Vogel. "Slowly but gradually this fosters trust and mutual understanding, which in turn creates win-win situations and propels cooperation.
 DANUBE RIVER BASIN
The International Commission for the Protection of the Danube River (ICPDR) is an International Organisation consisting of 14 cooperating states and the European Union. Since its establishment in 1998, the ICPDR has grown into one of the largest and most active international bodies of river basin management expertise in Europe. The ICPDR deals not only with the Danube itself, but also with the whole Danube River Basin, which includes its tributaries and the ground water resources.

The ICPDR invites the public to contribute to the development of the Danube River Basin Management Plan update 2015.

The goal of the ICPDR is to implement the Danube River Protection Convention (DRPC) and make it a living tool. In addition, the ICPDR is the body that coordinates the implementation of EU Water Framework Directive and EU Floods Directive in the Danube River Basin.

The ICPDR mission is to promote and coordinate sustainable and equitable water management, including conservation, improvement and rational use of waters for the benefit of the Danube River Basin countries and their people. 
VIDEO – Information on the Danube River Basin, its ecological resources and water management in balance with social and economic needs through the International Commission for the Protection of the Danube River (ICPDR).
PRESSURES
As São Paulo, Brazil grapples with its worst drought in nearly a century, it's clear that water problems are exacerbated by polluted rivers, deforestation and population growth.  Deforestation in the Amazon River basin, hundreds of miles away, may also be adding to the crisis. "Cutting the forest reduces its capacity to release humidity into the air, diminishing rainfall in southeast Brazil", according to a recent study by one of the country's leading climate scientists.
And in South Asia, population growth and rapid urbanization are also placing huge strains on both water accessibility and quality, with household water security classified as "hazardous" by the Asian Water Development Outlook 2013, a report from the Asian Development Bank.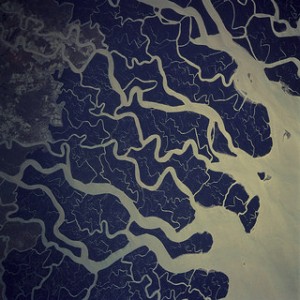 Bilateral treaties have been signed between countries – most notably, the 1960 India-Pakistan Indus River Treaty and the 1996 India-Bangladesh Ganges River Treaty, but this has not prevented disputes, due in part to short-sighted treaties. According to the Global Water Forum:
The Ganges Treaty between India and Bangladesh is an agreement to share surface waters at the Farakka Barrage near their mutual border. But the treaty, which was signed in 1996, divides water flow without sharing the value and uses of the river between the two countries. It does not even take into consideration the uppermost riparian, Nepal, meaning that it takes neither a whole-of-basin approach to river management, nor does it factor in the effects of upstream use of the Ganges on water availability at the Farakka Barrage.

The Ganges Treaty illustrates that a legally binding agreement is not the same as meaningful cooperation between the parties. The treaty favours the hydro-hegemonic state (India) and solidifies the status quo. It does not create a community of interest in the shared management of the river and has left Bangladesh with numerous concerns and unresolved issues.
Ebba Mortensson, a South Asia Project Manager, is one of many experts that sees hope in the form of sub-regional alliances. Two of these formed in 2013 with the aim of cooperating over water resource management and hydropower. One, composed of Nepal, India, and Bangladesh is for collaboration over the Ganges, and the other, an alliance of Bangladesh, India, and Bhutan, is joining forces for electricity production from the trans-boundary waters of the Brahmaputra. These may "herald a change in thinking on how their shared water resources are managed – with a shift from national policies or bilateral agreements to a more integrated regional policy on water resource sharing." But the jury is still out.
Only time will tell if these water cooperation agreements will hold up, yet there is little doubt that fair, careful and just management of the world's water resources is increasingly important. Mindful use of water can open dialogue and create opportunities for mutual understanding and collaboration. Cooperation at the bioregional level especially can strengthen regional resilience and help build peace.
 Compiled by Rhonda Fabian from the UN and NGO links in this article.