Trail of Fears | The Harrowing Plight of Women Refugees
Two Reports shed light on the perils women face when fleeing violence in their homelands.
"We just wait and hope,'' says one woman, who is among the rapidly growing percentage of those migrating illegally. About 20 percent of the 400,000 Central Americans crossing through Mexico are women. Most, according to a study by the Mexico City-based Institute for Women in Migration, hire a smuggler to safely guide them through Mexico and into the United States.
But it's expensive: between $6,000 and $8,000, excluding extortions and bribes.
Many in these countries don't make that in a year. So they have only a far more dangerous option; theirs is a route of walking for days, then leapfrogging the length of Mexico from shelter to shelter aboard The Beast. It's at these shelters during moments of relative calm that their stories of horror and hope emerge.
Ana, a 26-year-old single mother from Honduras, epitomizes those making the journey. By the time she leaves Honduras, she's out of options and money. She owned a candy stand that made enough money to feed her 4-year-old son. But the local gangs extorted a "war tax" each month and fellow Hondurans who refused to pay were killed. So she fled north.
 Ana was almost sold to a trafficker by migrants she encountered on a remote part of the migrant trail near the Guatemala-Mexico border. She escaped by running into the jungle before the transaction was settled and eventually made her way to La 72 Migrant Shelter in Tenosique. July 24, 2014.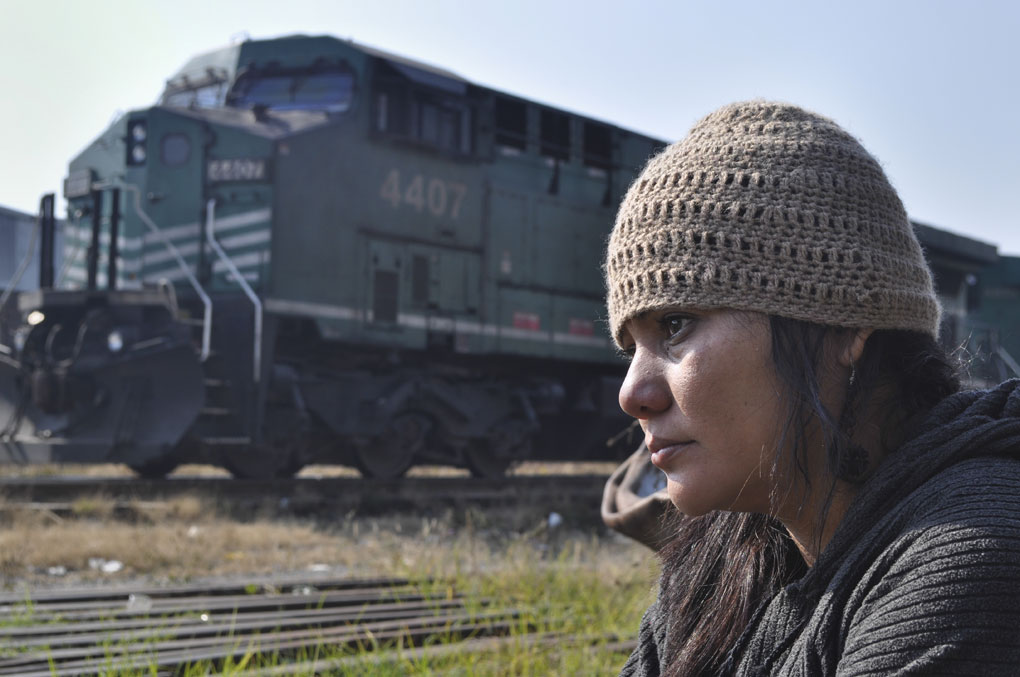 For Ana and thousands of other women who brave this route, illegal entry into Mexico is simple but extraordinarily dangerous. Instead of walking across the international bridge, migrants and those transporting illegal goods detour through thick jungle brush. The 40-mile route is populated with thieves and human traffickers.
"Everyone tells me that I'm so brave to make this trip alone but it's not that I'm brave. I'm doing this because I can't see my child starve."
She's a short, curvy woman with long, straight hair. Her skin is dark and peeling from the burns sustained from walking for days under a scorching sun — just to reach the train. She sits inside the women's dormitory at a migrant shelter in Tenosique late one night and opens up, reluctantly, after hearing the stories of other women who've been abused and exploited along the trail.
Her story rings true to aid workers who say they hear similar accounts, over and over.
Ana is traveling with a group of seven men and says they were confronted by a man who demanded money. They can't pay so she becomes the bounty.
" 'You're going to pay with your body,' the man told me," she said. "He looked and smelled like the devil."
Instead, Ana says she fled into the thick underbrush, alone, to survive in the elements, lost and without food or water. "I didn't wait. I just started running."
After more than 24 hours of wandering, she was found by another group of migrants and taken to the Tenosique shelter, suffering from heat stroke and blisters on her feet. She's sheltered here for more than a month, afraid to continue north, hoping to get some sort of legal protection from the Mexican government so that she can travel north by bus.
"I left my country because of the violence but I also don't want to die on my way north."
Compared to the women traveling by train, Rachel felt safe traveling through Mexico.
Her parents mortgaged their home to pay for a smuggler for her and her brother-in-law. The initial fee of $6,000 each grew to $14,000 by the time they reached Texas. They were smuggled from Guatemala through the Mexican jungle in trucks, then on a series of buses to just beyond the border at McAllen, Texas, a common entry point for migrants who wind up in Memphis.
Reporter Maria Ines Zamudio and photographer Carlton Purvis traveled to El Salvador and along the Mexico-Guatemala border exploring the peril Central American migrants face on their path to the United States. Their reporting was made possible by a fellowship with the International Center for Journalists, sponsored by the Ford Foundation.
Women Refuges in Europe – Summary of Conclusions
This report reflects the rich discussion of 50 representatives from national and regional women's rights associations, grassroots women refugee associations and organizations working with women migrants and refugees based in 35 countries in Europe and beyond. It provides concrete recommendations for policy makers, human rights activists and women's rights associations to improve the asylum and integration process for female refugees, undocumented and migrants.
The publication is a report on the Open Space Session: "to analyze, strategize, and (re)claim rights of female Refugees and Migrants" that Women In Development Europe+ (WIDE+) prepared with the support of Open Society Foundations. The Session was part of a two day capacity building event WIDE+ co-organized with the European Women's Lobby (EWL) on 14 and 15 November 2016, in Amazone, Brussels, Belgium.
The Open Space stressed the need for three key actions: the importance of creating and enhancing equal partnerships between women's rights and migrant/refugee associations, making migration and asylum policy gender sensitive, and the need to promote and advocate for protecting the human rights of women refugees and migrants. 
Summary of Conclusions
Equal partnerships between Civil Society
Women's rights associations should work with associations that represent women refugees, diaspora, migrants, undocumented women or work with these groups of women. There should be also alliances sought with other civil society and stakeholders such as decision makers. Collaborations should be geared towards sharing of resources, information, and building each other's capacity, since female migrant/refugee voices are not only highly relevant for policy discussions around migration and asylum, but also a vital part of the struggle for the promotion and protection of women's rights in general.
Joint campaigning, increasing visibility and creating publicity are key activities to undertake together. Not only is it necessary to make heard the stories and experiences of female migrants and refugees, including their journeys, like sexual violence or abuse women face on their routes through Europe; they should also be made visible with their capacities and knowledge they have to contribute to societies. We should counter the stigmatization of migrant and refugee women and re-conceptualise a (female) migrant/refugee issue into a women's issue and show how it is part of structural discriminations women face. 
Making migration and asylum policy gender sensitive

Policy makers and practicioners should improve the migration and asylum policies and implementation through engendering it. It is very important that migrant and refugee women are involved in the decision making of hosting them and integrating them into society.
Migration and asylum officers should receive 'gender sensitive' training. This should among others raise their awareness and knowledge on occurrences of violence against female refugees and migrants, and teach them how to effectively offer support in such situations. Professionals should be thought how to care for each refugee child and woman, how to understand individual situation, needs and aspirations. And policy makers need to do more to overcome information and language barriers and should ensure stability and continuity in hosting refugees: 1 person should accompany a refugee for atleast 6 months, so that bonds of trust can be created that can hugely benefit the refugee/asylum seeker. Refugee women should be empowered through various forms of expression.
Policy makers should ensure there are safe houses on the route through Europe and specific support for women in camps and detention centres. Such spaces should be gender sensitive, which means they should be safe and accessible for women, including single women, and provide child care support. Policy makers should pay particular attention to single and non-accompanied women in reception centres.
Another important point to address is the need to learn from each other's experiences within the EU countries. To know what is working for women in some countries in asylum processes and to know what conditions make it a success in that context will enable stakeholders to translate successful policy measures to other regions in the EU.
Protect the human rights of female refugees and migrants
Laws, discourses and policies that impact directly female migrants and refugees should be governed by the (women's) human rights paradigm, and the implementation of these rights should be ensured and monitored. The legal rights of female refugees, undocumented women, migrants and Diaspora should be equal accross Europe to that of European nationals and protected through binding national and European law. The following changes in the laws should be made:
Refugee women that are held in detentions should be set free and detention centres should be abolished. In places where detention centres are still operating, female refugees should have access to (gender sensitive) inspectors or rapporteurs that should be allowed to play a role as ombudsperson.
All governments should ratify the Geneva Convention Relating to the Status of Refugees (1951) and its Additional Protocol (1967) and the UN Convention on Migrants' Rights (2003). They should immediately enact appropriate domestic legislation and internal policies to ensure legal protection of the persons of concern.
We call for the ratification of the Istanbul convention by the EU and all European Governments without reservations, and for the implementation of its gender specific provisions and asylum procedures that are sensitive towards violence against women regardless of their legal status.
Female refugees should have the right to an individual claim for asylum with the right to choose a female interpreter and should have the legal right to work and live where they want.
In deciding on granting asylum or not, states need to move beyond the concept of a 'safe country'. Instead, the criteria for a visa need to be interpreted from a gender perspective. The reasons for asylum should include (threat) of sexual violence and gender based violence.
The European countries should harmonise their laws in Europe to include and refer to the term 'single woman' (with a definition of single) instead of non-accompanied women.
For further information about the project and open space, please contact Cristina Reyna and Gea Meijers at: info[at]wide-network.org.