The Beautiful Question | Deep Roots
By Scott Lennox, transcribed from his podcast.
It's been said that good questions naturally lead to better answers. And that it's in not knowing that we find the doorway to knowing.
Our subject today, staying rooted and well-grounded in challenging times. I'll begin by sharing a poem that I wrote over a decade and a half ago.
In the Live Oaks
After twenty years of watching from the road
or standing at the gate,
today, I crossed the fence
and walked among the live oaks,
aging guardians of the open plain.
I know the rancher.
He knows I come to visit, and there is trust.
Walking around them,
I touch them and count aloud,
"…eighteen, nineteen, twenty."
For so long, I thought them ten or twelve.
I laugh at what I thought I knew.
And they are older than I thought by far,
showing the passing seasons in crack and crash,
in twist and gash and cow-rubbed bark
that has laid bare the outer trunks.
Hoof prints and manure tell of shelter and shade,
of sanctuary, of hollowed ground
where calves have slept unafraid
beneath the strong and spreading arms.
Yet, in what seems a placid place,
violence.
In bits of fur and feather and bone,
strewn about the cadmium green of soft winter grass,
nature's balancer has left its calling card.
As I record this, I have just enjoyed a long, quiet walk on a miles-wide Texas ranch. I'm sitting in the deep shade of the same stand of live oaks I wrote about in the poem I have just shared with you.
The canopy of these great cathedral oaks spans more than a hundred-fifty feet. They've endured for generations, standing their ground through countless storms, through winter cold and summer heat, through torrential rains and earth-baking droughts. I've often wondered what marvelous stories they could tell.
These trees are home to mockingbirds and scissortails and sparrows, to blue jays and wrens and hawks and owls. They offer shelter to the cows and other animals that rest beneath them in the heat of the day.
And they've been a personal sanctuary for me for decades. I first came here more than forty years ago, and for a long time, admired them from outside the locked iron gate.
Then, after a chance encounter with the ranch manager, the owners gave me access as an act of trust and Grace. They know that I come here to reconnect with the land and with myself in ways that surpass language.
It's here in this great stillness, especially at times when no human sound may be heard, that I have learned to truly listen. It's here that I come to recapture the sense of curiosity and wonder my late brother and I knew when we were boys and wandering far and wide across the Texas countryside to the south and west of where we lived. It's right here that I have learned to honor the strong and sustaining roots that I've been deeply and quietly putting down across the span of my life.
Each time I walk the rolling hills of this place, I encounter something new and learn something new. And each time, I'm touched by the contrast of hardness and tenderness. So much of the ground here is rocky and hard-packed. Yet, out of all that hardness, some of the most tender things emerge.
Bluestem grasses and tiny flowers flourish everywhere. And in even the harshest of seasons, the frailest things will push up through the earth to grow and express themselves.
Out to the east and south of where I'm sitting, in the broad pastures that extend as far as the Brazos River, I find places where deer or rabbits or bobcats, and countless cows and calves have bedded down beneath the twisted branches of the gnarled scrub cedars and other brush.
Many times, just as the moon is rising, I get to hear the coyotes yipping their raucous evening chorus from their hiding places in the deep draws. Out here—beyond politics and business and ideology—nature is in balance with itself and life is happening exactly as it is designed, in all of its harshness, and all of its beauty.
When I stop and think about it, it's good to imagine myself—my interior self—as a wondrous place where life knows just how to unfold naturally and to stay rooted and strong and resilient.
When times are challenging, it can be easy to forget how strong and supple we are. And yet, it is so important to remember if we are to do well.
So here are three Beautiful Questions:
What deep roots of strength, and flexibility, and grace have you put down? 

What natural balance is always alive in you?

Where can you go and what can you do this week to reconnect with nature and with yourself?
Thank you for listening. It is part of my joy to share these thoughts with people who are continually looking for what is good.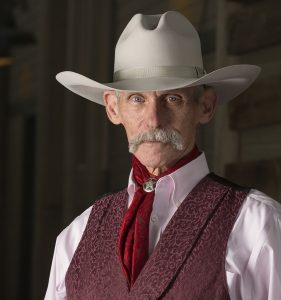 About the Author
"My personal mission is to work collaboratively with others in ways that will help transform and heal the planet and all life on it."
Scott Lennox is a writer and poet, painter, musician, counselor, consultant, and public speaker. His history of early childhood trauma, service as a combat medic in Vietnam, and surviving cancer led him to develop the program, Compassion In Action, through which, he has helped thousands of medical professionals and other to identify and put into motion what he calls "the measurable aspects of compassion."
His podcasts, The Beautiful Question, can be found on iTunes and SoundCloud.