Nuclear Weapons and the Moral Compass
by Jonathan Granoff, President, Global Security Institute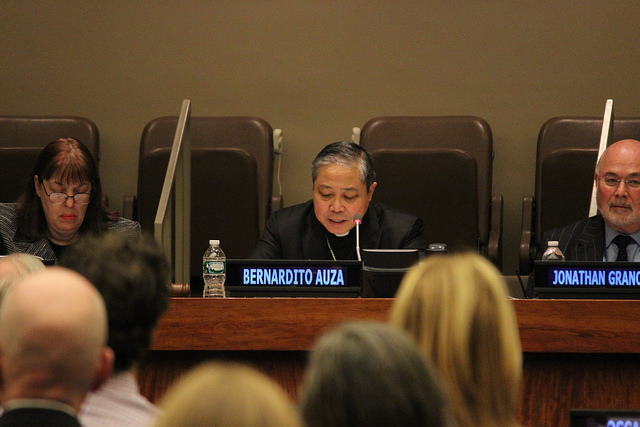 The Global Security Institute is profoundly honored to have co-hosted with the Holy See a remarkably inspirational event at the United Nations on April 9, 2015. Titled "Nuclear Weapons and the Moral Compass," the event included a riveting panel of leaders in the Catholic, Evangelical, Jewish, Muslim, diplomatic, and interfaith communities, as well as two enchanting performances by world-renown cellist, Michael Fitzpatrick.
TIME published a detailed report of this event in its recent piece highlighting Pope Francis' leadership on this issue.
We believe that amplifying a morally-based call for nuclear weapons abolition is both politically efficacious as well as the right thing to do. We are inspired by the outstanding leadership demonstrated by Pope Francis, who issued his unequivocal, urgent call for nuclear disarmament in December, as part of the Holy See's "Nuclear Disarmament: A Time for Abolition."
Thus, the argument that nuclear deterrence preserves the peace is specious. The "peace of a sort" provided by nuclear deterrence is a misnomer and tends to cloud our collective vision. Prolongation of the current nuclear polyarchy has set the stage for wars and for ongoing tensions. It is an expensive system that can't protect from prolonged low-level wars, inter-state wars or terrorist attacks. Accordingly, the misleading assumption that nuclear deterrence prevents war should no longer inspire reluctance to accepting international abolition of nuclear arsenals. If it ever was true, today it has become a dodge from meeting responsibilities to this generation and the next. – Pope Francis
We are futher pleased that there was, concurrent with the event at the United Nations, a meeting at the Vatican with US Under Secretary of State for Arms Control and International Security Rose Gottemoeller, who reaffirmed the centrality of President Obama's Prague vision to pursue "the peace and security of a world free of nuclear weapons" and stated that "the Church is a natural leader in the arena of nuclear disarmament."
We are grateful for the high level participation by the United Nations in our efforts to advance the moral imperative.
A full event report, replete with transcripts, video, and audio of the presentations and performances will be published on the GSI website in the coming days. The UN, in the meantime, has produced an excellent video of the entire event, which we encourage you to view. http://