Meet Our Kosmos Global Ambassadors
Kosmos Global Ambassadors have been an active group of global citizens for close to ten years. They are dedicated to global transformation in harmony with all life and help with the distribution of Kosmos Journal around the world. Our growing team is based both in the United States and abroad, and contributes to the growth of Kosmos Journal and its mission by promoting Kosmos Journal and the message of Kosmos through articles, speaking engagements, interviews, introductions, conferences, and more.
Each of our Global Ambassadors brings their own skills and passion to their service. Here are a few of their contributions.
Alain Ruche, Brussels
"When I first opened Kosmos Journal, I was seduced by the beauty and meaning of the pictures. They triggered within me serenity, peace, joy, compassion and intuitive creativity.  Kosmos is a jewel that calls to be shared face to face. I remember a roundtable of diplomats in Brussels where I invited the other panelists, both daughters of prestigious ex-Prime Ministers in Asia, to have a look at an issue. More recently, I put copies on display at a workshop on Buddhist values and business I helped facilitate in Brussels."
Wanda Krause, Qatar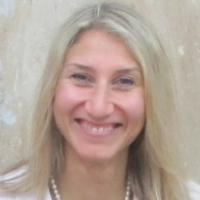 "Before coming to Qatar, I taught Middle East politics at the School of Oriental and African Studies (SOAS), University of London, UK. I hold a PhD (2007) in Politics of the Middle East from the Department of Politics at University of Exeter, UK. I wrote my dissertation on Arab Gulf civil society, gender and Islamism. I did my  MA (2002) in International Relations at the University of Guelph, Canada, and wrote a thesis on feminist and Islamist organizations in Egypt." Wanda Krause is assistant professor and coordinator of the Gulf Studies Program at Qatar University. 
.
Tara Stuart, Global Nomad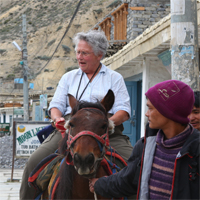 Tara is a Professor of Communication, Emeritus, world traveler and Treasurer of the Board of Directors of Kosmos Associates, Inc. She recently led a Kosmos-sponsored trek to ancient Mustang, with Rinzin Sherpa, her Nepalese friend. She has traveled to more than 30 countries in all as a spokesperson and advocate for Komos.
Stanimirka Milovanovic, Serbia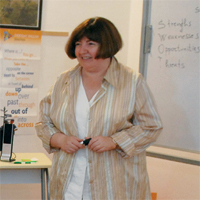 "I was not sure Kosmos would be interested in having Kosmos texts translated into a fairly 'small' language such as Serbian. I was wrong. Now I think of my work in terms of 'pre-Kosmos' and 'after-Kosmos'…I have been using Kosmos for teaching English to graduate students planning to continue their studies abroad as well to those who wish to make their contribution to the positive changes in our society."
OUR CURRENT KOSMOS GLOBAL AMBASSADORS:
Peter Agbor, Cameroon
John Steven Bianucci, South America
Subhash Chandra, India
Tom DiDonna, Kenya, Rwanda
Francek Dobovisek, Slovenia
Blanca L. G.  Fernandez, S.Africa
Martha Foster, Singapore, Myanmar
Anita Kelleher, Australia
Eve Konstantine, US
Wanda Kraus, Qatar, Canada
Paul Lengar, Sierra Leone/W. Africa
Shahzor Memon, Pakistan
Samuel Neshuku (Sammie),Namibia
Jared Okumu Abich Nyakiye, Kenya
Bonaventure Ntwari, Burundi
James B. Quilligan, Washington DC
Alain Ruche, Europe/Asia
Abdourahmane Seck, Senegal
Nimdiki Sherpa, Nepal
Rinzin Sherpa, Tibet, China
Stephanie Shorter, US
Tara Stuart, Nepal, China
Maurice Sungu, Kenya
Nila Tadich de Ossio, Bolivia
Diane Hendrickson Winder, NZ