Kosmos and the UN | March Report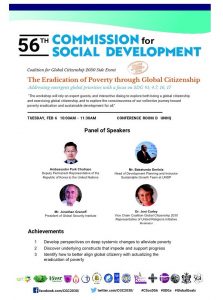 Kosmos Advising Editor on the UN, Joni Carley, recently facilitated a breakout session of the Coalition for Global Citizenship 2030, (CGC2030) a coalition dedicated to the oneness of humanity. The workshop was titled, Eradicating poverty: a workshop on the role of global citizenship (see sidebar) Kosmos was an event Sponsor.
Joni Carley also spoke on March 19th about her role at the UN and Kosmos at a Transition Town event in Media, Pennsylvania. Transition Towns are grassroot community projects that aim to increase self-sufficiency to reduce the potential effects of peak oil, climate destruction, and economic instability.
Joni currently represents the United Religions Initiative and is on the Committee for Religious NGO's, and Committee on Spirituality, Values and Global Concerns.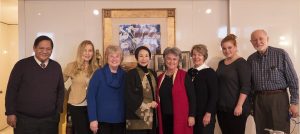 From the Statement on behalf of the Coalition for Global Citizenship 2030
"Without the development of global citizen consciousness, it is impossible to transform an economic system that permits corruption, tax evasion and illicit trade flows into a values-driven system that leaves no one behind. Global citizenship implies an economic system that simply cannot sustain the impoverishment of people because it is foundationally grounded in the inherent values of the SDGs.
The 2030 Agenda can only be fulfilled by systemic reinvention such that human rights and the SDGs are the fundamental starting points, rather than secondary agendas.
We therefore call upon member states to:
Find new ways to address poverty systemically by recognizing the interconnectedness of all beings
Shift to values-driven decision making as a means to reform current financial architecture such that we place more accurate economic worth on what people truly value most, like quality of life, rather than on currently used economic indicators which are demonstrably inconsistent with our moral compass.
Reroute funds away from military spending and illicit financial flows and toward prioritizing universal wellbeing. Poverty can only be eradicated by placing greater economic valuation on the vitalization of all beings in far greater proportion to current valuation for militarization and materialism.
Shift consciousness toward achieving economic equanimity that inherently bridges the gaps between rich and poor. Ensure access to quality education for all, and strengthen mobilization of resources from all sectors, to enable more holistic programmes and policies that can end poverty in all its dimensions."
Kosmos Quarterly Editor and NGO Representative to the UN, Rhonda Fabian, participated in a UN Commission on the Status of Women event: Awareness to Action: Nurturing the Seeds of Change, sponsored by Brahma Kumaris and the Values Caucus. Kosmos Editor Emeritus Nancy Roof co-founded the Values Caucus in 1994.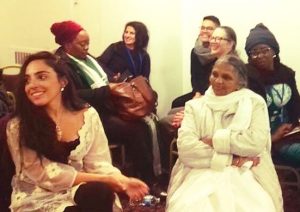 The event brought together women from around the world in leadership roles in their communities and organizations for deep spiritual connection, meditation and dialogue. Small groups joined in conversation to explore Choice, Connection, and Commitment as integral elements of women's leadership. The transformative qualities of love and compassion were emphasized that strengthen women, their networks and communities, especially during times of crisis.
The Brahma Kumaris (BK) and the Values Caucus at the United Nations hosted this event to offer women an opportunity to come together, and share and reflect on core values, and discuss ways to nurture those while in their respective leading roles.
Kosmos Associates serves in Consultative Status at the United Nations.