Interview | Megan McFeely, "As She Is, Restoring Sacred Balance"
KOSMOS | The opening of your film and the imagery of you as a child is fascinating, 'I knew that I couldn't be held and made safe having this kind of seeing and having this kind of knowing. I had to make a choice that the rest of me needed to survive to adulthood and this was the thing that would have to be sacrificed.' Can you tell us more about the 'seeing and knowing' you experienced as a child, and what about it seemed distinctly feminine in your view?
MM | I was the kind of child, I think many are, that could tell when someone was hiding something or what someone was thinking. This to me is intuition, some people might call it psychic. I just asked questions about things that were confusing or inconsistent to me. Let me tell you, it was not popular and it made the adults, especially my father, very uncomfortable. He was a federal prosecutor who lived in the physical, rational, linear world and these insights of mine kind of shocked him. I had access to information that came from a feeling sense or it was downloaded into my being and I just knew.
Where this non-linear information arises from, I do not know, but as human beings we have access to the hidden realms, things we do not particularly understand, see with our eyes or know with our thinking mind. Maybe it comes from the unconscious or the world around us, but it presents itself as a feeling, a sense, or a knowing. This is a feminine function, I believe, whether it is in men or women.   We have not valued this way of knowing because we do not understand its origins, we cannot prove it through the scientific method, so we often disregard it, or even worse, disrespect it.
KOSMOS | At what point did you decide to make this film? What was the 'point of no return'?
 Quotes from the film
The feminine is in everyone. The feminine is not about sex. It is about a principle. – Vandana Shiva
The feminine is the aspect of every human being that wants to receive love. So the feminine is longing. The feminine says, "I'm longing for love. I want to know more of you God. I want to know what's real." And that longing pushes a human soul, male or female, pushes a human soul closer and closer to what's real. – Hilary Hart
What organism would actually go create war, conflict, hoard resources, over consume without ultimately creating and bringing about its own demise? I mean, there is no other species on the planet that behaves in the way that man does. There is almost a necessary evolutionary impulse. There's no way out except through some elevation of our human consciousness. So what does that mean? It means, I think, it means that the domination paradigm can't really go on. And so if you are not going to do domination then what are you going to do? – Stacey Lawson
To God we're all feminine, because we're all receiving from that Divine. I think the great folly is what we're experiencing in America where we trying to control with bigger bombs, more blatant destructive power. We're just trying to keep that dead horse alive. When it's the opposite that has to happen. Its the not knowing, its surrender, its tears, its forgiveness, its befriending the universe instead of destroying it. – Jerry Wennstrom
MM | This was a 5-year process and there were several periods which I would call reckonings. I kept having to face my fears and then surrender, allowing myself each step of the way to become more vulnerable. Over and over again I had to let go of the fear of being a failure, the fear that this was a massive ego trip, the fear of being over-exposed and judged and even laughed at. And on top of that I really did not know what I was doing so I just had to trust the process.
The real point of no return was after the film was done and I had a screening for friends and family. I was completely exposed, but I really had no choice. In order for the narrative to work, I had to be in it. I had to be visible. I had to surrender.
I guess what is also true is that I had a strong desire to visible. So the desire to be hidden and the desire to be visible worked me and are still working me. I think it might be quite human to struggle with this and the making of this film was nothing but a completely human and humbling process.
KOSMOS | In your film, the qualities of the feminine are described both as that which gives and that which receives. Can you elaborate on these two qualities?
MM | It is funny. I spent all these years trying to figure out what the feminine is, and I still do not know. I cannot describe "HER." I only know that I can hear myself and I can trust myself a lot more.
Through this experience and my path, I was made more vulnerable so I could receive a certain energy that was intended to transform me, but at some point it also moves through you and is given back to the community. This life-force energy is called Shakti in the Hindu religion. As they say in India, women are Shakti because we are an embodiment of the creative force of nature. To quote Elinor Gadon, a scholar and practitioner from the film, "it is like waves of energy that come out of you." So you can see how this receiving is really also intended for giving, it is a cycle. I think this exact thing happens with mothers or artists, for example. They receive the seed/inspiration, hold it inside and then give birth. Then the love goes to the child or the community, ideally. And then maybe the process happens again.
KOSMOS | If the outer world is a reflection of the inner, what does this say about the need to balance the masculine and feminine within each of us? Is integration the goal?
MM | I feel it is. It is my goal. While I was exploring the feminine through the making of this film, I also had to grow up my masculine. Since I am a very energetically open person I had to learn to contain myself, to create strong boundaries and not to energetically invade others. I had to learn to say "no" and fight to protect what I thought was right for this project, even though I was the least experienced filmmaker in the room. I had dig in and understand technical things and accounting, which I despise. I had to learn not to care what others thought of me and to look inside for what was needed. I had to rely on the inner. It took discipline to practice this -bringing my attention back to the inside – when I was so used to going outside to get answers. So what is happening is that my masculine and feminine are growing up together. They need each other.
KOSMOS | You mentioned that India represented the feminine for you. And yet, as in most places, there is a great deal of violence toward women and gender injustice in India. Was this a disconnect for you?
MM | Yes. It is heartbreaking. I had a sense that women were not empowered but I did not fully realize the depth of inequity until I went there.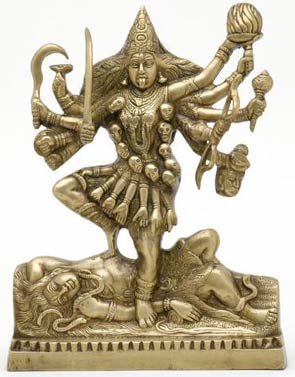 India is a very feminine place and we have a lot to learn from India's culture and ways, but we have to remember that the feminine also has a brutal quality associated with the cycle of death and rebirth. This is present in every culture, but in India this dynamic force, represented by the goddess Kali, is quite visible on the streets. Nothing is hidden from view. Life is happening. Death is happening.
It is my sense that every culture is in a state of evolution, just as individuals are. In America we need to balance the masculine with the feminine and in India they are learning to balance the feminine with the masculine. More women in India continue to incorporate the masculine through the development of the mind and psychological awareness and they are stepping into their own state of balance and power. American women, on the other hand, are reconnecting with the feminine so we can find a state of balance. Everything is moving towards wholeness and we are all just expressions of this.
KOSMOS | Megan, you say the call of your heart is to serve. This film is a beautiful gesture of service. What is next for you?
MM | Thank you. That you say this touches my heart. Next is really now. I hope to follow this film around, to talk to women and men about their experiences of the feminine, how they live it or do not live it in their lives and why it might be important. I am learning how to listen and support the movement of life, through this project. I will be going to Egypt soon to screen the film and then to LA in April. And honestly I have no idea what is next. SHE is in charge.
Megan McFeely is the Producer/Director of As She Is. Before embarking on her first film project, Megan McFeely worked for 25 years in the field of public relations and communications for profit and not for profit organizations. She currently works on a TV show called Global Spirit, as the outreach director and an associate producer. She also writes for the Huffington Post and the Contemplative Journal about her efforts to live an authentic life.