Grafitti | Kamukunji Youth Congress
Kamukunji Youth Congress | Seeing Wetiko from a Grassroots Point of View
Kamukunji Youth Congress (KYC) is an open and voluntary membership youth social movement founded in 2007 by agitated youth leaders. Situated and with a physical community office in Pumwani slums, Kamukunji Sub-County, Nairobi County-Kenya. The founding mission of the youth congress was and still remains "to provide a shared platform for youth to ensure the improvement of their position and condition and address the socio, economic political disorders that continue to subject them to desperation, injustices and inhumane living conditions through a social justice lens".
Visual arts is part of our work and we work with grassroots artists and artivists and here is a brief bio of our comrade whom we are working with in this project in his own words.
I am Mr Weasol a Kenyan based graffiti artist started painting in 2009.Over the years I've met and painted with different artists both local and international. My graffiti style is diverse and keeps changing whenever I paint don't paint the same style over and over. I paint graffiti to have fun, to add colour and beauty to community walls all over. Being a graffiti artist isn't just about painting it's all about expression of feelings and emotions. We all go through tough times and when I do pick up a spray can and just let loose…. find me on Facebook; Mr Weasol. Graffiti
Wetiko virus has existed in our midsts unknowingly, by giving it a face-the positive healing process begins.
This is the initial image or artwork as is locally known showing a clear picture of how our community housing system was designed by the British imperialists in early 1900 and still is the same housing system with no sign of improvement in sight up to today.  The graffiti was done at a community public toilet managed by a youth group called 34 Youth Group.  We chose this strategic facility because its one of the busiest places in the Pumwani, Majengo, and its a symbolic monument signifying how the imperialist system thought of our community as a place where each household doesnt deserve a washroom/bathroom but rather a communal one.  Nevertheless young people have managed to transform the place into a profit making facility.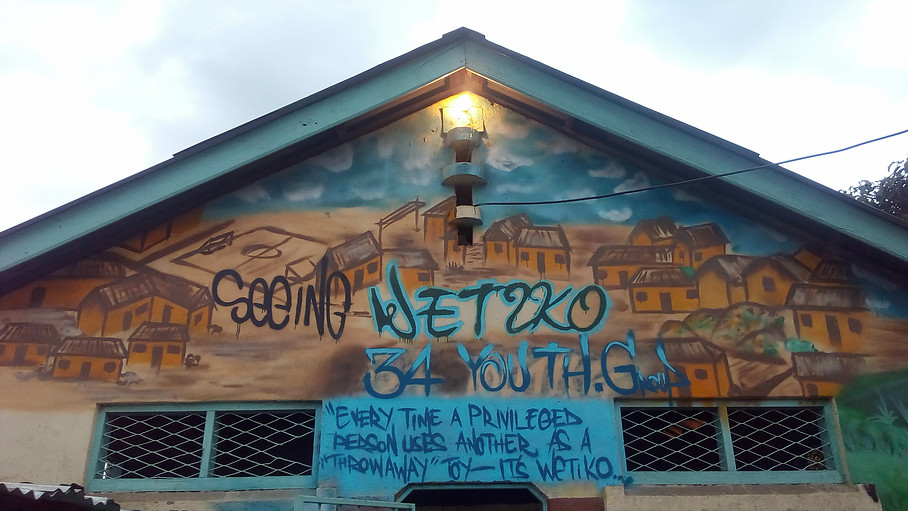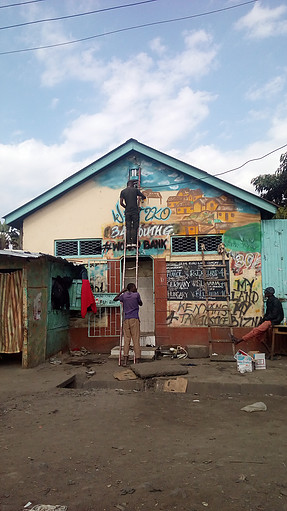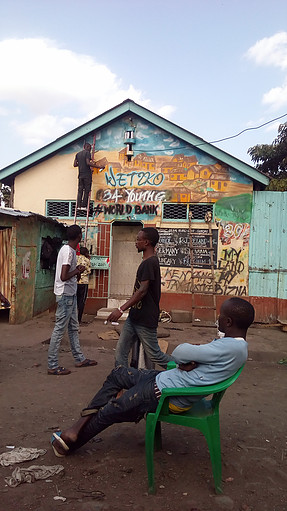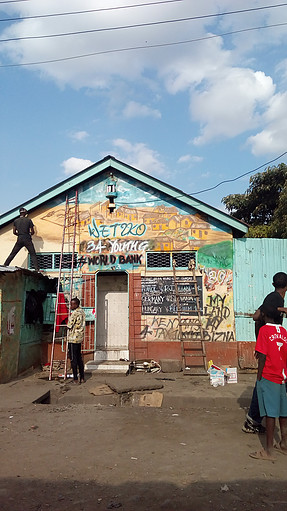 This is the second artwork depicting the corrupt system.  In the image you see a police officer and his car receiving a bribe from a corrupt politician while a community member looks hopelessly, well aware that the paid bribe is coming to oppress his community in one way or the other.  The police image in the whole artwork, provoked the community, especially young people to speak about police brutality and single handedly identifying the officer in the image with the murderous one who has been killing their colleagues extra judicially.