Global Poll | Global Citizenship A Growing Sentiment Among Citizens Of Emerging Economies
A Globescan Poll for the BBC World Service, Spring 2016
For the first time in 15 years of tracking by GlobeScan, findings indicate that nearly one in two people (49%) surveyed across 14 tracking countries see themselves more as global citizens than citizens of their country. This sentiment is being driven by citizens of large emerging economies, according to a new poll for the BBC World Service.
The poll, conducted by GlobeScan among more than 20,000 people worldwide between December 2015 and April 2016, is being released as part of the BBC World Service Identity Season—a Spring season of broadcasts on the World Service's 27 language services exploring stories about how people identify themselves around the world.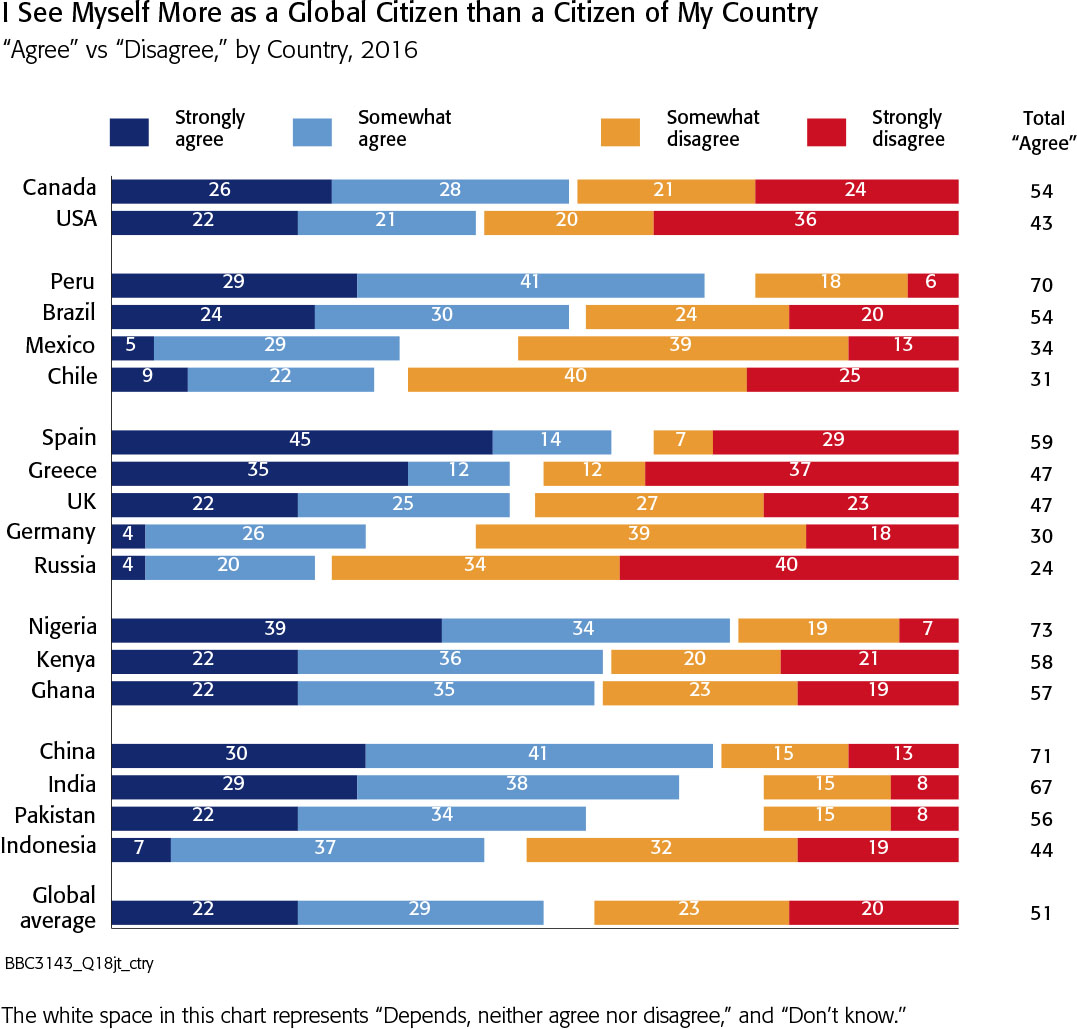 Among all 18 countries where this question was asked in 2016, the poll suggests more than half (51%) see themselves more as global citizens than citizens of their country, against 43 per cent who identify nationally. This is the first time since tracking began in 2001 that there is a global majority who leans this way, and the results in 2016 are driven by strong increases since 2015 in non-OECD countries including Nigeria (73%, up 13 points), China (71%, up 14 points), Peru (70%, up 27 points), and India (67%, up 13 points).
Looking at the 14 tracking countries that have been surveyed repeatedly since 2001, a growing divide appears on the topic of global citizenship between respondents from developing economies and those from industrialised countries. At the height of the financial crisis in 2009, views were fairly similar across the two country groupings, with 48 per cent in seven OECD countries seeing themselves more as global citizens than national, and 45 per cent in seven non-OECD countries. This sentiment has continued to grow at a strong pace since then among respondents in emerging economies to reach a high of 56 per cent in both 2015 and 2016. Conversely in seven OECD countries it has followed an opposite trajectory, dropping to a low of 39 per cent in 2011 and remaining at low levels since (now at 42%). This latter trend has been particularly pronounced in Germany where the poll suggests identification with global citizenship has dropped 13 points since 2009 to only 30 per cent today (the lowest since 2001).
GlobeScan Chairman Doug Miller commented:
The poll's finding that growing majorities of people in emerging economies identify as global citizens will challenge many people's (and organisations') ideas of what the future might look like.
Read the Full Story:
View Other Findings and All the Data at GLOBESCAN