Global Ecovillage Network | Sacred Activism
All around the world ecovillages and communities are standing up, as part of a global movement to protect what is sacred to them: family, friends and community, the biodiversity and beauty of nature, the future of generations to come. They stand for social justice, human rights and earth rights. When the Indigenous resistance against the Dakota Access pipeline was ended, one of the activists, White Eagle said: "Just because we're being removed from that area doesn't mean it's over. We just have to continue to work together as a whole for this common cause, which is the protection of Mother Earth."
Who is the Global Ecovillage Network?
The Global Ecovillage Network (GEN) is a growing network of regenerative communities and initiatives that bridge cultures, countries, and continents.
GEN builds bridges between policy-makers, governments, NGOs, academics, entrepreneurs, activists, community networks and ecologically-minded individuals across the globe in order to develop strategies for a global transition to resilient communities and cultures.
What is an Ecovillage?
An ecovillage is an intentional, traditional or urban community that is consciously designed through locally owned, participatory processes in all four dimensions of sustainability  (social, culture, ecology and economy) to regenerate their social and natural environments.
Ecovillages are living laboratories pioneering beautiful alternatives and innovative solutions. They are rural or urban settlements with vibrant social structures, vastly diverse, yet united in their actions towards low-impact, high-quality lifestyles.
Who is in the GEN Network?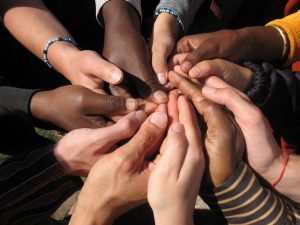 GEN is composed of 5 regional networks, spanning the globe. The network is made up of approximately 10,000 communities and related projects where people are living together in greater ecological harmony.
Some network members include large networks like Sarvodaya (2,000 active sustainable villages in Sri Lanka); the Federation of Damanhur in Italy and Nimbin in Australia; as well as small rural ecovillages like Gaia Asociación in Argentina and Huehuecoyotl in Mexico.
It also includes urban rejuvenation projects like Los Angeles EcoVillage and Christiania in Copenhagen; permaculture design sites such as Crystal Waters, Australia, Cochabamba, Bolivia and Barus, Brazil; and educational centres such as Findhorn in Scotland, Centre for Alternative Technology in Wales, Earthlands in Massachusetts, and many more.
Learn More About GEN
The term sacred activism was first mentioned by the spiritual scholar Andrew Harvey. He says: "A spirituality that is only private and self-absorbed, one devoid of an authentic political and social consciousness, does little to halt the suicidal juggernaut of history. On the other hand, an activism that is not purified by profound spiritual and psychological self-awareness and rooted in divine truth, wisdom, and compassion will only perpetuate the problem it is trying to solve, however righteous its intentions. When, however, the deepest and most grounded spiritual vision is married to a practical and pragmatic drive to transform all existing political, economic, and social institutions, a holy force – the power of wisdom and love in action – is born. This force I define as Sacred Activism."She was right. The movement has sparked ever since. In Palestine, the former Muslim inhabitants want to rehabilitate a destroyed village, 30 years after having been displaced – together with Jews and Christians. In California, the water situation of Los Angeles and the preservation of nature reserves and First Nation´s reservations is bringing communities together. In Brazil, the inhabitants of a favela resist the urban plannings of building a highway; in Colombia, a peace community protecting a forest has fallen prey to paramilitary violence and drug cultivation; in Portugal, communities are protecting their coastline from offshore fracking. These are just some of many many examples.
Non-violence, prayers (personal, or connected to any faith) and meditations are core ingredients of sacred activism. All these communities are working to create a beautiful alternative. For their NO to succeed, they need to know what they say YES to. To defend the sacred, they need to know what is sacred. This is the precious task of communities and ecovillages: to work for a common positive aim, a realistic vision of a regenerative and love-based future that will allow millions to divest from the old system and create new realities together.
Communities and ecovillages have precious solutions to share: Many important instances of sacred activism failed because at some point the activists could not solve misunderstandings and conflicts arising from the tension of the situation. Communities that have learned to share, collaborate, communicate and love each other, have developed social skills and competencies in building strong teams and dealing with critical situations of competition, anger, power struggles and jealousy in fruitful ways.