Film | An Enquiry into a New Story for Humanity
Image | Rick Paine, New Story Summit
by Rhonda Fabian
The New Story Summit at Findhorn Community, Scotland in the autumn of 2014 was a momentous, unwieldy, fascinating conference, as anyone who attended can attest. Its purpose: to reflect on paradigmatic shifts, personal to planetary, believed by many to be underway in the world. The particular tribe of 320 attendees from 50 countries won't be reassembled anytime soon – activist youth, indigenous elders, enlivened leaders, shamans, change agents, poets, artists and more. Hopes were high for some kind of transformation to occur, for some signal that the right elixir of words, meditation, music, fire and prayer could light a path through the wilderness. What gifts might such a multigenerational multicultural gathering offer to a world in crisis? Thousands also attended the conference via webstreaming, and grappled with similar questions in their own communities. There was a collective yearning for answers.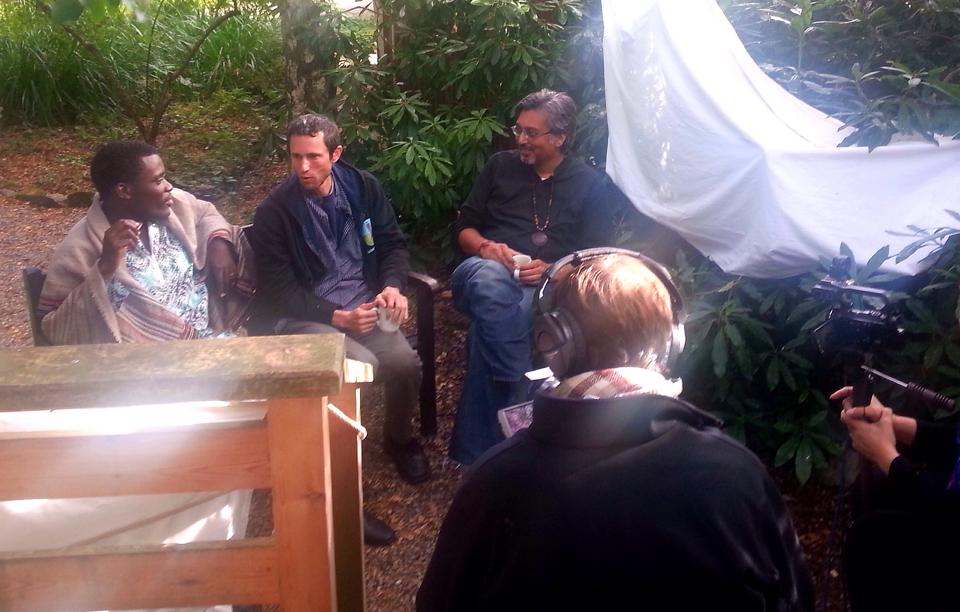 A documentary film inspired by the Summit is premiering on April 30, online. An Enquiry into a New Story for Humanity is free to view, and again thousands of people from around the world are signing up to see it. Many will host live screenings for friends and neighbors. The film is "intended to be used as a tool to foster further enquiry and serve as a call to action in service to a better world". A team of filmmakers and technicians gifted their time to make the film possible. The team, including this writer, met each week by Skype for two months preceding the Summit to discuss intentions and goals. The filmmakers also had hopes for a good 'story', a truthful capturing of the process with all its likely highs and lows.
There were highs and lows. You can read one account of the New Story Summit by Charles Eisenstein who played an unenviable role as both keynote speaker and provocateur. For some career conference-goers, there was a sense of business as usual; for others, it was a once-in-a-lifetime opportunity to connect with admired peers; young people might have wished for less talking and more experiential learning; elders sighed at familiar struggles. And yet…and yet…for the watchful there were signs of ripe potential for a greater unfolding. Music and laughter carried on warm breezes, the sunny gardens, the quiet moments of deep connection, the profound presence of the Sea. The Earth seemed to be inviting all in attendance into beloved community. Some, but not everyone, heard the call. This call is present in the film too, if one attends closely.
 Kosmos and the New Story
Kosmos Editor, Nancy Roof attended the New Story Summit. Here, she shares her ideas about the movement 'From I to We', recorded at the Summit.
A study by Kosmos Journal, Connecting for Change, Insights from an Emerging Global Transformation Movement, conducted just months before the Summit, and published immediately after, also sought to make sense of the 'movement of movements', or 'New Story'. It may be a useful companion guide for those viewing the film.
Key Insights | The New Story is a work in progress:
It is a movement of many movements
Values drive the movement, more so than goals
Alternative ways of learning and knowing are emphasized
Group work follows improvisational principles
Harmony with Nature, Global Unity, and Interbeing are frequent expressions of the movement's spiritual dimensions.
You can hear a recent interview with Rhonda Fabian about the Kosmos Study, Connecting for Change on Love and Revolution Radio.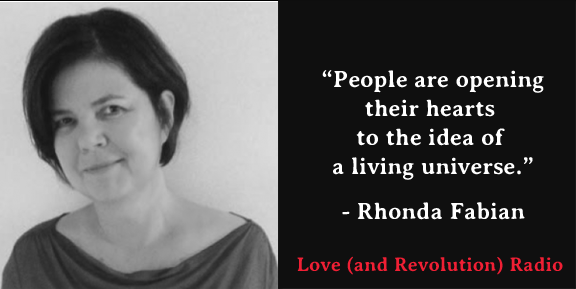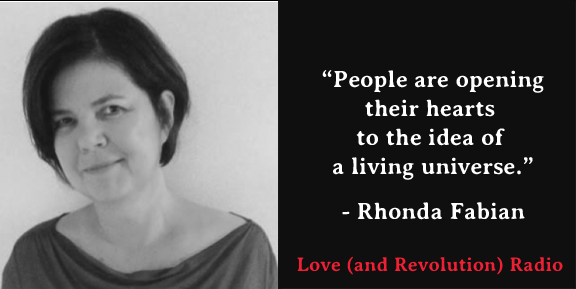 Rhonda Fabian is co-author of the Kosmos Study, Connecting for Change, and digital editor of Kosmos Journal.
It seems unfair to tell too much about the film in advance of the screening. Imagine more than 60 hours of interviews and another 40 or so of conference presentations and proceedings condensed into one hour and 42 minutes. How to scale down this mountain of content? On reflection, it's not surprising that director-producer Mattie Porte, director-editor Lorenz Gramann, and editor Ianto Moore chose to present the content in the form of a tapestry, themed chapters, as opposed to a day-by-day account of what actually happened at the Summit. It would be very difficult to tell that particular story– everyone there saw and interpreted events for themselves. There was no one story. And that really is the whole point.
The 'New Story' is an ironic name for something that is neither wholly new, singular, nor predictable in structure like a conventional tale. It is many strands of many energies that interweave, and not always gracefully. Some are loose ends that seem to lead nowhere; some, strong threads that pull others along in their path.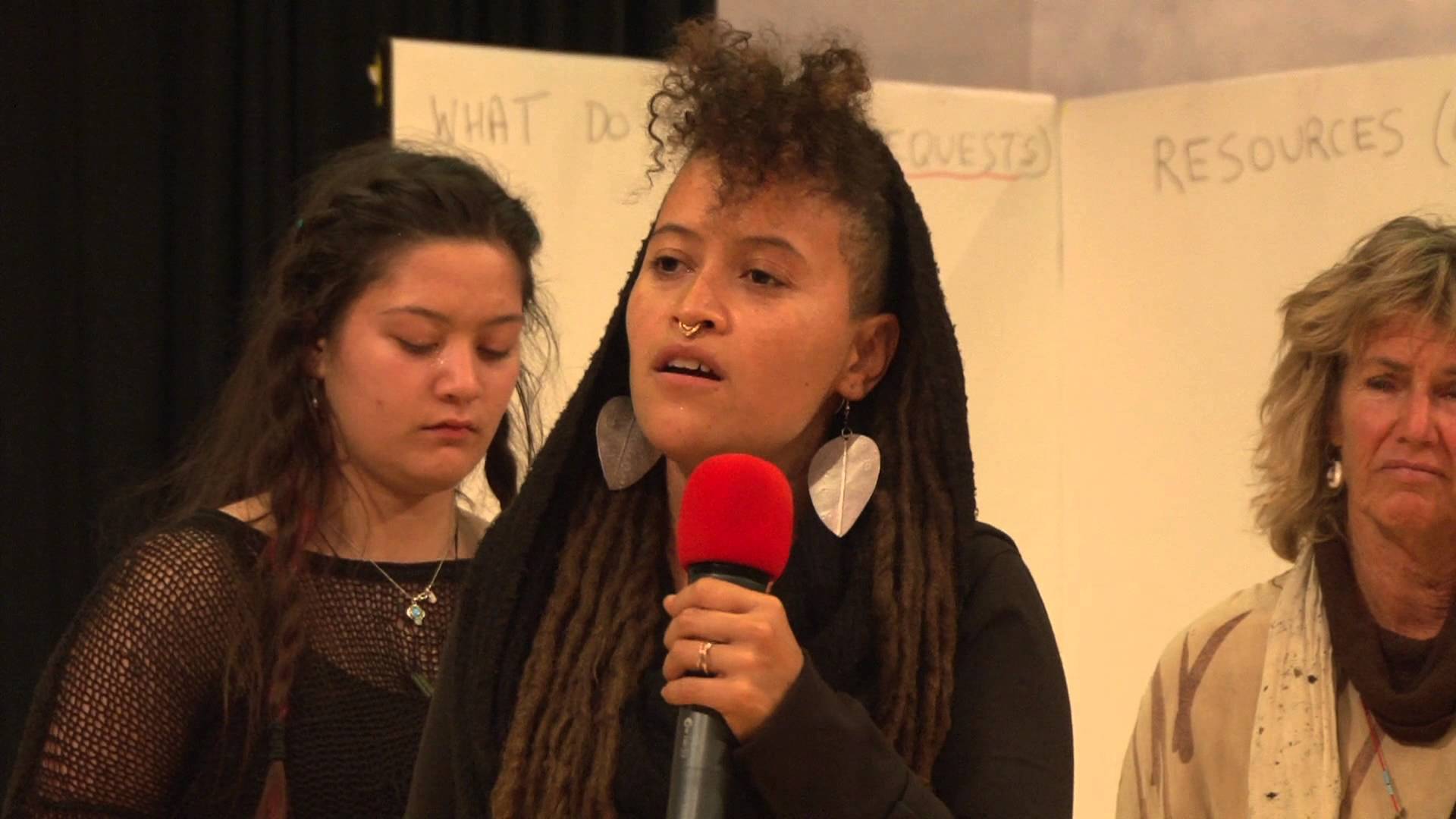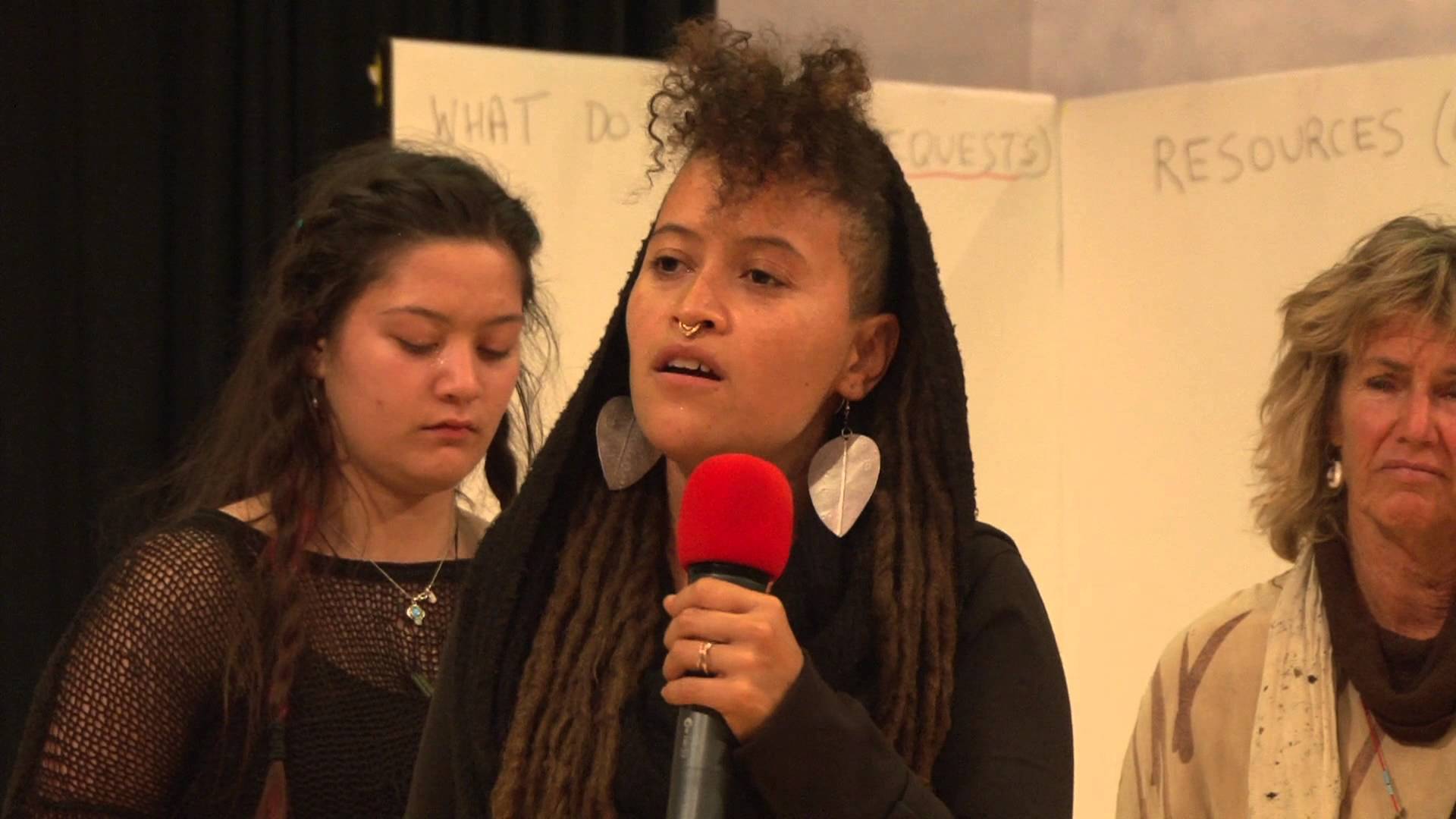 The many speakers featured in the film include poet Drew Dellinger, spoken word artist Alixa Garcia, author Charles Eisenstein, Congolese leader Neema Namandamu, Kosmos editor Nancy Roof, youth activist Nick Joyce, humanitarian Satish Kumar, and many more. Some of the particularly beautiful sequences were filmed by Ian MacKenzie.
Viewing the film can give a sense of what it was like to be at the Summit. The diversity of voices is remarkable and the accumulated wisdom, at times overwhelming. A viewer would wish to sit down with any one of the articulate speakers who appear in the film for a heart-to-heart talk, a rare privilege this filmmaker appreciated greatly. Yet, by breaking up the chaos of ideas into even smaller sound bites and compartmentalizing them into chaptered silos, the film inadvertently mirrors the frustrating sense some at the Summit felt – that a true sense of unity remained elusive; a feeling of not quite reaching the peak.
This is neither a reflection on the Summit or Findhorn Community. They did their job well, organizing a challenging event to serve diverse needs. The Summit, (and the film), was a brave undertaking by Findhorn and a great leap of faith. Offered 'in the gift', attendees paid what they were able to afford. The film is a labor of love, more than a year in the making. So why, after viewing, does it feel so emotionally uplifting and painful at the same time?
Maybe because the world is facing a birth crisis, and there is no easy way through it. It is a path made by walking, and in many cases, stumbling…together. Each statement made in the film seems sure, a tiny step on a shared journey of monumental faith. Yet all statements together form a dense labyrinth of what Buddhism calls, 'views'. We really don't know the answers. Truth is found in the doing. The final chapter of the film is most satisfying because it highlights many actions and initiatives underway in the world that express this.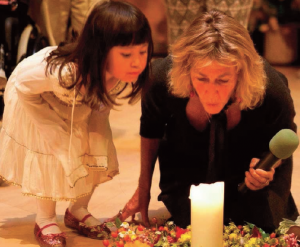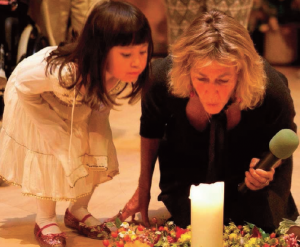 If a New Story is on the horizon, a Hail Mary pass for humanity, it might look something like this film. An Enquiry into a New Story for Humanity is essential viewing because it is a window into the early stirrings of a global movement yearning to be born. This is a remarkable time to be alive on this wondrous planet and everyone is needed for a magnificent final push to bring greater awareness, love and positive action into being.
Groups might consider using any of the film's chapters that resonate as a means to ignite discourse. Hopefully meaningful connections across diverse global communities might result from the global screenings. As with the New Story Summit, and most things, what each seeker takes away from the experience will depend greatly on the expectations he or she carries in. Sign up to see it, or host a screening, here.