Excerpt | The Charged Border: Where Whales and Humans Meet
by Jim Nollman, via Interpecies.com 
This is an excerpt from a chapter of the book, The Charged Border: Where Whales and Humans Meet
Scientists who study cetacean vocalizations in the wild, point to the beluga whale as a potentially better candidate for communication studies. Belugas were called sea canaries by 19th century whalers for the way they chirp and chortle among their own kind. Almost all beluga calls are audible to a human ear. They are also among the few cetacean species to naturally vocalize in air. Becky Sjare, a Canadian biologist who made an extensive study of beluga vocalizations, concluded that the species produces more different kinds of sounds than any other whale or dolphin. Listening to them vocalize to one another at Lancaster Sound in the Canadian High Arctic, their discourse reminded me of a raucous party heard through the walls of an apartment building. I intuited that the revelers were indeed talking coherently to one another, although individual words could not be discerned.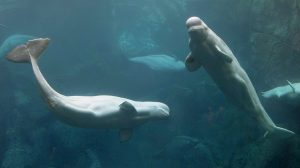 The species is notoriously uncooperative at learning the standard fare of oceanarium antics like jumping through hoops. Of nine beluga whales born in captivity only two have survived even a week. The video of one such birth and death, at the Tacoma Washington Point Defiance Zoo, had the look and feel of a mercy-killing administered by its mother. Another otherwise untrainable beluga confined for years in a tiny pool at the Vancouver aquarium, spent hours a day making faces through the glass at children who made faces in response.
The Charged Border that exists between humans and cetaceans casts an ethical tension over language experiments with captive cetaceans that Penny Patterson and Irene Pepperberg never needed to address. In the dolphin lab at Kewalo Basin Hawaii, two graduate students accused the program director Louis Herman of cruelty to animals. Late one night they bundled the two dolphins into a pickup truck and freed them into the Ocean. One student was eventually found guilty of stealing the research center's property. Herman announced that such highly-trained animals could never survive in the wild; yet by admitting that, he inadvertently demonstrated how exploitation damages an animal's native intelligence. The two dolphins had been taught many ingenious signals although, having land animals as teachers, they never learned about currents, predation, or how to relate to other dolphins.
As someone who has played music with several different cetacean species over a twenty-five year period — including bottlenose dolphins and beluga whales — I wonder if their complex vocalizations are actually closer to music than language. Acoustic information may just as easily be communicated through sonic algorithms based on melodies, harmonies, and rhythm as by words. Like nineteenth century railroad workers employing the cadences of a work song to perform a group task, certain whistles may provide a rhythm for scattered pod members to roll across the surface in synchrony as I have witnessed orcas do in the straits of British Columbia. And like the whistling language of Basques shepherds, vocalizations certainly help pod members keep in touch with one another across distance. If my interpretation is credible, then attempting to translate a delphinid's musical/symbolic calls into English may be as futile an endeavor as trying to translate a Beethoven symphony into English.
Some cognitive scientists believe that a species' ability to acquire language gauges that species' intelligence. The connection may be false, because intelligence itself defies a universal definition. Webster's defines the term as the ability to learn or understand from experience, to acquire and retain knowledge. Yet street intelligence in the Los Angeles Barrios must be graded differently than the intelligence displayed in the physics labs of UCLA just a few miles away. The question has even been asked whether more intelligent people get higher or lower marks on intelligence tests.
If cognitive scientists can not pin down the capability in humans, they are much further from forming a valid definition that includes animals. The nature philosopher, Michael Fox, may offer the most workable, if not transcendent definition when he writes, "a lot of people confuse intelligence with trainability. I turn it all around and say, there's no one more intelligent at being a butterfly than a butterfly." According to Fox, controlled scientific experiments in animal cognition are ultimately flawed because they judge animal intelligence only in terms of species-specific assumptions about human intelligence. Louis Herman's experiments, for example, focused on the dolphins' ability to reflect a human proficiency to apply information to a task.
The Sentience Test
This flaw also hinders cognitive science's best known test for determining a species' sentience, (defined as the capacity for feeling or perceiving consciousness). A researcher anesthetizes an animal and then paints a spot on its body not visible to self-examination. Upon awakening, the animal is placed in front of a mirror and then shown the spot in its reflection. A species is considered self-aware if it reaches to touch the mark on itself rather than on the mirror. Until very recently, only the great apes passed the test. Naturally, much fanfare resulted in 1991 when the Hawaiian-based, Project Delphis, coaxed a bottlenose dolphin to observe a blemish on itself after first observing it in a mirror and by doing so, became the first non-primate to attain membership on "the sentient list". Animal Rightists have concluded with some irony, that in order to be deemed sentient, the dolphin was first captured, caged, isolated, drugged, marked, and interrogated to teach its experimenters something akin to a declaration that the sky is blue. Alex the parrot is not officially considered sentient, although he learned the word "gray" after bidding a researcher to tell him, in plain English, the color of his own reflection in a mirror.
Animals are wise beyond the systems of language we impose upon them, intelligent beyond our training regimens, creative beyond the behavioral tricks we watch them perform. The most conscious forms of communication–Koko's fib, for instance–are circular and transparent. While it is happening, both parties simply feel it and are thus able to respond intelligibly. Sentience can not be properly measured any more than creativity can be measured. Or love.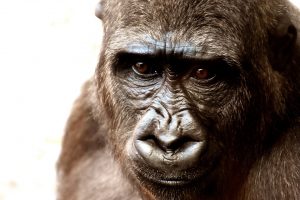 This conclusion suggests that animal intellect–the outward expression of sentience–may be an issue of philosophy more than science. Is the creator of a complex tool such as the atom bomb, more intelligent than the creator of a simple tool, the spider web? The web is eminently utilitarian, a wonder of design, light on resources and, most notably, has insured the survival of its creator for a hundred million years. It harms nothing besides the spider's immediate prey. It is easily reconstructed when damaged. If the architect of the atom bomb is deemed more intelligent than the architect of the spider web, the obvious next question sounds like something out of Alice in Wonderland:
Is it more intelligent to be less intelligent? And if so, what does it make of the parrot's dream?
The Nonlocal Mind
Some visionary scientists argue that both sentience and communication are universal in nature, operating as one aspect of "nonlocal" mind. As in John's sperm whale dream, the brain may not be the seat of the mind but, rather, the conduit of consciousness, what the Hindu mystic, Yogananda, referred to as a radio receiver linking us to some as yet poorly understood external cosmic record where all knowledge and wisdom reside. Every species possesses the ability to tap into any part of it, although the size of an animal's receiver limits how much can be held at once. When a parrot is taught to think like a human, it also learns to tap into the human part of the nonlocal spectrum.
This is not only the dream of mystics. Nonlocal communication was investigated in the 1930s by Einstein in an unsuccessful attempt to unravel the means by which quantum mechanics is able to predict the interaction between sub-atomic particles far beyond (even light years beyond) each other's normal sphere of influence. Several modern consciousness researchers including biologist Rupert Sheldrake, MD Larry Dossey, and philosopher Ken Wilbur have studied nonlocality in an attempt to understand such disparate phenomena as species morphogenesis, instinctual behavior, disease remission through prayer, and the basis of herbal knowledge. The investigator of psychic phenomena, Russell Targ, pleads for humility when he states that contemporary science possesses neither the tools nor the methodology to explain the true nature of separation between organisms. The Gaia Hypothesis postulates that some as yet unknown communication linkage among species is responsible for stabilizing the chemical composition of the Earth's atmosphere for a billion years. For Gaia to be true, communication must be the norm rather than the exception in nature.
This view, an alternative to orthodox science, is the basis of a growing ethical and ecological perception of nature. In many ways, it takes up a very old cause and recasts it as conservation biology, deep ecology and other terms familiar to its adherents who hardly offer a unified front: artists, animal rights advocates, scientists, philosophers, mystics, healers, ministers, telepathic pet owners. What they share is a compassionate, humble relationship with all organisms on Earth, rejecting the anthropocentric society for a biocentric one, scrutinizing nature's many "parts" not as objects, but as relations, extended family, each with a unique gift. The animals deserve our empathy, our compassion, and our ear, but that doesn't mean any of them will ever talk to us in English. Nor are they human beings in animal suits.
READ THE REST OF THIS ESSAY HERE
About the Author
Jim Nollman is director of Interspecies Communication Inc. This essay started out as a cover story for The Utne Reader. It eventually became a chapter in the book, , The Charged Border: Where Whales and Humans Meet. It is also published by At Verlag in German.