Preview | Spiritual Ecology, 10 Practices to Reawaken the Sacred in Everyday Life
By Llewellyn Vaughan-Lee and Hilary Hart | © 2017 by The Golden Sufi Center | Advance Copy | publication date: May 1, 2017
Walk as if you are kissing the Earth with your feet. – Thich Nhat Hanh
Walking
I have always loved to walk early in the morning, to sense the Earth at the beginning of a day, to feel Her pulse, Her beauty and magic, before thoughts and demands clutter my day. Waking early, I have a hot cup of tea, meditate in silence, and then, as soon as the first light comes, I walk down the hill to the road beside the wetlands where I live. Sometimes the frost is sparkling around me, sometimes the water is clouded with fog, an egret appearing white against the reeds. This is another time of silent meditation, walking, breathing, feeling the Earth. I try to be as empty as possible, just to be present in the half-light, aware of what is around me. Prayer, meditation, presence, awareness—these are just words for a practice that immerses me in a mystery we call nature. Here the sacred speaks to me in its own language, and I try to listen.
Now I live beside the wetlands, and the tidal water is part of this meeting, this communion. Other times, in other landscapes, it has been rivers and streams, the sounds of waterfowls' wings, the dawn rising across meadows. Or in forests, a different bird chorus, animals skittering across the path, a deer and her young. Always it is a listening awareness, a deep receptivity to what is around me, an honoring of a world other than people. It is a remembrance of what is essential, elemental, and its nourishment carries me through the day. It is a return to the sacred, sensed and felt, without words or thoughts—a primal consciousness as if of the first day.
This is a practice that has been with me since my teens—when I first started to meditate I also needed to walk. It was not taught or learned, but came as a need, a way to be, an antidote to much of the world around me—a world of people and problems, demands and desires. When one foot follows the other and the day has hardly begun, it seems these demands cannot touch me, as if I am immersed in something simpler, more essential. Placing each foot on the earth is a practice, but a practice that comes from my own roots, not a book or a teacher. Later I came to hear it called "walking in a sacred manner," and it is sacred, a return to what is sacred. But it also is deeper or more primal than any purpose. Nature speaks to me and I listen. Nature calls and something deep within me responds, and I just need to give it space. I am part of a life far greater than any "me."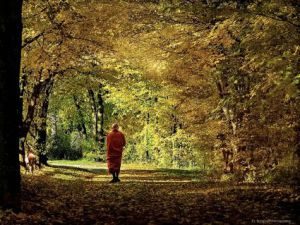 The Earth gives us sustenance: the air we breathe, the food we eat. She is generous in so many ways, even as we forget Her and abuse Her. But there is also this deeper nourishment, this invisible, intangible giving. My early morning walk is a communion—if I am receptive, it is a wine drunk deeply. It comes through Her landscape, moss dripping from the trees, white and pink blossoms welcoming spring, the cry of a sea bird. Those first rays of sunrise are always a blessing. I do not understand this with my mind, but my soul feels it, needs it. Once again we are back at the beginning, in that elemental world we never truly leave. Our present culture may have forgotten it, disowned it, covered it over, may pretend we no longer need this communion, but my soul and my feet know otherwise. This is the landscape of the soul as much as it is the wetlands stretching towards the ocean. But it is also any landscape we walk. A walk on city streets is made of the same elements: feet touching ground, the rhythm of walking, breathing, the same sky overhead, the wind touching the face.
I would like to say it is easy, but so often I have to remember to reconnect, to empty the clutter of the coming day from my mind, my everyday thoughts. I have to stay in a place of awareness, sense my feet, feel the air, listen. I have to remember that I am not separate but part of everything around me. I have to push aside this great myth of separation, the great untruth. We are the air we breathe, the earth we touch, the same one life, alive in so many ways. We are the Earth awakening in the early morning, just as we are the buds breaking into color in the spring. To be fully alive is to feel how we are part of this embracing mystery. My morning walk is a remembrance, a reconnection, experienced in the body and felt in the soul.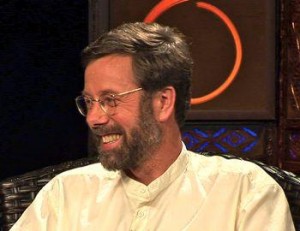 Note from the Author, Llewellyn Vaughan-Lee
"After we published the groundbreaking book Spiritual Ecology: The Cry of the Earth I received a number of responses asking "What can I do?" While walking and meditating with this question I realized that over the years I had developed a number of simple practices to help to connect with the sacred in everyday life. In Spiritual Ecology, 10 Practices I share these practices and their stories, walking, breathing, cooking with love, and prayer, to help bring back the joy in everyday activities, and contribute to our care and love for the Earth."
This small book, exquisite in its luminous simplicity, brings me home to my life. Even in a dark time, it's practices center me in a sense of the sacred, our birthright. – Joanna Macy, teacher, activist and author.

For more information: https://www.goldensufi.org/book_desc_10Practices.html