Kosmos Live | Valerie Brown on Pilgrimage
KOSMOS LIVE PODCAST SERIES

Unlearning Together with Tamara Hamilton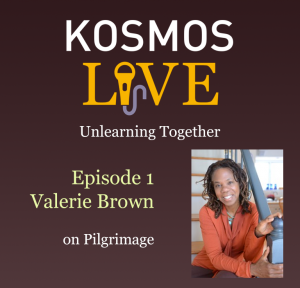 Enjoy a conversation between Kosmos Live host, Tamara Hamilton and her guest Valerie Brown. Valerie is a leadership coach and international retreat leader. Her books include The Mindful School Leader: Practices to Transform Your Leadership and School. A Quaker, Valerie Brown also has been ordained by Thich Nhat Hanh.
Selected Excerpts
"Mother Earth is suffering, we ourselves are suffering, and so this seems to be a constant bad news whenever we turn, wherever we turn. But I also want to say that there's obviously a lot of good news and that they coexist together, and so I begin with the premise, and this is deeply embedded inside of me, I think from the time I was a small child, that we are, as human beings, whole, resourceful, and creative people, and that we're born that way and we have what we need to live in this world that contains so much suffering and so much beauty."
"Obviously within the United States there's a great sense of dividedness, 'us against them,' and I believe that an important step toward a sense of internal healing and wholeness has to begin with ourselves."
"I spent a lot of time running—running from myself, running after so-called success, until I came to sort of, I guess you would call, a watershed moment. I remember it very clearly. I was very stressed at work. I was a high-powered lobbyist representing about 20,000 lawyers, going back and forth from New Jersey to Washington. It was a very stressful moment. I decided to take myself on a hiking vacation to New Mexico. I climbed the top of a big hill, and took off my backpack and then looked up at the sky, and I think for the very first time in my life I realized that clouds move. They move in the sky. You might say, "Well, duh. Of course. Clouds move," but for me, I was so much on the run, I was so alienated from the natural world and from my own body, myself, that I had forgotten to look up, and that was the turning point for me in life."
"[Pilgrimage is] an outward expression of one's inward values and one's inward longing, and a pilgrimage has a kind of rhythm to it. It begins with a thirst, with a kind of longing or a calling that then leads to a person often not knowing. Very, very often people say, "I don't know why I want to take this pilgrimage. I don't know, but I feel called to do it." So there's a kind of a mystery to it that's hard to pin down, and there is a point at which the person prepares themselves to leave, so each stage of a pilgrimage is very intentional. The preparation to leave, the arrival."
"Very often a pilgrimage is referred to as a thin place. A thin place, meaning that the distance between the material world and the spiritual world is very narrow, so the Camino de Santiago is the quintessential thin place. When one walks that pilgrimage, you just feel the spirit of a thousand years of people who have also walked that path, and that's a very, very powerful experience."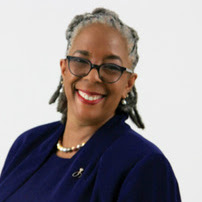 About the Host:
Tamara Smiley Hamilton, a global professional speaker and conflict resolution coach, is called to facilitate difficult conversation on race and differences. As CEO of Audacious Coaching LLC, her mission is to use her unique gifts to help people find and shine their light as they stand in their own power.
Next, in Kosmos Quarterly

|

Forgive: The new practice and mantra for Black Men, a conversation with author, Ulysses Slaughter. Subscribe here.