Kosmos is pleased to co-sponsor this upcoming event. On Sunday evening, November 15, 2015, the Schumacher Center for a New Economics will host Cuban author Rafael Hernández to give a talk at the John Dewey Academy at Searles Castle in Great Barrington titled: "Cuba in Changing Times"
Rafael Hernández is the editor of Témas, the leading Cuban magazine renowned for its contribution to intellectual dialogue in Cuba that is dedicated to the theory and analysis of culture, ideology and society in contemporary Cuba. He is also a senior research fellow at the Centro de Investigación de la Cultura Cubana Juan Marinello in Havana and is the author or editor of several books, including Cuba and the Caribbean and United States-Cuban Relations in the Nineties.  His publications include several books and essays on Cuban and U.S. policies, inter-American relations, international security, migration, Cuban culture, civil society and politics.  Rafael Hernández's invitation to speak comes from the Schumacher Center's latest program – the Cuba-U.S. Agroecology Network. Under the direction of former Massachusetts Commissioner of Agriculture Greg Watson, the Agroecology Network's goal is to create an exchange of information across borders to promote a resilient and sustainable model of agriculture.
With relations normalizing between the two countries, the small-scale low-input system of agriculture for which Cuba has become famous is vulnerable to industrial agriculture interests. Out of necessity, Cuba adopted a sustainable agriculture after the fall of the Soviet Union and support from the Eastern Bloc ceased. Cuba has since become an example for urban gardens and sustainable agriculture everywhere. Rafael will discuss how Cuba can entertain more open borders without sacrificing their unique political and cultural identity.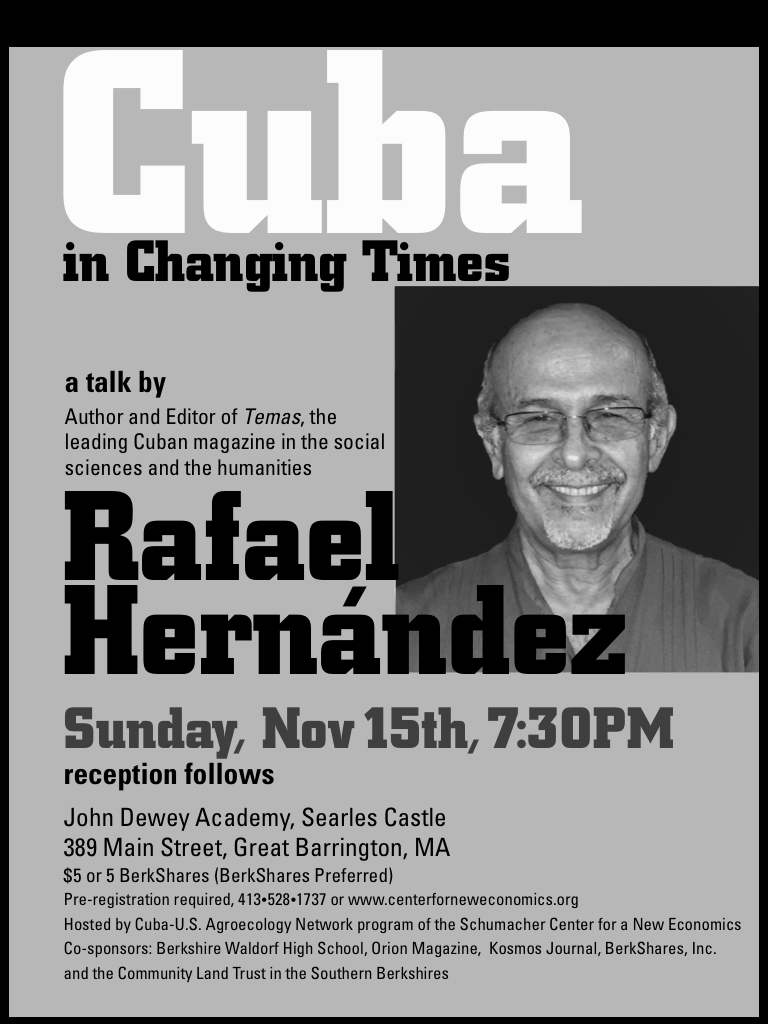 Doors open at 7:00pm, and the talk begins at 7:30pm, followed by questions from the audience and a reception. Tickets are five dollars or five BerkShares (BerkShares preferred). Payment for tickets will be at the door. Because of limited seating, pre-registration is required.
To register, please visit www.centerforneweconomics.org or call the Schumacher Center for a New Economics at 413 528 1737. The John Dewey Academy is located at Searles Castle, 389 Main Street, Great Barrington, Massachusetts. The talk by Rafael Hernández is co-sponsored by Kosmos Journal , Orion Magazine, BerkShares, Inc., Community Land Trust in the Southern Berkshires, and the Berkshire Waldorf High School.
To find out more about the Cuba-U.S. Agroecology Network, visit www.agroecologynetwork.org.