Celebrating Kosmos Editor, Nancy Roof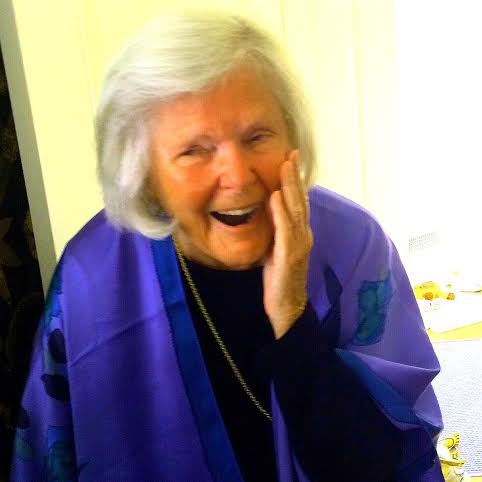 We gathered outside Nancy Roof"s lovely home in Lenox Massachusetts to surprise her on her birthday. The light was already golden and it felt like the last glimmer of summer. What a week! Many of Nancy's friends are lifelong peacebuilders and had driven from New York following numerous International Day of Peace events and responsibilities. The Pope was wrapping up his tour; a full moon was rising.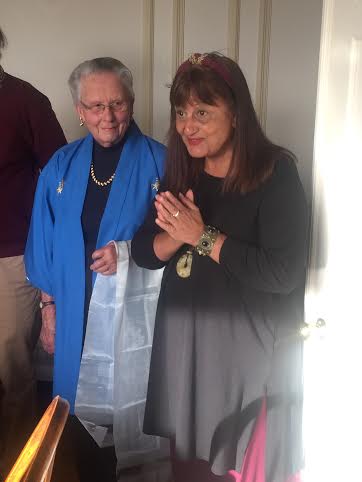 Nancy is a radiant person, yet we never saw her glow so brightly as when we burst in the door singing happy birthday. We formed a spontaneous circle around her, filling the entire room and with Nancy seated, each of us shared what she has meant to us in our lives. It took a long time. A touching letter was read from her children along with warm testimonials sent in by friends from around the world. Although her eyes glistened and she shook her head in disbelief from time to time, she remained relaxed, gracious, elegant and humble – the beautiful Nancy we love.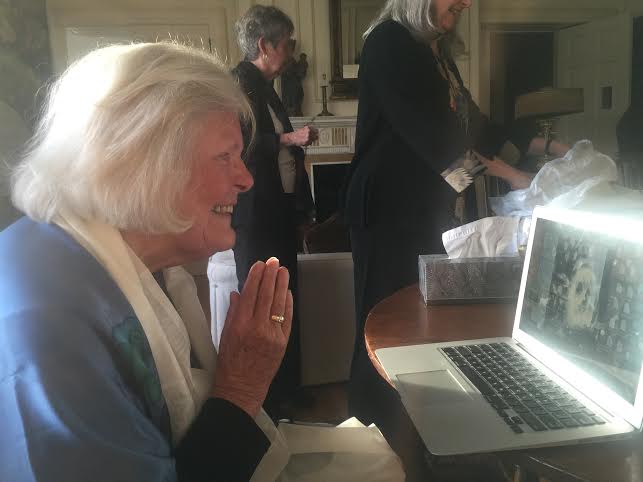 As dinner was prepared, Skype and phone calls came in from spiritual leaders and dignitaries. This had been orchestrated by Kosmos Board Treasurer Tara Stuart, and Project Director Dot Maver who also picked up a guitar and led some rousing singing.
If you don't know Nancy, we can tell you she is a tireless world server. Nothing comes between her and her deeply felt mission to serve as an emissary and a conduit for the new civilization – predicated on love, beauty and justice. She emanates compassion and goodness.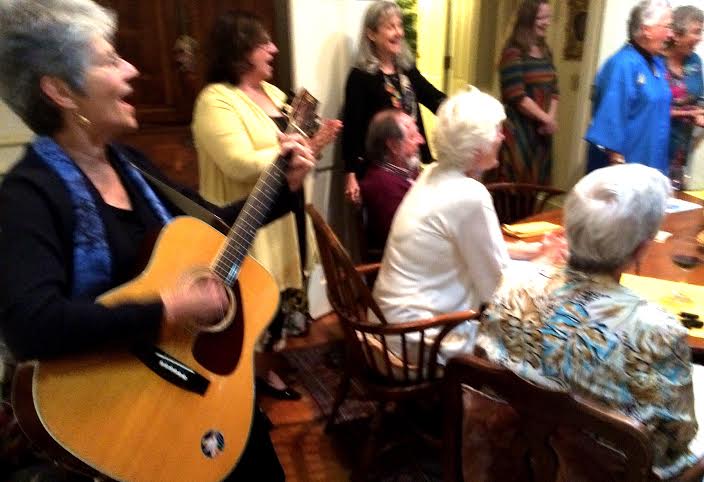 Our birthday wish for Nancy is that she know with certainty that her pioneering light will be carried forward by the many torches she has lit in her life, and that one day, her vision, shared by so many will be realized.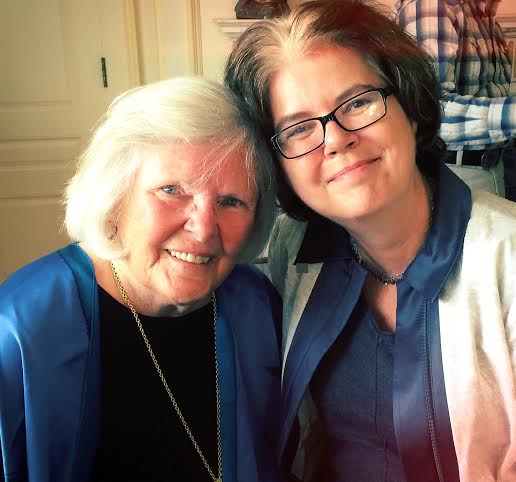 You can read about Nancy's life and the spiritual foundation of Kosmos Journal here.
Perhaps the words of those who love and honored her will give you the most immediate sense of who she is. Here is a sample of the many tributes she received: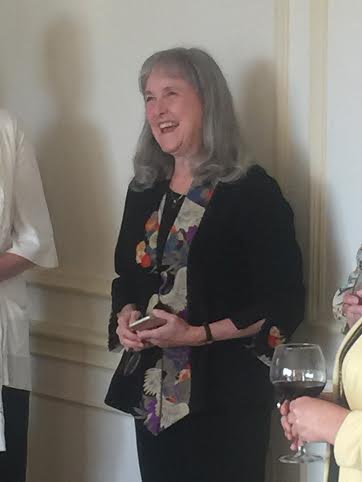 "Since my arrival at the United Nations in the early days of the Values Caucus that you co-founded, I have felt that I have been walking on the path you cleared. Now I see Kosmos Journal as lighting the path ahead for all humanity, offering a grand and always beautiful blueprint of the visions and collective actions that are forging a new culture of peace. Thank you, dear Nancy, for being such a prodigiously gifted pioneer!" Rev. Deborah Moldow
The World Peace Prayer Society
"Nancy, I can say unequivocally from the years I have known you, are not just a woman of the mind, or the heart, or the hands…you are a sacred integration and manifestation of all three… I am sure you are hearing acknowledgement tonight of the many hallmarks of the specific contributions you have made in your early consciousness work, in your work at the UN, and with Kosmos. But I would simply like to mirror back to you the beauty I have seen…and extend an immense thank you for being who you are."
– John Schmidt
"Your clear intelligence, beauty and grace shined upon so many of us. You were and are a symbol of how to be in the melee of all the political action and yet be free of its entanglements. And for me KOSMOS is the totality of all you hold dear to your heart as it captures beauty and deep transformational messages of how we are to survive in our coming unfoldment."
– Nina Meyerhof,
President, Children of the Earth
"For many years, you have dedicated yourself to bringing the best in conscious leadership to a powerful audience of change makers. You and your beautiful Kosmos continue to inspire and inform me and many of my colleagues around the world. Thank you."
– Analesa Berg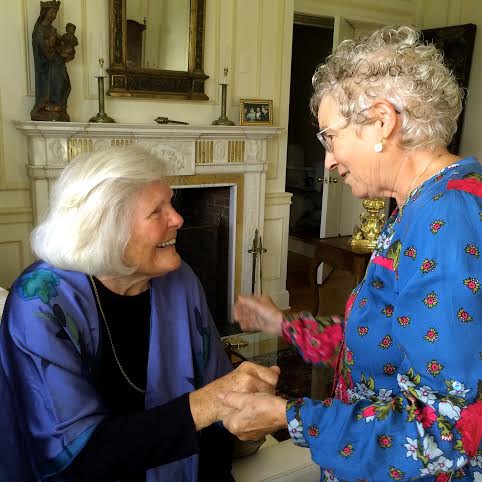 "It is an honor to know you and to have worked with you on various projects all these years. You are truly an inspiration through your one pointed dedication to establishing the New Civilization and helping all of humanity to connect with beauty and the good."
– Barbara Valocore
President
Lifebridge Foundation
"Throughout your life Nancy, you have been an inspiration to countless people, including me. May you be triple blessed in all your service initiatives, but especially in your work with Kosmos."
– Steve Nation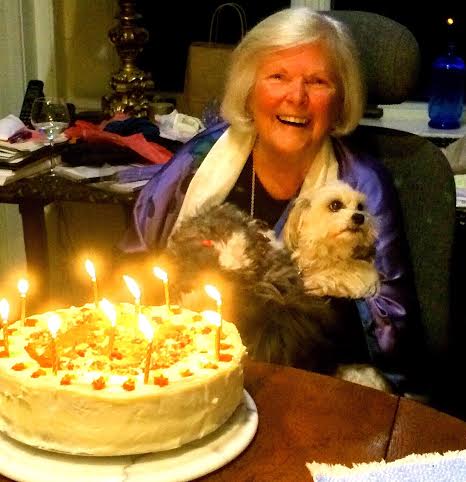 Happy Birthday dear Nancy!
Much love from your Kosmos Family.