FOOD? | An Excerpt from, 'Being Salmon, Being Human'
By Martin Lee Mueller, PhD, from Being Salmon, Being Human
The salmon industry has succeeded in nearly perfecting a principle inherent to the story of human exceptionalism since the days of Descartes: To exploit another creature, one must actively and artificially create a sharp rift between "us" and "them." One must create an Other which is no longer subject to "our" normal ethical concerns. Descartes was first to recognize a crucial aspect of this Otherizing: To create an efficient separation between "us" and "them," one must actively suppress one's spontaneous empathy with the suffering of these other animals! This was the lesson Descartes taught his students when he urged them to ignore the screams of the vivisected animals. He must have understood that the unlearning involves action. The impulse to empathize with the suffering of other sentient beings is strong in humans.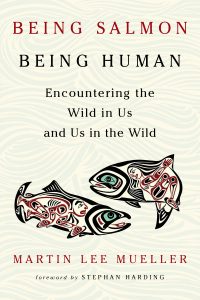 The poet and salmon restoration activist Freeman House writes that empathy "comes from a Latin word meaning to suffer with gathered senses. . . . Empathy with lives that are alien to our own is the human impulse that gives rise to vernacular practices that celebrate and regulate our links to other species." Empathy is an impulse, a spontaneous experience. It is an impulse that helps us celebrate and regulate our encounters with other beings. It is also a suffering with gathered senses. Empathy, in other words, requires an overcoming of the Cartesian split: We must reflect on our encounters with other beings not only with reason, but with all faculties of knowing, including feelings, intuition, and the senses. "Gathering" here is not so much "collecting," but rather reintegrating, un-scattering, or, in a rather direct sense, incorporating. Empathy presupposes embodiment.
The salmon industry recruits a richly layered semantics of separation, scripting the encounter between humans and salmon through the disinterested, alienating language of the rational intellect. Salmon are "resource," "product," "brand," "biomass." Such language appeals to the Cartesian ideal of a disembodied res cogitans, a thinking mind that is wholly separate not only from the world, but from its own body. Such language consistently and systematically excludes other ways of knowing—intuition, feeling, and sensing. The thinking mind alone is brought to the encounter. It alone defines what ways of speech are appropriate; it alone defines the truth-criteria. The spontaneous impulse that is empathy becomes scattered in the process.
The scattering of this spontaneous impulse holds salmon apart as an Other with a cold, objectivity rationality, but it also un-gathers the human senses. The Cartesian split is not, first and foremost, a split between humans and other-than-human beings. It is a split right through the human. Descartes applied his scalpel not only to the soft, warm bellies of the vivisected animals. He also applied another sort of scalpel to his students: They too left the vivisection lessons sliced open, partitioned, wounded. Their psyche had been cleanly amputated from their sensing, feeling, intuiting bodies.
These complementary assaults are mobilized by the salmon feedlot industry. It objectifies the salmon while idealizing one human way of knowing at the expense of all others. Humans are not allowed to participate in the encounter with their full being. They are prevented from entering the relationship as embodied animals with intuitions, feelings, and a richly textured sensual apparatus. Humans, like the salmon, are being demeaned, scattered, reduced. The narrative of anthropocentrism is also the narrative that suppresses those aspects of the human that are perceived as "animal-like": feelings, intuitions, and the body's exquisite, marvelous senses.
The salmon farming industry is not only cruel and environmentally damaging; it threatens to corrode wildness itself. No one has made a more compelling argument to support this fact than Martin Lee Mueller. Philosophically, scientifically, morally, and artistically, Mueller blows the industry guys literally out of the water. If you care about the future of salmon, you must read this essential, rigorously documented book."  —Sy Montgomery, coauthor of Tamed and Untamed; author of The Soul of an Octopus

"With this beautiful and important book, Martin Lee Mueller has written a love song to the salmon, and a love song to all life. This book deserves to be read and understood, as an important step in helping us to remember how to love this wonderful planet that is our only home." —Derrick Jensen, author of A Language Older Than Words, The Culture of Make Believe, Endgame, and many other books
About the Author:
Martin Lee Mueller, PhD, received his doctorate in philosophy from the University of Oslo in
2016. Before that, he received his master's degree in culture, environment, and sustainability at
the University of Oslo's Center for Development and the Environment (SUM). He has previously
helped build teaching centers in rural Mongolia, worked as a kindergarten teacher, been an
elementary school librarian, and led a wilderness school in the Norwegian forest. Recently he has
also been touring as a storyteller to festivals in the United Kingdom and Scandinavia, with a stage
performance inspired by this book. "Salmon Fairytale" weaves together poetry, traditional
storytelling, and Samí joik music. He lives in Oslo together with his partner and daughter.
To Pre-order: