80 Years Since the Holocaust Began: Can We Stop Fascism Today?
By Martin Winiecki, via Common Dreams
"November 9 this year marks the 80th anniversary of what went down in history as "Kristallnacht" or the "Night of Broken Glass." On the night of November 9, 1938, the Nazis burned down 1000 synagogues and 7000 Jewish businesses all over Germany. This orchestrated attack marked the beginning of the Holocaust, resulting in six million Jews killed in less than seven years. From surging white-identity terrorism and Trump's brutal response to the migrant caravan in the United States to the atrocious "war on drugs" in the Philippines; from Israel's "nation state law" to racist policies in Italy and Christian fascism in Brazil, we currently see history reverberating in the far-right movements rising to power at breakneck speed around the world. Is there still something we can do to stop the fascist takeover?"
"The worldwide massacres of our times conceal a pain that couldn't be dealt with differently. And yet, it can be healed."– Dieter Duhm, psychoanalyst and futurist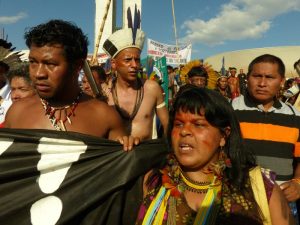 Since the Brazilian election on October 28, Bolsonaro and his followers haven't wasted any time. The day after the election, his militant supporters begun publicly denouncing leftist leaders and artists as "enemies of the people," military police raided schools and universities for antifascist material and Indigenous groups in the Amazon were attacked and torched. Already prior to the election, dissidents were murdered and far-right mobs screamed countrywide that, "Bolsonaro will kill all queers!"
Huge crowds gathered in all major cities of Brazil to celebrate the victory of their leader. Hailing a new era of honesty, people told the Workers' Party to "go fuck themselves," while they cheered for a man who has praised torture and who openly states that the mistake of Brazil's military dictatorship (1964–85) was that it didn't kill enough people.
In one of his first interviews after the election, the president-elect repeated his intention to finish off activism in the country and to classify social movements, like the Landless Workers' Movement, as "terrorism." The following day, far-right lawmakers, who are now controlling the Brazilian senate, proposed a new law to criminalize protests.
Ditching Democracy
While presenting himself as the anti-establishment candidate, Bolsonaro has enjoyed the support of big industry, multinationals and Wall Street throughout his campaign. When the openly fascist ex-paratrooper won the election, Big Money could hardly hide their jubilation. Brazilian stocks rose sharply in response and the Canadian CBS News celebrated that Bolsonaro "leans towards more open markets. This could mean fresh opportunities for Canadian companies looking to invest in the resource-rich country."
Paulo Guedes, Bolsonaro's economic advisor and upcoming economy minister is a Chicago economist of Milton Friedman's free market orthodoxy. His universal recipe is, simply put, "privatize everything."
Brian Mier, of Brazil Wire, writes, International capital and the US government now have exactly what they want in Brazil. All natural resources will be opened to exploitation from foreign capital. The US military will be able to use the Alcantara rocket launching base as a take off point for forays into Venezuela. Brazil's participation in the BRICS is dead in the water and US Petroleum companies will be swimming in Brazilian oil.
Bolsonaro has vowed to forcefully appropriate Indigenous lands, which make up a staggering 13% of Brazil's land mass, so that he can sell the Amazon to mining corporations and agricultural industry, such as beef production. "Minorities have to adapt to the majority," he has often shouted, "or simply disappear."
This displays nothing less than a crisis of civilization. The Amazon is the world's biggest watershed and our most diverse ecosystem, home to half of the world's plant and animal species. Right now, as 2000 trees are cut down in the Amazon rainforest every minute for beef, soy and mining, its water cycle is already on the verge of collapse. Bolsonaro seems determined to escalate this trend of destruction, ravaging one of the world's most complex living systems for a few years of industrial profit before the depleted land turns into desert.
Brazil, of course, isn't an isolated case. We see similar things happening in the United States, Colombia, India and much of Africa. We've reached a point where capitalism ends its liaison with democracy and increasingly embraces totalitarianism. This is not so much due to the personal evil or ideological preferences of the CEOs of big companies but rather to the rules of our global economy. It's capitalism's struggle for survival.
Capitalist economies need to grow at least 3% in GDP every year to avoid collapse. This means the exponential increase of logging forests, drilling for oil and mining for minerals. It entails making people work more for the same salary and making them buy more products. The only comparison to such uncontrolled growth in nature is cancer. In a world of ever scarcer natural resources, growing uncertainty and popular unrest, it's no wonder that maintaining capitalist relations requires actual fascism in more and more countries. All over the world, we're facing the same existential choice: growth or life.
A Tinderbox of Explosive Anger
The speedy rise of fascism always seems to hit the world by surprise. Yet what we're witnessing did not begin with the Bolsonaros, Trumps or Dutertes, just as German fascism did not begin with Hitler. Why do far-right and openly fascist ideologies resonate so strongly with large parts of humanity? How come authoritarianism wins so easily, when the time is more than ripe for a positive revolution? Why does such an emotional movement seem so appealing to so many people?