2016 Kosmos Seed Grant Recipient | Activist Ashram, New York, NY
We are honored to receive the 2016 Kosmos Seed Grant for the Activist Ashram, our year-long global fellowship program that is launching this year. Our intent is to bring together a collective of activists, community leaders, organizers, bloggers, journalists artists and others to help create a shared global vision for the post-capitalist world whilst remaining grounded in their local actions and work. Importantly, this will include both materialist and spiritual aspects.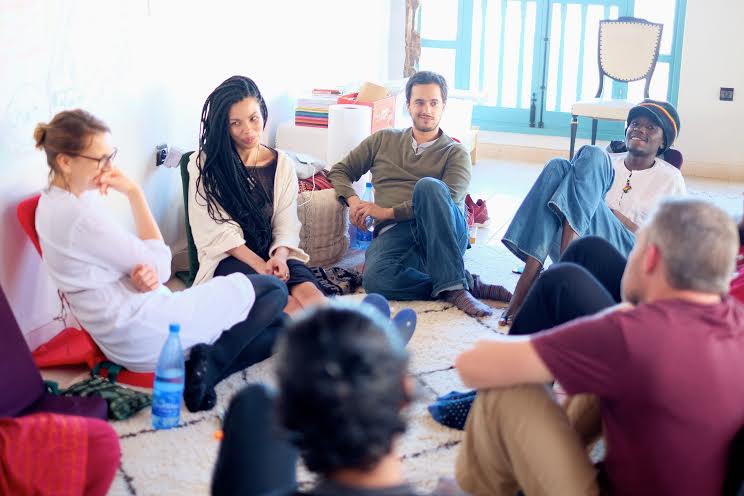 The content of the Activist Ashram will be anchored in the following four areas: 
1) The expansion of a constellational world view to better understand how all oppression is connected as well as exploring where the key acupressure points in the neoliberal system are (through systemic analysis, relevant case studies, theories etc.)
2) The enhancement of tools of expression (through meme spreading, political writing, research, citizen journalism, activism, etc.)
3) Building on a tactical repertoire (through sharing organizing tactics and strategies, engaging people's power, tech security etc.)
4) Valuing holistic activism and the spiritual aspects of being involved in political struggles. We will introduce concepts from Indigenous Original Wisdom (bringing in various Elders from Indigenous Communities), as well as provide teachings, trainings and mentors in the fields of meditation, mindfulness, yoga and Ayurveda.
We have selected five fellows for the 2016 Activist Ashram. With the Kosmos Seed Grant we will apply $500 to each of the five Fellow's spiritual work over the course of the year.
Through the Ashram, we hope to help create and inspire the conditions for a network of individuals and organizations to come together to overturn traditional notions of power, development and activism in order to unearth new ideals and beautiful alternatives that can help usher in the life-affirming paradigm we know is possible.

Sponsoring Organization – The Rules
 The Rules – www.therules.org – is a global network of activists, organizers, designers, coders, researchers, writers and others dedicated to changing the rules that create inequality, poverty and climate change around the world. We work in two ways:
1. Global Organizing | The Rules works in service to the world's leading civil society organizations and non-violent social movements to amplify their campaigns, build capacity and deepen a global community of support..
2. Content | The Rules creates content, analysis and tools to help bring more progressive ideas into the mainstream.
Again, we are deeply honored and thankful to receive this grant.
Alnoor Ladha, Executive Director, The Rules (www.therules.org)