2015 Kosmos Seed Grant Recipient – Harlem Grown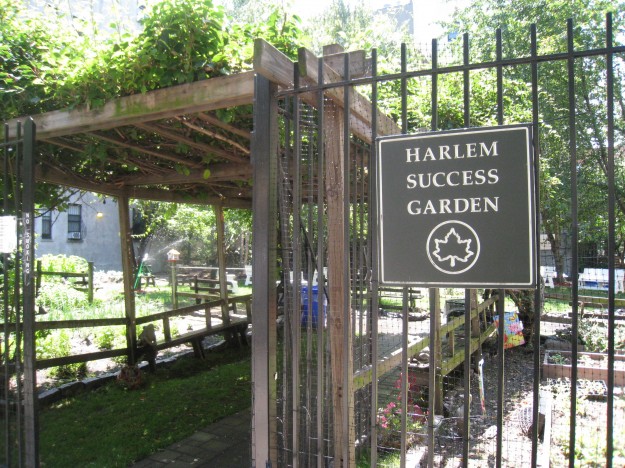 Kosmos is delighted to introduce our 2015 Seed Grant Recipient: Harlem Grown. 
Harlem Grown is a non-profit organization founded in 2011 with a mission to inspire youth to live healthy and ambitious lives through mentorship and hands-on education in urban farming, sustainability, and nutrition. They operate local urban farms; increase access and knowledge of healthy food for Harlem residents; and provide garden-based youth development programs to Harlem youth.
"We are very grateful to be a recipient of one of Kosmos Journal's first seed grants. Working with youth ages 5 to 15, we create urban farms in Harlem that are home to educational and mentor-based programs. In the past five years, we have grown over 3,000 lbs of fruits and vegetables, composted several tons of food scraps, and developed two urban farms, one school garden, and a hydroponic greenhouse. Our farms and programs reach over 1,200 youth and engage 700 volunteers yearly. Our work is based on community and partnerships: we cannot do it alone. As Harlem Grown's reach expands, so does the need for additional growing space. This Seed Grant from Kosmos will allow us to develop the 131st Street Garden into a thriving educational space. From purchasing tools and plants, to supplying youth members with t-shirts and snacks, this grant will fund development work at the new garden during the 2015 growing season."

– Tony Hillery, Executive Director/Founder HARLEM GROWN
VIDEO – HARLEM GROWN – An Educational Community Garden
http://iframesrc=https://player.vimeo.com/video/76179636width=500height=281frameborder=0webkitallowfullscreenmozallowfullscreenallowfullscreen/iframepahref=https://vimeo.com/76179636HARLEMGROWN-AnEducationalCommunityGarden/afromahref=https://vimeo.com/spinachpieSpinachPieProductions/aonahref=https://vimeo.comVimeo/a./p
Kids Yield Crops: In the Garden with Harlem Grown
By Emma Laperruque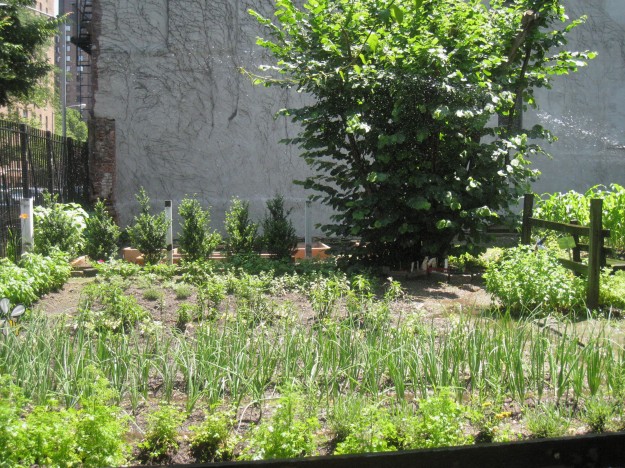 Just a few years ago, the lot across the street from P.S. 175 in Harlem was desolate: an abandoned community garden overflowing with trash, rats, and weeds. Thanks largely to the elementary school students next door, the space is a garden once more as it overflows with everything from cucumbers and melons to birds and worms, not to mention a ton of fresh basil.
The restoration all started with Tony Hillery, a man who originally came to P.S. 175 to assist the school's parent coordinator. After spending some time in the area, though, Hillery had a revelation. Walking around the neighborhood, he counted 53 fried chicken restaurants within a three-block radius, and he began to think about the community's access to nutritious food. "You have pizza, fried chicken, fried fish, fried everything. I couldn't get a healthy meal," he said. "It was an epiphany. I said to myself: Why not do something?"
Tony (or, as the children call him, "Mr. Tony") looked into the empty lot across from the school and soon re-registered it as a community garden with the NYC Department of Parks & Recreation. Thus, the non-profit organization Harlem Grown was born and began to (rapidly) grow. Once the space was cleaned out, each of P.S. 175's students planted a seedling in fresh organic soil.  "When it started blooming, [the kids] started eating vegetables," said Tony. "Before, they didn't eat vegetables."
When ripe, the vegetables and fruit go across the street and directly toward the school's breakfast and lunch program. Rumor has it that kids don't like vegetables unless they're smothered in Cheez Wiz, but P.S. 175 indicates otherwise. "The kids walk around eating salad instead of chips," Tony said. "They eat it and they love it."
Next, the organization moved to what Tony calls "Phase Two" of Harlem Grown: a hydroponic greenhouse, located in another lot across the street from the school.
While Harlem Grown is still relatively new, its success has not gone unnoticed. In 2012, the P.S. 175 students were invited to the White House, where they received a private tour of First Lady Michelle Obama's Kitchen Garden.
The students plant, take care of, and pick the vegetables, fruits, and herbs. With that, they maintain a compost system and recycling program—and partake in bird-watching. The teachers are involved with Harlem Grown and the program is tightly incorporated into the school curriculum. The garden has a stage for lessons and beside the tall-growing corn stands a wooden sign: "Science lessons in progress: Do not harvest."
With changing their intellectual careers, Harlem Grown has also changed the students' personal lives. "The garden provides us with a lot of one-on-one time with the kids," said Tony. "When they're here working, they just open up and start talking. It gives them a place to vent and navigate their problems. Last year we like 40 fights in school. This year we had no fights."
This excerpt is from a longer article on the website.