Savage Grace: Living Resiliently In The Dark Night Of The Globe
By Andrew Harvey and Carolyn Baker
– from the Introduction to Savage Grace: Living Resiliently In The Dark Night Of The Globe
Turning and turning in the widening gyre
The falcon cannot hear the falconer;
Things fall apart; the centre cannot hold;
Mere anarchy is loosed upon the world,
The blood-dimmed tide is loosed, and everywhere
The ceremony of innocence is drowned;
The best lack all conviction, while the worst
Are full of passionate intensity.
– "The Second Coming," William Butler Yeats
Shortly after the election of Donald Trump as President of the United States, we agreed to write this book because we were certain that people who have begun to awaken to the global crisis, those who had been awake to it for years, and even those who were not quite able to own it, let alone metabolize it, would need such a book. As we pondered numerous possibilities for a title, we chose Savage Grace: Living Resiliently in The Dark Night of The Globe because we believe that only unprecedented, savage grace can carry us through this era and that resilience is the absolute crux of how we must respond to the terrifying and daunting events unfolding in our time. The definition of resilience we prefer is: The life-giving ability to shift from a reaction of denial or despair to learning, growing, and thriving in the midst of challenge.
In order to grasp and live resilience, it is imperative that we become, as Jesus said, "wise as serpents and harmless as doves." Early on in this book, we share excerpts from an article we wrote together shortly after the election entitled, "The Serpent and the Dove: Wisdom for Navigating the Future." We are embracing living purposefully beyond illusion but also open to possibility even in the midst of what seems hopeless catastrophe.
What we did not quite understand initially was the extent to which we are now living in a post-truth, post-fact society—and the gruesome toll that is taking on all of us emotionally and spiritually. The ultimate danger in living in a post-truth world is that eventually, we develop the desire to be lied to. Soon, we encountered an article by psychiatry professor, Ronald Pies, entitled Alternative Facts: A Psychiatrist's Guide to Twisted Relationships to Truth[i] in which the author states that the ultimate danger to us in a post-truth world is that eventually, we develop the desire to be lied to. Similarly, Adam Kirsch wrote in his New York Times article in January 2017 "Lie to Me," that, "The problem with our 'post-truth' politics is that a large share of the population has moved beyond true and false. They thrill precisely to the falsehood of a statement, because it shows that the speaker has the power to reshape reality in line with their own fantasies of self-righteous beleaguerment. To call novelists liars is naïve, because it mistakes their intention; they never wanted to be believed in the first place. The same is true of demagogues."[ii]
A crisis of the magnitude we are going through demands the two most difficult things for human beings: Knowing how to negotiate extremely stressful ambiguity at all times while remaining humbly in a state of radical unknowing that is always open to the sometimes overwhelming shifts of an exploding disruption.
The great prophetic poet Milosz, poignantly attuned to the collapse of civilization in our time, wrote:
When gold paint flakes from the arms of the sculptures
When the letter falls out of the book of laws
Then consciousness is naked as an eye.
When the pages of books fall in fiery scraps,
Onto smashed leaves and twisted metal,
The tree of good and evil is stripped bare."[iii]
As individuals who have stepped into the spiritual and cultural role of elder, our commitment is to speak to you with a consciousness as naked as an eye, without any desire to scare or flatter you. Because of that, we are presenting our material in as direct and precise a manner as we can.
However, as elders we know that reality always transcends any concepts that can be made of it, especially in a crisis as vast, volatile, and maddeningly complex and constantly evolving as this one. The concepts and maps we are going to share represent the distillation of our lifetimes of experience; they must be treated not as finally definitive but as pointers to what we believe is likely to happen and to the shifting responses that we believe now could be most effective and necessary as the crisis inevitably deepens.
Milosz wrote that in a time like ours, the tree of good and evil is stripped bare. Those who know and suffer this are compelled to speak without any adornment or fear since everything is at stake.
To some readers, our words may appear harsh, scolding, and impossibly demanding. We make no apology for this. Just as parents faced with real problems or dangers to their children don't mince their words, we don't mince ours, out of urgent and surgical compassion. When a child is dancing toward the edge of a cliff unconsciously, a parent may scream and gesture wildly and if necessary, grab the child fiercely, but only to save the child's life. Great indigenous elders whom we revere have taught us that divine ferocity is an essential weapon in the armory of love.
In a time where denial reigns supreme and there is a corrupt emphasis in spiritual circles on a fake compassion, cheerfulness, and too-easy forgiveness coupled with a complete inability to face or respond to dire structural injustice, it is a very difficult task to tell the truth. People have been trained in habits they call spiritual but which really are designed to reinforce bypassing and dissociation.
To those who are just waking to the truly horrifying, even unbelievable severity of the crisis in which we find ourselves, we would like to say: Please listen to what we have to say, do the research that will validate what we say, and when you find yourself overcome by fear or the desire to turn away from what is now before us, don't judge yourself, because what you're feeling is entirely human. Instead, however shattered you are, and you inevitably will be, and however overwhelmed you find yourself by the facts, have the courage to do the deeper work of both creating a larger container from which to listen to stark news and advice and plunge into shadow work on yourself which will enable you to identify why you react in such a manner. This will enable you to become strong enough to resist the devouring madness and develop strategies with others of remedial and potentially inspired action.
We draw on all of the spiritual traditions and their wisdom because we realize that a new universal mysticism is being born that recognizes the contributions and wisdom of all the traditions. The necessity in our time demands that we listen to all of them for whatever guidance they can offer us in what is the defining evolutionary crisis of our entire human journey.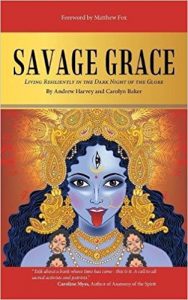 Some sections of this book will be challenging to read. We are not writing to persuade and convince those who have not yet understood the depth of our predicament. We are writing this book for those who know we are in a global dark night that could lead either to an unprecedented transformation or to extinction. The choice of "dark night of the globe" in our title is intentional because we believe that just as individuals experience a dark night of the soul, our species, indeed our planet, is experiencing a dark night.
Author and spiritual teacher Eckhart Tolle describes the dark night as "a collapse of a perceived meaning in life . . . an eruption into your life of a deep sense of meaninglessness. The inner state in some cases is very close to what is conventionally called depression. Nothing makes sense anymore, there's no purpose to anything. Sometimes it's triggered by some external event, some disaster perhaps, on an external level. The death of someone close to you could trigger it, especially premature death, for example if your child dies. Or you had built up your life, and given it meaning—and the meaning that you had given your life, your activities, your achievements, where you are going, what is considered important, and the meaning that you had given your life for some reason collapses."[iv] In his writings, Eckhart states that he experienced his dark night almost continuously from early childhood until his thirtieth birthday, feeling suicidal daily. In his first spiritual book, The Power of Now, and subsequent books and teachings on being fully present, he describes his journey of awakening—a journey which is not unique to him but has been experienced by myriad individuals from numerous spiritual traditions.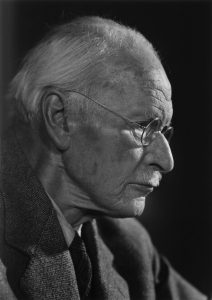 Carl Jung also experienced a severe dark night of the soul at the age of thirty-eight, when he became emotionally overwhelmed by an invasion from the subconscious and saw visions and heard voices. Somehow, Jung had the clarity—and had built a container strong enough–to realize that what was happening was revelatory, and he brought himself back from disintegration, not by resisting his experience, but by having the fierce, sober courage to continue to dialog with it through journaling and a process he called active imagination. In a dark night experience, repressed contents of the unconscious surface, Jung concluded, to grab our attention, and through journaling, art, and dream work, one develops a dialog with these contents in order to integrate their extremely valuable messages into the psyche.
Without this difficult passage of integration, the psyche will either disintegrate into madness or maintain a precarious false stability which can easily be subverted and destroyed from within. The hundreds of millions of us now plunged into dark nights that are at once individual and collective need all the tools necessary and available to help us acquire what Jesus called "the wisdom of the serpent"—that wisdom that as Blake said, "is sold in the desolate market where none come to buy."[v]Only the marriage of this dark wisdom with the inner knowledge of our sacred identity with the divine which Jesus called "the innocence of the dove," can engender in us both the strength and the skillful suppleness of heart and mind that survival in our time demands.
What makes this marriage of serpent and dove in us both imperative and extremely difficult is that in addition to living in a post-truth era, we're also now clearly entrenched in a time of explosive, omnipresent, and potentially annihilating uncertainty that constantly shreds our minds and swirls darkly in our dreams. We do not know from one day to the next, sometimes from one moment to the next, what new manifestation of chaos will erupt: extreme weather, war, financial insecurity, mass shootings, revelations of extreme corruption in all of our institutions, and more. The global dark night we're in ensures that we are all in a state that mirrors in some ways advanced Post-Traumatic Stress Disorder. Studies of individuals living with PTSD suggest that the most distressing aspect of the trauma they suffered was the uncertainty of their predicament. According to Liji Thomas, M.D., "Uncertainty about the future makes us less capable of coping with negative events when they happen. It also disables us from taking effective and efficient steps to avoid them. This negative reaction is actually a maladaptation of the intrinsic ability of the human brain to predict the future, based on knowledge and past experience."[vi] One of the characteristics of a dark night, as St. John of the Cross, Rumi, and others make devastatingly clear, is that nothing is predictable, and all systems of previously-achieved clarity collapse because they are now absurdly inappropriate.
What the great mystics of all the traditions who have survived this terrible passage tell us with one voice is that when we come to a dark night, we have only one resource: To remain in a state of radical unknowing. This will have two effects. It will crucify the false self's perpetual hunger for certainty, and it will flay us humbly open to the guidance that can only come if we are totally receptive to it with no preconceptions.
Read the full Introduction to the book here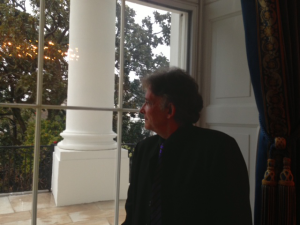 Andrew Harvey is Founder Director of the  Institute of Sacred Activism, an international organization focused on inviting concerned people to take up the challenge of our contemporary global crises by becoming inspired, effective, and practical agents of institutional and systemic change, in order to create peace and sustainability.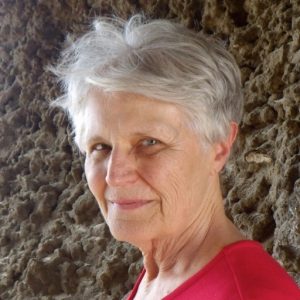 Carolyn Baker's mission is to create islands of sanity in a sea of global chaos. This mission necessitates the development of a variety of emotional tools alongside commitment to spiritual transformation. Through her multi-faceted outreach via webinars, podcasts, live workshops, books, and articles, as well as one-on-one life coaching, Carolyn is touching the lives of thousands to assist them in preparing for the dire consequences of the collapse of industrial civilization and abrupt climate change. 
Footnotes
[v] William Blake, The Four Zoas, Create Space, 2015, p.49.