Walking Water | A Political Prayer
By Kate Bunney and Gigi Coyle
We walked up into the Angeles Forest from Antelope Valley. The group was excited because the next day, after spending the night in Green Valley, we would walk alongside Bouquet Canyon Reservoir seeing the first open body of water in two weeks. For much of the journey we had walked in extreme heat and extreme winds – walking next to a pipe – the LA Aqueduct – that takes 30% of LA's water needs from the Eastern Sierras down to the city.
As we sat at the peak of a long hill that day, eating our lunch, one of the group noticed a forest fire about half a mile behind us–where we had just walked. The speed with which it ignited and then spread was dramatic. We were literally walking in a world on fire. After contacting emergency services we quickly walked on knowing that a change in wind direction could put us in danger. The fire was with us at our backs for the next hours informing every step we took. How quickly can beauty turn to horror? How quickly can change happen? How quickly can life be destroyed? We wondered what had started the fire. How quickly does our behavior have an impact on the world?
Walking Water began in 2015 as a trio of three-week pilgrimages spaced over three years, walking from the headwaters in the Eastern Sierras down to Los Angeles, from source to end user. Our intention has been to create space and time to explore and restore our relations to water. We walk with a vision, to shift from our relationship to water as a resource that serves us into a mutually serving relationship. We walk with the water and with the many stories, the memories, and the future visions held in the waters, the lands and its peoples. Pilgrimage becomes a collective journey of bearing witness, of re-connecting with what is – to walk the sacred and the political, to be in political prayer.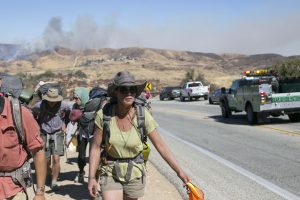 Throughout the walk we have witnessed the effects of a water management strategy that has funneled huge amounts of water 550 miles south to serve the needs of Los Angeles. It's a strategy that is being applied all over the world, whether that water is funneled into plastic drinking bottles, massive pipes, or used to grow alfalfa that gets sent to China. We are still exporting and treating water as though it were a infinite commodity. In an area of the world that has experienced severe drought for many years, it is hard to find any logic in exporting that which the land needs most. It is confusing at best to see actions that are creating more "red heat" as water "Gandhi" Rajendra Singh teaches and thereby more desert, even actions envisioned through the seeming green dream of creating solar "parks."
Along with experiencing a wildfire in Phase 2, we also experienced the dense smoke of a wildfire in Phase 1, at times making visibility hard for days on end. As we walked through the fires on each phase of the journey, many of us also experienced what could be described as a sacred fire burning within, a sacred rage. To hear stories of how the Paiute tribes were murdered and forced to march out of the Owens Valley, to envision a once fertile land that had fed so many, to listen to how communities have been pulled apart, all brings a certain despair. Such feelings were ignited as we walked the hot dry earth, as we felt the burning sun on our skin, as we walked next to the pipe wherein we could hear the water flowing south.
This walking with water brings an inner and outer disruption to our everyday lives. It asks questions that challenge the prevailing values and logic of "civilization" and instead puts water and life at the center. What would our lives look like if we did that? Is large system change wanted and possible? Isn't it essential to our very survival as a species? Such issues are very personal and very political. We walk with water for only six weeks so far and yet this journey has already informed us in ways we could never have imagined. What would a life be with water as our orientation, our guide, our inspiration, more at the center of our thoughts and movement? What would a world look like if we created and structured our experiences with such an inquiry, with such research, with such questions – awareness and intention informing our actions in daily life, in corporate worlds, in governments?
Water is forever our very source of life, and our relationship with it is crying for our attention, again worldwide. What would or could our respect for water produce that's different from the privatization and management practices currently underway? Remembering that water is sacred, we walk on this coming October asking again, how do we protect it and how do we live with it?
Do we have a chance of creating a relationship with water where we each have enough?
As we walk this year into LA we know that so many of us everywhere do not know where our water comes from. Most citizens of LA are not aware that the City of Los Angeles has long since acquired over 95% of the private land in a valley hundreds of miles away. That taking the water has left an enormous empty lakebed whose dust creates the worst particulate air pollution in California, contributing to very high rates of lung disease. Just now because rains returned this winter and now a time of flooding is coming, few know or would believe that so close to the full streams more pumping of ground water continues to create more desert land. Many facing their own challenges and issues in the city, are unaware that those living on the Lone Pine Indian Reservation can rarely use their irrigation water fed by the LA Aqueduct as it contains chemicals which kills plants.
In the Owens Valley, many are continuing to sue the LA Department of Water and Power in order to protect water rights. Can some coming together of tribal peoples, ranchers, conservationists, and local water users through Walking Water be part of moving more to understand how all in this vast watershed might share responsibly. What might change if the people of the Owens Valley and people of La fall in love with each other, and see themselves as one family?
As we walk together with the water, through the watersheds and the cities that are served by the waters, we hope to inspire each other to become more aware and through relationships to listen and look for the change that is possible. We are asking ourselves and all peoples worldwide to become familiar with their watersheds – no longer being able to say 'we don't know' and instead walking with a collective awareness of our impact and responsibility to all of life.
Walking Water will walk the third phase of the Pilgrimage through Los Angeles from October 14th – 28th, 2017. We will hold a number of community days and local events that are open to the public.
Please consider joining "Parallel Events" on our website – walking in your own watersheds with us and the waters.
Every step and every drop does make a difference…" Andy Lipkis, Tree People
Walking Water is grateful to be a Project of Promise with Kosmos Journal for 2017.