People-Powered Art | Community Murals
---
Featured image | In the Presence of a Peaceful Place ©2014 City of Philadelphia Mural Arts Program / Parris Stancell, 32nd and Cumblerland Streets. Photo by Steve Weinik.
A traveler who seeks out street murals will be rewarded with insights into a city's social, cultural, or political dynamics as well as the artistic aesthetics of a particular neighborhood. What was once counterculture, displayed on the societal margins, has through the decades evolved many times over to include a viable form of public art that can contribute to the success of communities in an ever-changing urban environment. – Wendy Altschuler
Mural Arts of Philadelphia
The Mural Arts Program of Philadelphia engages more than 100 communities each year in the transformation of neighborhoods through the mural-making process, while award-winning, free art education programs serve children throughout the city. The Mural Arts Program also serves adult offenders in local prisons and rehabilitation centers.
Cesar Viveros has spent over 15 years creating public art in the United States and his native Mexico, and has collaborated with Mural Arts in Philadelphia since 1997.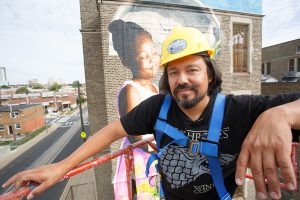 Artist Cesar Viveros was inspired by community stories about medicine, from homemade herbal remedies to mom-and-pop drugstores. His own memories of aloe vera and herbal teas helped him create colorful flowers and herbs to brighten this neighborhood wall. The artist worked with local elder community centers and youth from the Lighthouse Police Athletic League, making Curing Community an artwork that connects to many people across generations.
ArtWorks, Cincinnati, Ohio
In Cincinnati, OH, ArtWorks employs teens to paint murals designed by local and nationally renowned artists—they are the largest employer of visual artists in the region. Since 1996, they have completed 90 murals ranging in style from trompe l'oeil to symbolism. ArtWorks also offers workshops covering important professional skills like money management and resume writing.
ArtWorks was inspired by Philadelphia, PA's, Mural Arts Program, which under Executive Director Jane Golden sought to reorganize the raw artistic talent of the city's graffiti artists.
In celebration of their 150th anniversary, YWCA Greater Cincinnati teamed up with ArtWorks to create this massive mural that celebrates the YWCA's mission to eliminate racism, promote peace, and empower women. The characters in the mural are shown working together to pursue equality and inclusion for everyone.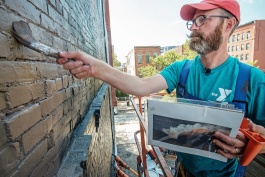 ---
John A. Ruthven is an accomplished and acclaimed Cincinnati artist of wildlife. He has been compared to Audubon. This mural is from his 2013 painting called, "Passenger Pigeons." It commemorates Martha, the last passenger pigeon that died 100 years ago in the local zoo. The mural's lead artist is Tim Parsley from ArtWorks.
San Anto Community Arts
San Anto Cultural Arts, in San Antonio Texas has worked on a series of 49 murals painted in collaboration with a wide number of local artists. The murals show a strong sense of Latino identity and community.
The organization's first mural Brighter Days, is dedicated to mental health. Una Mesa para la Gente (A Table for the People) celebrates the diverse backgrounds, experiences, and talents that people bring to the Westside community; and Peace and Remembrance, to which they add a name every year to honor those who have passed on due to violence.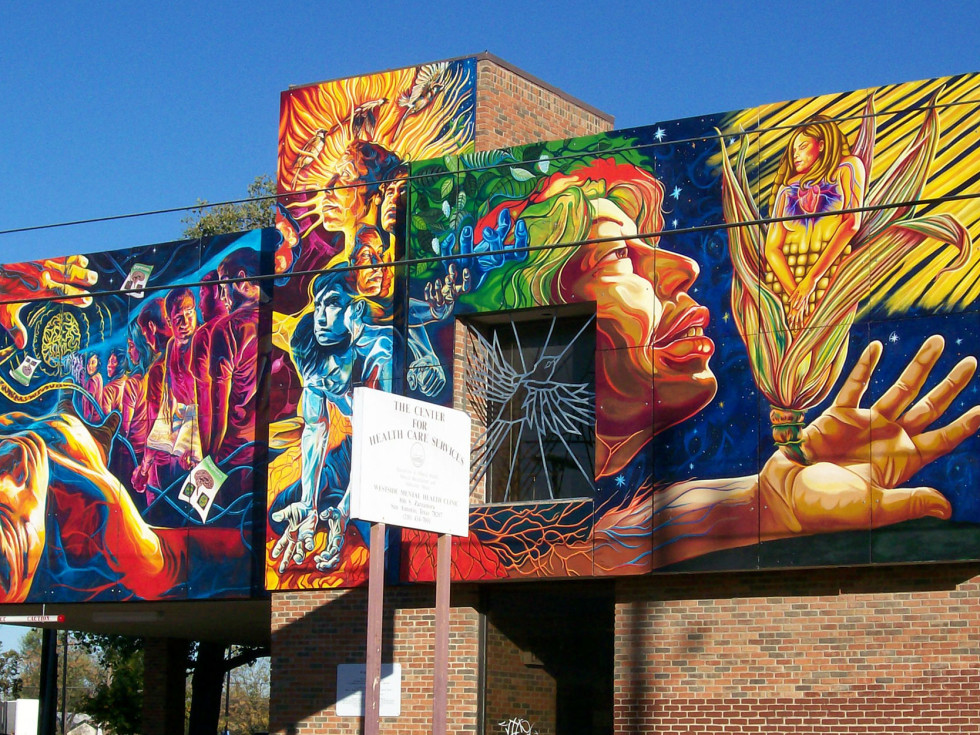 Williamsport, PA
Elody Gyekis is an artist based in Central Pennsylvania. She has taught painting workshops and classes in Pennsylvania, West Virginia, Costa Rica, and Honduras. Elody is also a community arts organizer and muralist for over a dozen murals across Pennsylvania, as well as murals in New Jersey and Arizona. She collaborated with Natalia Pilato and the children of The Campbell Street Center's After-School Program to create Children are the Seeds of the Future.
The mural was divided into 72 sections that were then projected and traced onto panels. Children and community members then painted them.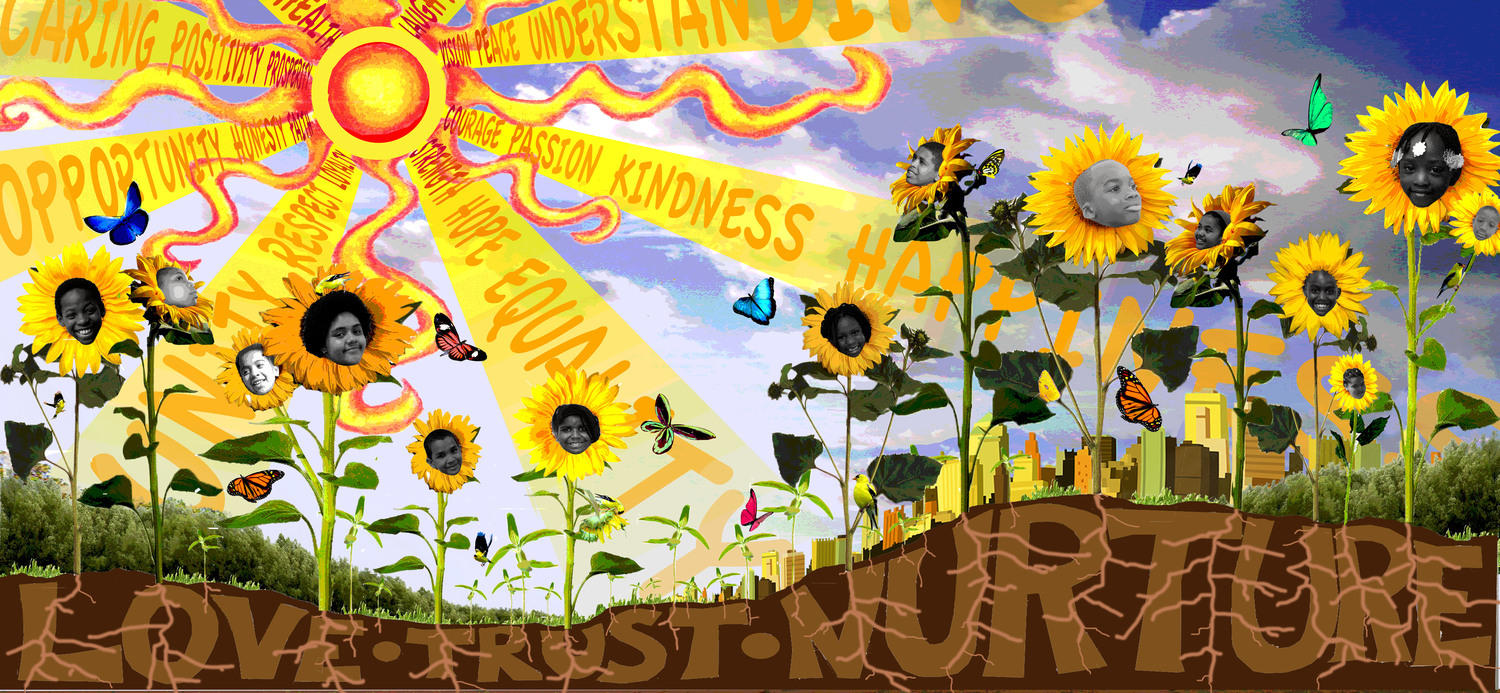 Tualatin, Oregon
Redstone Rodolfo Serna and Carlos Chavez created this community mural titled, Life Will Always Find A Way. It was created with funding through the Washington County Mental Health and Community Psyche Grant/Resiliency Project Tualatin, with the goal of offering hope and reflection, while bringing our community together with a common sense of purpose and gratitude.
Ninety members of the Tualatin community participated in painting days and helped create this work of art.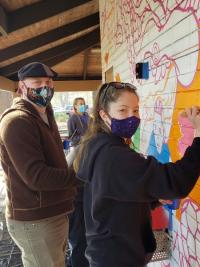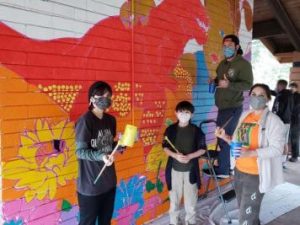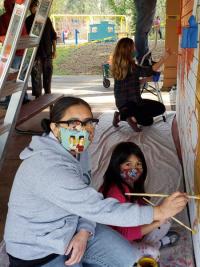 Artist Redstone Rodolfo Serna describes this mural:
"In Native American communities we have a saying "All My Relations", which simply means we are all relatives including the earth and the animals. Time, the earth, and its creatures are all so resilient. It is connecting that brings us moments of kindness and we are made stronger together through life's challenges that in time inspire hope."