Kosmos Seed Notecards | Our Gift when You Support Our Grant-giving Campaign
Every year Kosmos gives grants of $2500 to individuals and organizations working at the edge of transformation. People have asked how to help! We created a Seed Grant Campaign for those who wish to get involved and we wanted to offer a gift for anyone who donates $30 or more to make more Seed Grants possible this year.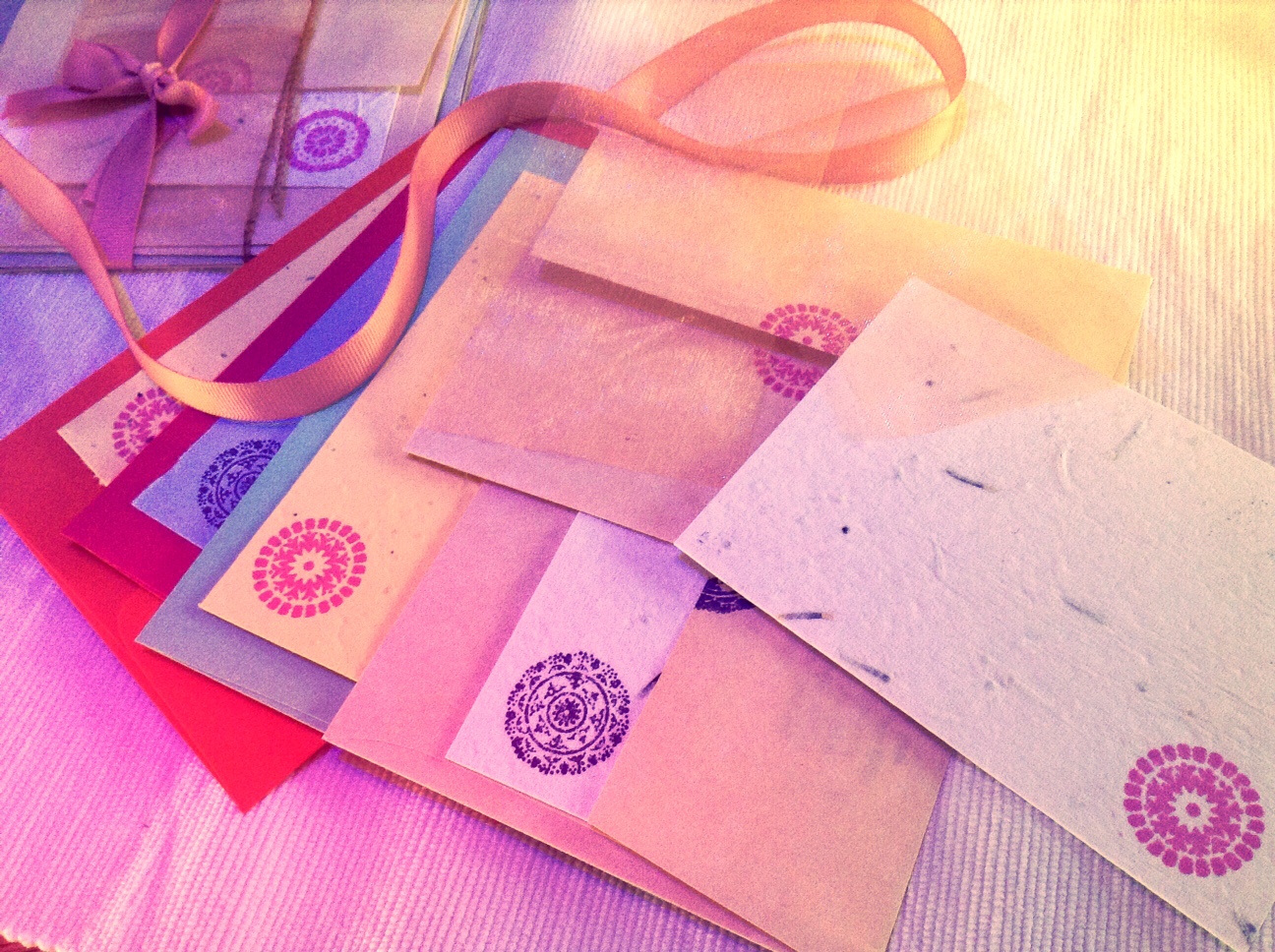 We created a set of five Seed Notecards. Each simple unfolded card is embedded with wildflower seeds for you or your recipient to plant this spring. The cards are perfect for a quick 'thank you', expression of care, or wish for wellness.
When you plant the Notecard in a pot of soil, the paper will grow into colorful wildflowers: Bird's Eye, Clarkia, Black Eyed Susan, Sweet Alyssum, English Daisy, Catchfly and Snap Dragon.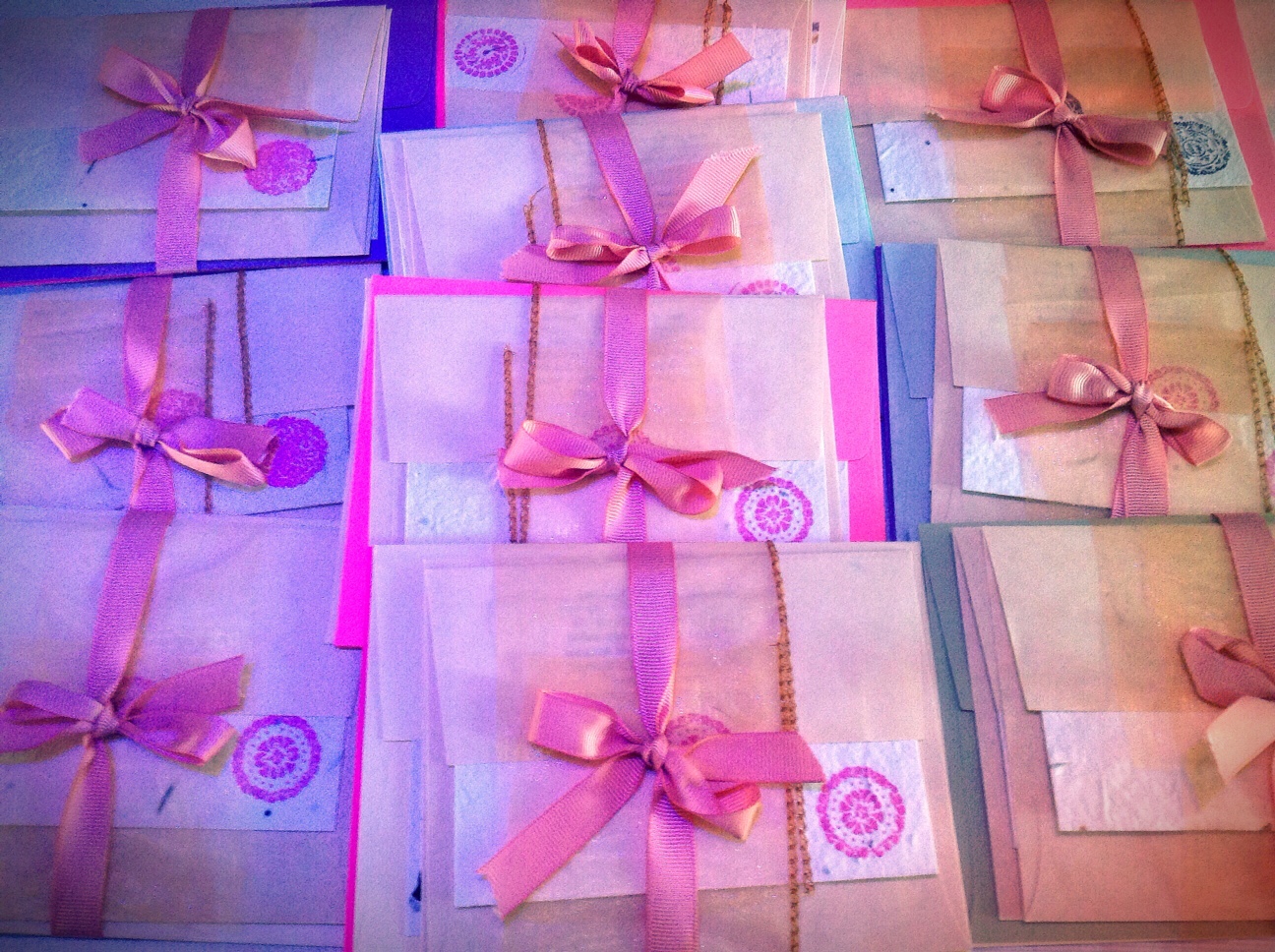 Each card and color-coordinated envelope is hand-stamped with a floral symbol. There are three 5×4.5″ cards and two 5×3.5″ cards in each set. Each card has planting instructions. Wrapped in beautiful gold organza and a pink grosgrain ribbon, you may decide to keep and plant them all yourself!
Donate to the Kosmos Seed Grant Campaign and receive our special thank-you gift – one set of five plantable Seed Notecards. US Domestic mailing only.
Botanical PaperWorks supplied the paper. Here is more information from them about plantable paper.
Plantable paper is a biodegradable eco-paper that is made with post-consumer materials (no trees harmed for this paper!) and embedded with seeds. When the paper is planted in a pot of soil, the seeds grow and the paper composts away. All that is left behind is flowers! 
How To Plant Plantable Paper
SUPPLY LIST
a pot for planting
some good potting soil
plantable paper
water
a sunny corner
STEP 1 – PREPARE YOUR POT
Fill your pot 2/3 full with good potting soil. Tamp down the soil and add more if necessary. You want the pot to be firmly full, but not packed. The paper can be planted indoors or outside, so you get to choose according to the temperature and conditions at the time of planting (we don't recommend planting outside if it's blizzarding or desert-hot!).
STEP 2 – PLANT THE PAPER
Take your plantable paper and cover the soil in the prepared pot with the paper. It's okay if the paper overlaps. Spread a 1/8 inch layer of soil over the plantable paper pieces and tamp down gently.
STEP 3 – WATER DURING GERMINATION
After planting the paper in your pot, give it a good soak. You want the paper and the soil to be nicely damp but not swimming in water. During the first 10 days, keep the paper moist at all times. The water is necessary for germination.
STEP 4 – CARE AFTER GERMINATION
Once sprouts appear, continue to keep the paper moist but be careful not to overwater. Once sturdy plants appear, water as needed. Here's what the pot looks like after planting a greeting card:
STEP 5 – ENJOY THE FLOWERS
Once the flowers start to blossom, enjoy them in the pot or transfer outside!