Kosmos Community News | June 2017
Dear growing Kosmos Community,
Summer is upon us! Here is what's up for the month of June:
The New Kosmos Live Podcast Series
Our premiere Kosmos Live podcast series, How to Prepare for Profound Change, looks at the many mays our lives are changing in the new political, environmental and social climate. We have assembled leading thinkers and activists from the fields of wellbeing, political activism, community building and more to offer practical insights as we prepare for the challenges that lie ahead. Among the ten participants, Deepak Chopra, Llewellyn Vaughan-Lee, Judy Wicks, and Mark Gerzon.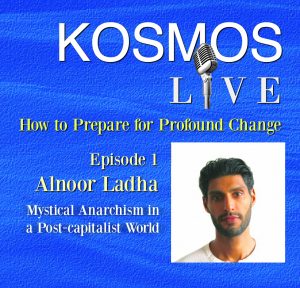 Our first episode features Alnoor Ladha, founder and Executive Director of /The Rules (/TR), a global network dedicated to changing the rules that create inequality and poverty around the world. Alnoor speaks about the deep structure of economic disparity, and offers suggestions for rewiring our economic and social systems. He speaks with eloquence about aligning our political and spiritual aspirations for the greater good.
You will be the first to see this episode July 4, so look for details. Kosmos Community members will be able to subscribe to the full series at no cost.
Our Kosmos Harmony Keyring, a gift for Members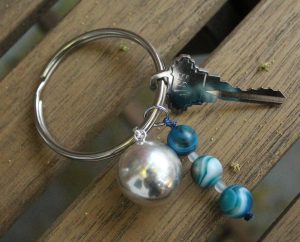 This companion keepsake to our popular Kosmos Meditation Bracelet incorporates a trio of the same blue agates as the bracelet, hand-strung on a silk cord. The silvery globe 'sings' like a tiny melodious waterfall. Together, these grounding energies remind us to stay present, alert and calm each time we start the car or leave home. It's our gift of mindfulness to Kosmos Community members.
Six dollars covers postage and handling if you live in the Continental US. To order, just make a $6 donation here, and we will get the message. It's a $20 value.
We will be offering the Harmony Keyring to all new members who join Kosmos Community while supplies last, so tell your friends.
Reflecting on Our EcoSattva Training 
A group of our members recently completed an online course together about developing an appropriate response to the impending crisis our climate faces. Our editorial staffer, Jess, shares her thoughts on the experience:
"Taking this course was a wonderful journey. Learning from teachers like the Venerable Bhikku Bodhi, Joanna Macy, and Rev. angel Kyodo williams, we were blessed to soak in so much wisdom and support from one place.
It was a moving process…We looked deeply into what hinders us personally and collectively from accepting climate change, we explored the systemic issues of which climate change is just a symptom…
Ultimately, we discussed the ways we can most effectively and mindfully move forward as a loving force to not only protect our Mother Earth and fight for her justice, but simultaneously for our brothers and sisters worldwide.
One of the co-founders of this training, Kristen Barker, describes the role of the EcoSattva:
[quote]We define the EcoSattva as one who has chosen to remain…remain connected to this moment, remain connected to our conditioning, remain connected and re-connect to the ecological suffering of the world and then dedicate themselves to its end, to the end of that suffering. [/quote]
If you are here in this community, I take it you are already an EcoSattva of sorts. You know our collective efforts are needed, and all of us are here in the Kosmos Community are responding to that need. My undying gratitude goes out to each of you." – Jess
If you are interested in learning more about this course visit One Earth Sangha. Stay tuned for future opportunities to learn and grow together as a community. In the mean time….
Take a look at these upcoming events:
Join us to sample Caribbean, African, and African American cuisine while having dynamic discussions with attorneys and activists championing African Diaspora land retention and environmental justice.
Learn more and register for FREE here.
---
A week-long intensive training exploring the economic structures that have shaped today's age of division.
Learn more here.
---
San Rafael, California:

Bioneers is an innovative educational organization that highlights breakthrough solutions for restoring people and the planet. For 28 years, this has been the leading summit calling for a revolution from the heart of nature.
Learn more here.
Inspired Reader Pens Essay
Annie Goodwin wrote:
Thank you so much for [the Kosos Online edition, United Nature] …I'm right at the beginning of planning a book which is about the current shift in awareness/consciousness which we are going through and what the catalyst is for this shift.  It caused an explosive reaction within and I immediately started writing.  I have attached my response to you as it ended up larger than I might have expected.
We're so happy you felt inspired Annie! And here is your essay.
Forum Question for June: How can we better help you prepare for the profound changes that are coming?